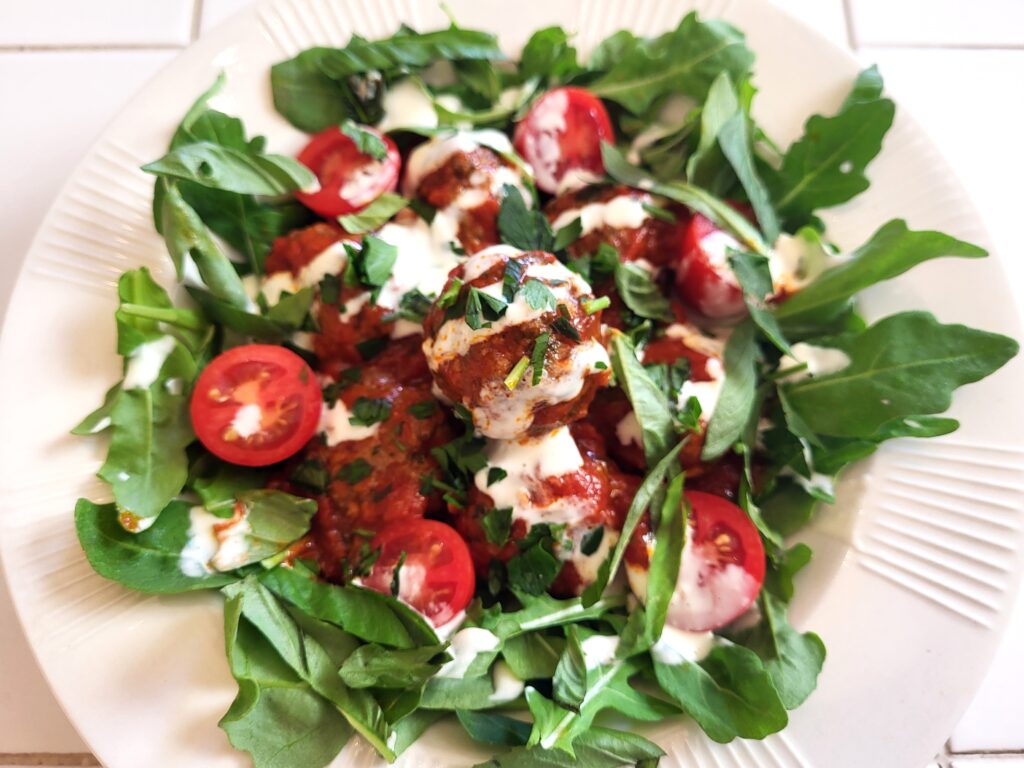 "In the fall of 2022, I was looking to use up the basil in my garden before winter took it away. I was hoping to find something to use it in other than pesto and found this recipe. What's great about this is it uses so many of the fresh herbs I grow in my garden, plus my cherry tomatoes! This is also my first foray into cooking lamb. It is a really nice, lighter option for meatballs instead of using beef. Too bad it is so expensive! This is a bit of work and a bit of a splurge, but it is super tasty and an impressive dish to serve for company." – April Ferre
Moroccan Meatballs with Arugula Salad
Ingredients
For Meatballs:
1/2

Cup

Milk

1 1/2

8-Inch

Whole Wheat Pitas

Diced into 1/-2-Inch Pieces

1

Cup

Fresh Parsley

Minced

3/4

Cup

Fresh Mint

Minced

1

Tablespoon

Fresh Oregano

Minced

2

Large Cloves Garlic

Minced

1 to 1 1/2

Teaspoon

Salt

1/4 to 1/2

Teaspoon

Pepper

2

Pounds

Ground Lamb
For Tomato Sauce:
1

Tablespoon

Olive Oil

3

Large Cloves Garlic

Minced

28-

Ounce

Can Whole Italian Peeled Tomatoes

Crushed

1 1/2

Tablespoon

Harissa

Or To Taste

Salt & Pepper

To Taste
For Aioli-Yogurt Sauce:
2

Egg Yolks

4

Large Cloves Garlic

Pressed or Finely Minced

1/4

Teaspoon

Salt

1/2

Cup

Canola or Vegetable Oil

Juice of 1 Lemon

3/4

Cup

Greek Yogurt
For Salad:
8

Cups

Baby Arugula

16

Cherry Tomatoes

Halved

Moroccan Carrot Salad

Optional
For Topping:
1/2

Cup

Fresh Parsley

Chopped

3/4

Cup

Fresh Basil

Chiffonade
Instructions
Make the meatballs:
Preheat oven to 500 degrees.

Combine milk and pita in a stand mixer bowl; let stand until bread is soft, about 5 minutes.

Add parsley, mint, oregano, garlic, salt and pepper. Beat until well mixed and pita bread is evenly dispersed in the mixture.

Add ground lamb and mix well until evenly combined.

Form mixture into 1-inch meatballs and place in an oven-safe baking dish. If mixture is too hard to handle, refrigerate briefly.

Place meatballs in the oven on the top rack and brown, turning meatballs as necessary.
Make the tomato sauce:
While meatballs are browning, heat olive in a large Dutch oven. Add minced garlic and sauté until fragrant and golden, about 1 minute.

Add crushed tomatoes, harissa, salt and pepper. Taste and adjust seasonings to your liking.

If the sauce is overly acidic and brown sugar as necessary to mellow out the sauce.

Bring sauce to a simmer and reduce for 5 to 7 minutes.

When meatballs have finished browning, add to tomato sauce and continue to simmer until meatballs are tender and cooked through, about 15 minutes.
Prepare the aioli-yogurt sauce:
Add egg yolks, garlic and salt to a blender container. Pulse briefly to mix well.

With the motor running, slowly drizzle in oil until the aioli is emulsified, increasing the speed as you go.

Stop the motor and add in lemon juice, Continue to blend until lemon juice is incorporated.

Add yogurt and blend again on low speed until well combined.
Assemble the dish:
In a large casserole dish or individual bowls, place arugula, cherry tomatoes and Moroccan carrot salad, if desired.

Spoon over meatballs and tomato sauce.

Drizzle meatballs with aioli-yogurt sauce and top with fresh parsley and basil.

Serve immediately. Makes approximately 35 to 40 meatballs.
Sandwich variation:
This dish can easily be assembled inside a pita pocket for a tasty sandwich!
2022 Adapted Recipe – April Ferre – Adapted from Saveur, 2014.
Related Recipes: