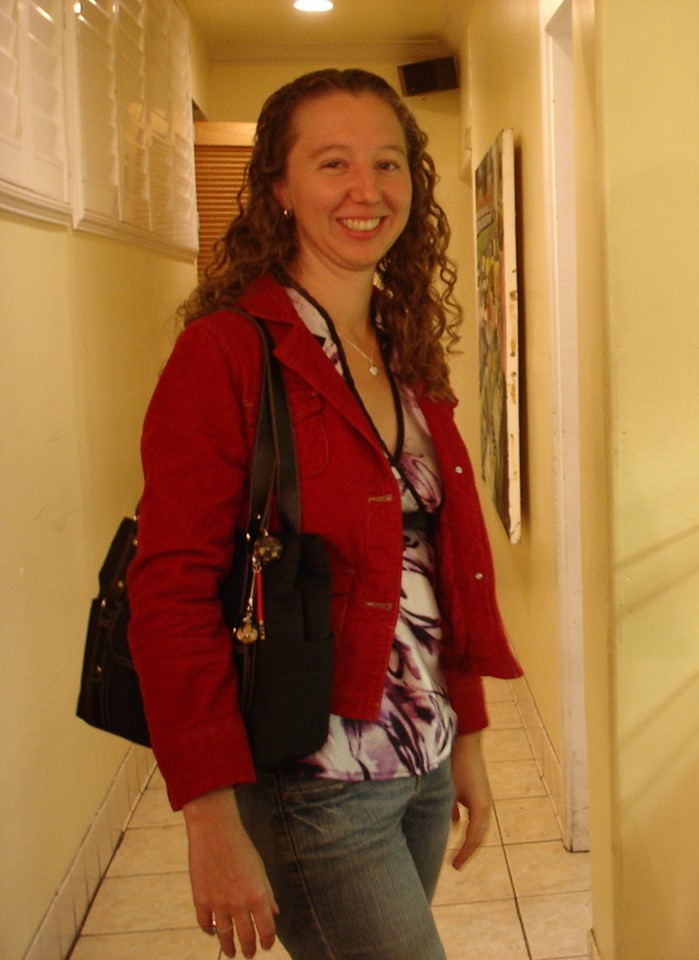 April Lynn Ferre (b. 1982) has been cooking with her Mom, Calla, since before she can remember. Her earliest memories are of decorating Christmas cookies to put out for Santa on Christmas Eve. In 1994, at the age of 12, she began entering baked goods in the Santa Cruz County Fair Home Arts Department, chaired by Marie Skov, winning first place for her Chocolate Chip Cookies.
She then joined the Home Arts Committee in 1997, as part of her high school community service project, serving as an an assistant to the adjudicators and learning from their expertise. During college she took a break from competitive baking, but continued to bake for her friends and coworkers, planning the occasional "bake-a-thon" and making a tradition of giving Christmas candy as gifts during the holidays. After nearly a decade of absence from the Santa Cruz County Fair, she returned as an exhibitor in 2010, entering this time in the Preserved Foods division with a family favorite, Bread & Butter Pickles, taking third prize. Cumulatively, she has won 66 first place, 25 second place, 14 third place, and 5 honorable mention ribbons over 8 years as an exhibitor. Additionally, she took 5 Best of Division and 4 Best of Show prizes, and won the Baked Goods and Confections Sweepstakes 5 years in a row, including the Senior Division Sweepstakes during her last year of competition.
In addition to cooking and baking, April's other hobbies include: sewing, quilting, cross stitch, crochet, and various arts and crafts, which she has also exhibited at the county fair, and working in her garden cultivating a variety of herbs, fruits and berries to use in her cooking. She is an avid musician, having been a choral singer since 1996 and a classical guitarist since 1994.  Keeping active, she enjoys a variety of team sports including soccer, flag football, floor hockey, and sand volley ball.  More recently she began training in Shorin Ryu Karate, gaining an interest in practical self defense, traditional kata, and kobudo.  April received her Bachelors of Arts and Science in Microbiology and Psychology at UC Davis at 2004, and her Ph.D. in Microbiology, also at UC Davis, in 2010.  She currently is the lab manager in the laboratory of Barbara Shacklett at UC Davis, continuing her study of immune responses to HIV infection in the gastrointestinal tract of those rare individuals, HIV controllers, who naturally suppress HIV replication.
Calla Lynn Hansen Ferre (b. 1955); mother to April Ferre, learned how to cook from her mother, Jean, at an early age. She has been instrumental in gathering together all of the family recipes into one place so that they could be preserved for future generations. She is an inspiration for her daughter, April, making sure her children always had a hot breakfast in the morning and a complete dinner every evening. Elaborate formal holiday dinners are the norm in her house.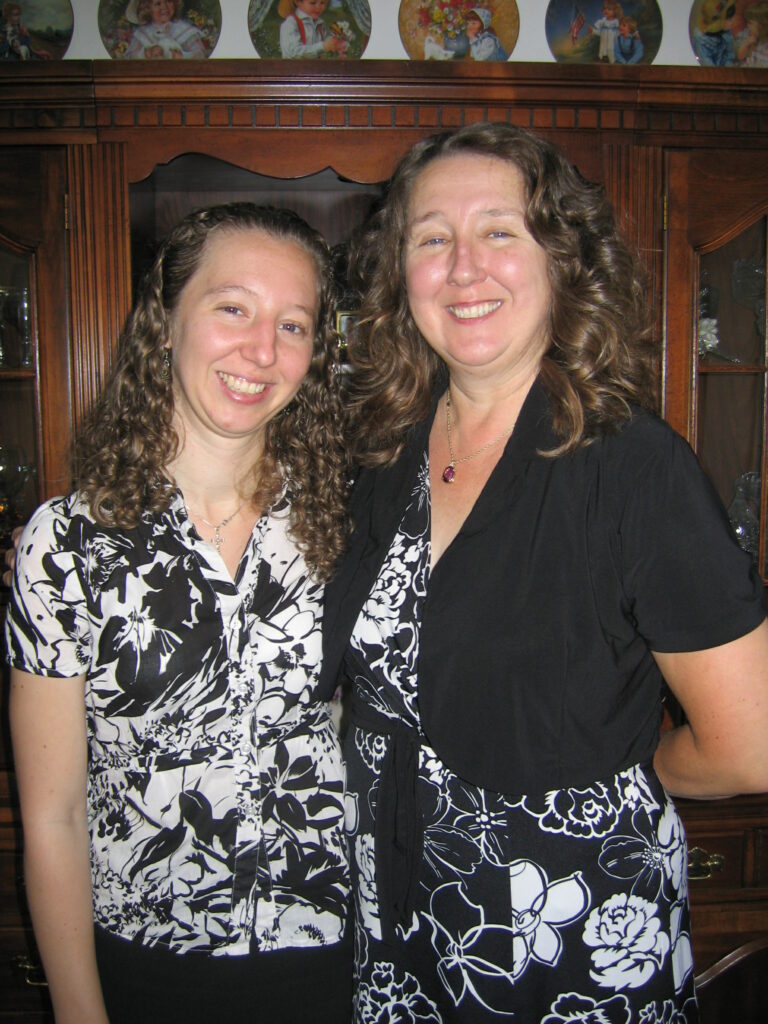 She began entering in the Santa Cruz County Fair Home Arts Department in 1983 with her Peanut Butter Cookies. She continued to exhibit at the fair, winning countless awards including a case full of best of show and best of division rosettes and both the Senior (1984) and Masters Division (1985) Baked Goods Sweepstakes, beating out many a seasoned baker, until she passed the tradition and her talent on to her kids, April and Tom. In addition, she enjoys cake decorating and taught professional cake decorating for many years. Calla has degrees in both dental assisting and dental hygiene from Cabrillo College and has recently retired after being a dental hygienist for 40 years. Her other hobbies include sewing, crafts, and gardening. She currently lives in Soquel, CA with her husband, Steve.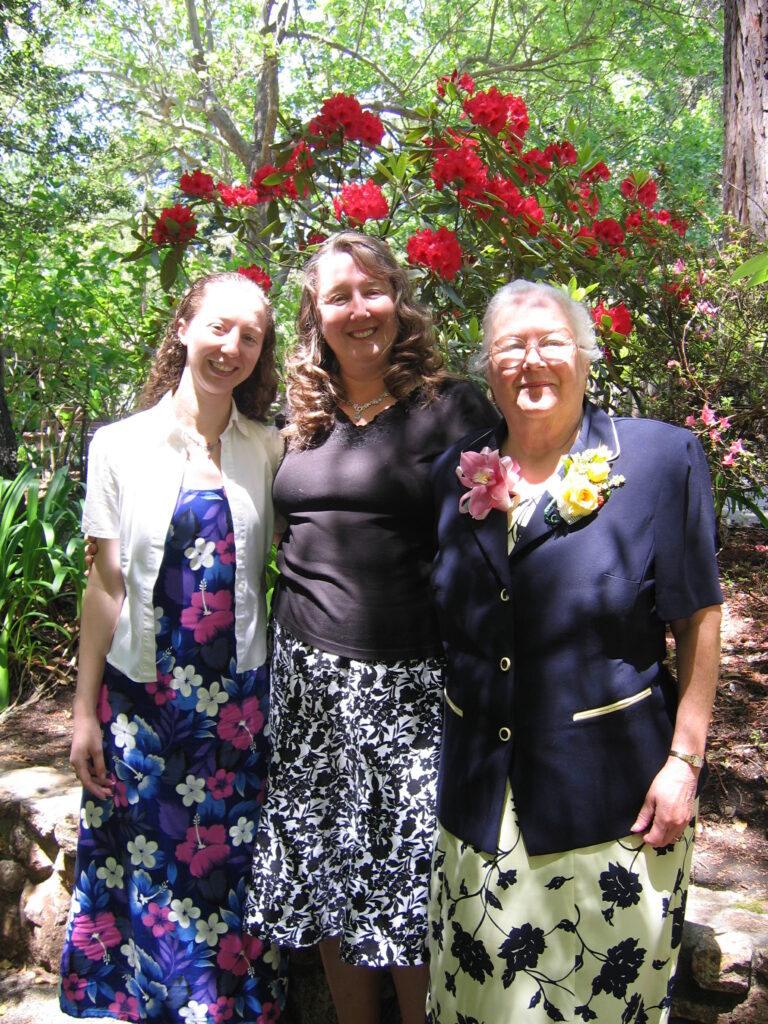 Jean Marion Stacker Hansen (b. 1926, d. 2019), mother to Calla Ferre. She learned to cook from her mother, and had a long standing love of creating and discovering good food. Jean received her Bachelors of Arts in Home Economics at the University of Wisconsin, Madison. And her first job was in the Betty Crocker test kitchen.
She was a regular exhibitor in the Oregon State Fair, and one of her most successful recipes was Bread and Butter Pickles. It was the cookbook she put together for her daughter, Calla, that was the inspiration for this expanded family cookbook. Her granddaughter, April, remembers going to visit Grandma and her always having cookies in the cookie jar. At home and in her many travels across the world, she was always in search of something new and delicious.
Calla Marion Griswold Stacker (b.1894, d. 1944); mother to Jean Hansen. Calla came from an English background; every afternoon at 2pm she set a proper English tea service for her friends and family. She was an excellent cook, and exhibited at her local fairgrounds. With her winnings, she purchased a beautiful Grandfather clock which has remained with the family to this day.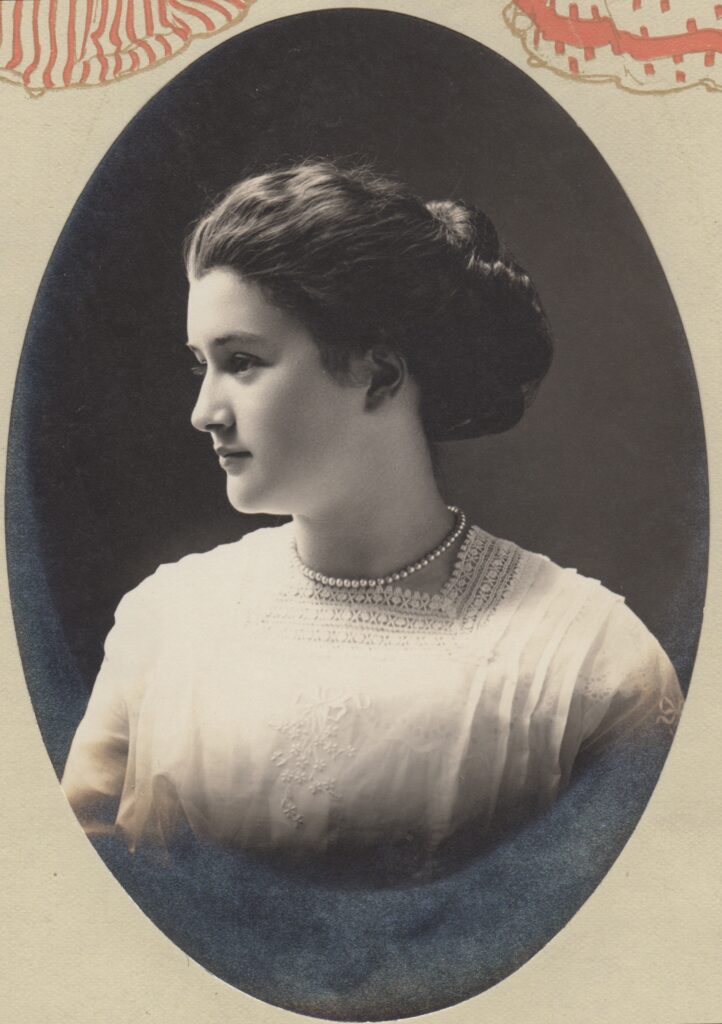 Every afternoon when her kids returned from school, she would have a pie cooling in the milk box. She always felt that she made better pies than cakes. Calla was salutatorian of the class of 1911 at New London High School in New London, Wisconsin, where she enjoyed literature and oratory. She also graduated as valedictorian from the prestigious Ingleside School for Girls in New Milford, Connecticut, which provided advanced instruction in English, French, German, Music and Art for unmarried women in order to prepare them for becoming teachers. Soft spoken and beautiful, she was the epitome of grace and class.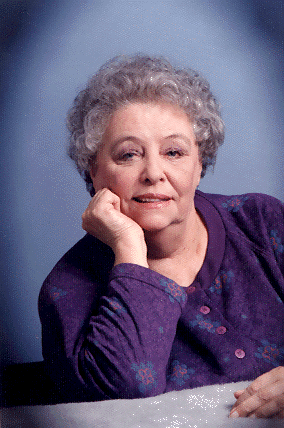 Helen Gladys Hadley Ferre (b. 1924, d. 2002), mother to Stephen Ferre, and grandmother to April Ferre. Helen was a strong woman, and a life-long member of the Church of Jesus Christ of Latter Day Saints. She was devoted to her family and raised four boys as a single mother. Most of her cooking was simple, but tasty, and utilized canned goods provided by the church to low income families: creamed tuna on toast, navy beans and ham hocks, rice with sugar and cinnamon and butter for breakfast.
Her favorite thing to make was divinity, and she did a lot of home canning with sisters, Lois and Mary, while she was growing up. Helen was a den mother with the Boy Scouts, a telephone operator during World War II and loved cultivating orchids, which are still growing today under the watchful eye of her daughter-in-law, Calla Ferre and Grandaughter, April Ferre.
Thomas Christopher Ferre (b. 1984); brother to April Ferre, webmaster and lover of all things spicy. No hot sauce is hot enough and the chefs at the Thai restaurants just can't up the spice level to his satisfaction. His parents have to vacate the kitchen when he is cooking to avoid breathing in the spicy fumes! Tom is also a Japanophile and actively studies the Japanese language, art and culture, loves sake and sushi, and is active in Taiko drumming. During the day he is a Database Administrator at the Santa Cruz Metro Transit District.