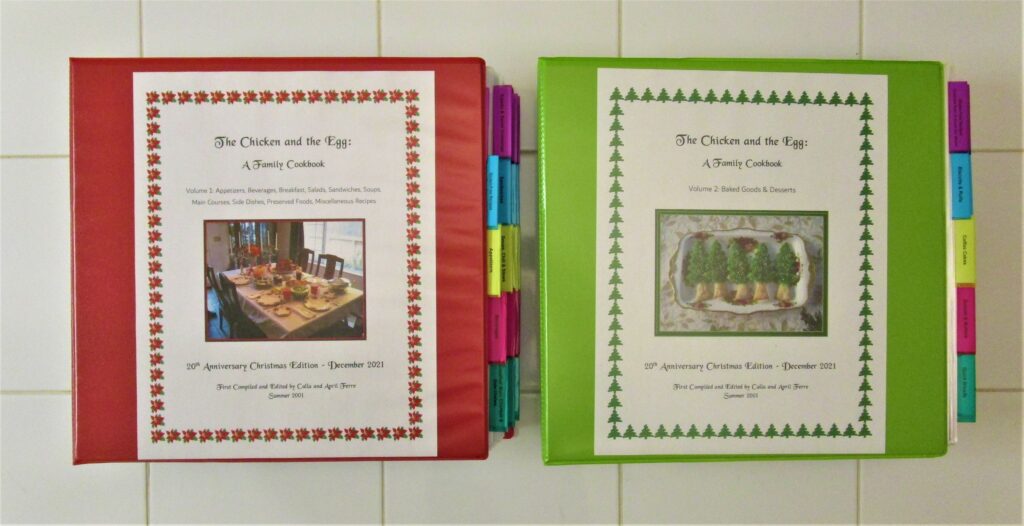 Ten years ago, I mused about what this cookbook would become in the next ten years. The cookbook has continued to grow of course. The first edition had 370 recipes, the 10th anniversary edition had 597, and now we are up to 860 recipes! So many that it has overflowed one binder and now for the first time it is being split into two volumes. But more than quantity, I believe the last ten years have brought on a new and exciting quality to the collection.
We have always enjoyed a good array of Chinese and Mexican recipes. The Chinese section was fueled by my Grandmother's classes with Julia Cheng in 1989, and just being a Californian, the influence of Mexican food is inescapable. In addition, family ties influenced many English, German, and Scandinavian traditions. But my interest in new cuisines grew when I went to college and had multitude of opportunities to discover new food with new friends in a college town: Mediterranean, Middle Eastern, Japanese, Thai, and Vietnamese to name a few. Working in a laboratory with a boss that embraces trainees from around the world brought in French, Italian and Indian flavors as well. I am so excited that this 20th Anniversary edition now includes an index of "Cuisines from Around the World" to showcase the diversity that has been gained since that first edition.
Another reason for the expansion of all these new recipes, particularly over the past two years, has been living in a global pandemic. For much of 2020, we were severely restricted on what we could safely do and where we could safely go. For a time, we were literally locked down at home, only able to leave for "essential purposes" like going to the doctor or pharmacy or grocery store. But one thing I could still do was cook! So, I set out to cook and photograph as many of the recipes from the cookbook as I could to update the new and improved website. And after a while I began to miss many of the foods at my favorite restaurants, so I recreated them. I learned to make things like tempura, miso soup, California rolls, falafel, pra ram, Thai iced tea, phở, and even boba! What a boost to be able to get those flavors at home and have something to look forward to again! Ironically, while the world went crazy during the pandemic learning how to bake bread, so much so that there was a yeast shortage, that was the one thing I didn't make.
Other new and expanded sections are thanks to the expansion of my kitchen capabilities. Things like Jamba Juice smoothie copycat recipes and silky-smooth soups (Vitamix blender), grilled chicken and fish recipes (indoor grill), ice creams and sorbets (ice cream maker), falafel and tempura (deep fryer), and beef jerky (food dehydrator). I'm looking forward to putting my meat grinder and pasta KitchenAid attachments to good use making homemade sausage (Irish bangers!) and artisan pasta.
Perhaps the most notable new addition to the cookbook, thanks to my Mom, is our gluten-free section. She has worked so hard to develop these new recipes so that she and others can enjoy things like cupcakes, muffins, cookies, pie and even pancakes and waffles! She developed her own gluten-free flour blend that also eliminates potato starch, which is a problem for people who also have allergies to foods in the nightshade family and has written a tutorial to help people navigate gluten-free cooking and identify hidden sources of gluten, particularly those in our processed food sources. This is an invaluable resource to so many who have gluten allergies and sensitivities. They can now enjoy so many of the baked goods they have been missing and can join in at the holidays eating apple, pecan and pumpkin pies again. No doubt, the next edition of this cookbook will include even more fantastic creations that you won't be able to identify as gluten-free when you taste them.
Our website has also been updated and upgraded.  We moved the cookbook from Weebly to being hosted by my brother, Tom, on his home server.  He even got us an official URL at www.chickenandeggcookbook.com.  The new website has enhanced capabilities to easily print recipes, it is searchable and has all of the recipes cross-referenced, something we can't achieve with a printed cookbook.  The quest to photograph all the recipes continues.  We have photographed 627 out of 860 (73%) of the recipes.  Progress!  Hopefully, by the time the 30th Anniversary comes around I'll be able to report that number at 100%. 
So, the question is, what does the next 10 years look like? What we've learned is that only time will tell. But the great thing about cooking is there is always something new to enjoy and explore and I can't wait to share those new recipes and stories and memories with you. See you in 2031!
April Ferre; December 21, 2021