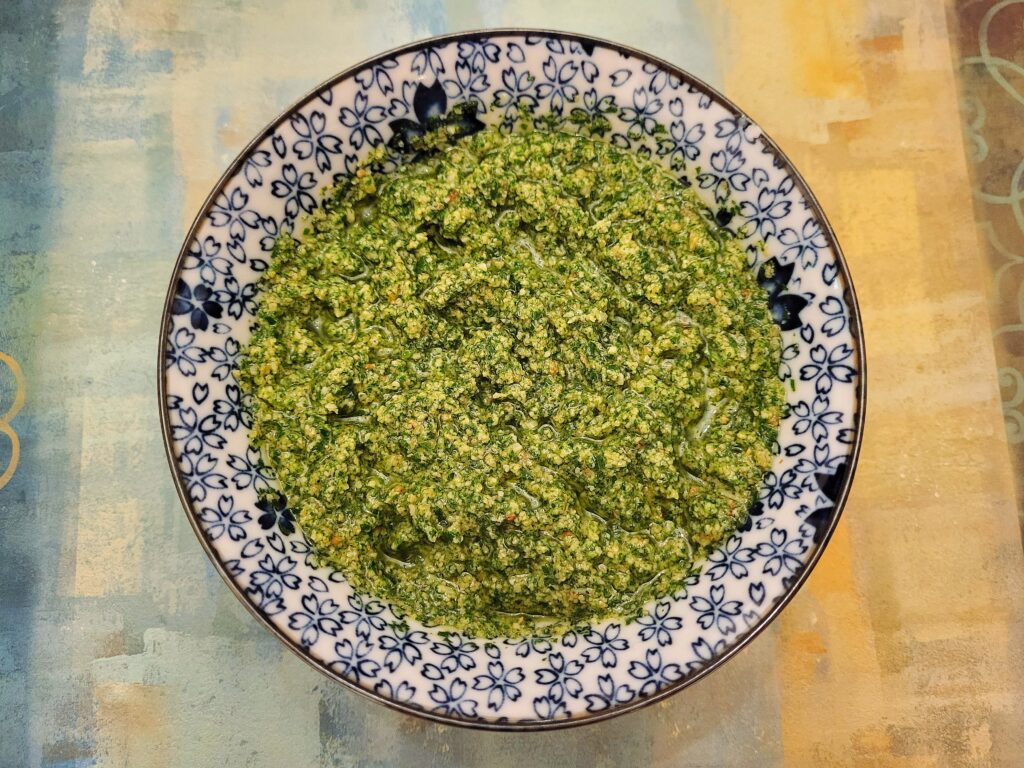 "In the spring of 2022 I went to my favorite nursery, Morningsun Herb Farm, and got a bunch of fun basil varieties. Come summertime, it was time to use that basil, so it was pesto time! My first use of this was attempting to create my favorite pizza from Lamppost Pizza in Davis, the Pesto Supreme." – April Ferre
Basil Pesto
Ingredients
2

Cups

Fresh Basil Leaves

Packed

2

Cloves

Garlic

Minced

1/3

Cup

Pine Nuts

Toasted

Juice of 1/2 Lemon

1/2

Cup

Extra Virgin Olive Oil

1/2

Cup

Parmesan Cheese

Finely Grated

1/4

Teaspoon

Salt

Or to Taste

1/8

Teaspoon

Pepper

Or to Taste
Instructions
Quickly blanch the basil: Bring water to a simmer in a large Dutch oven. Meanwhile, prepare a bowl of ice water and set aside.

When water is simmering, quickly drop basil leaves into the Dutch oven, stirring quickly, and blanch for 5 to 10 seconds or until the leaves are just wilted. Quickly remove leaves to the bowl of ice water to stop the cooking process. Be careful not to over cook!

Drain the basil leaves and then wrap them in paper towels and press out as much of the water as possible.

In a food processor, add the blanched basil leaves, garlic, pine nuts and lemon juice. Pulse the mixture a few times until you have an even, but roughly chopped mixture.

Then with the processor running, slowly add the olive oil. Process until olive oil is just combined. Do not process for too long since you want to have a little bit of texture to your basil and not a puree.

Remove the basil mixture to a bowl and stir in Parmesan cheese, salt and pepper. Taste the pesto and adjust the salt and pepper to your liking.

Store in an airtight container for about a week in the refrigerator or freeze in ice cube trays and then transfer cubes to a freezer bag and store in the freezer for approximately 6 months. Makes approximately 1 1/4 cup.
Variations to try:
Replace half of the basil with: spinach, arugula, parsley, cilantro, mint, kale or artichoke hearts.

Replace pine nuts with: walnuts, pistachios, almonds, pecans, pumpkin seeds, or hemp seeds.
2022 Adapted Recipe – April Ferre – Adapted from The Mediterranean Dish