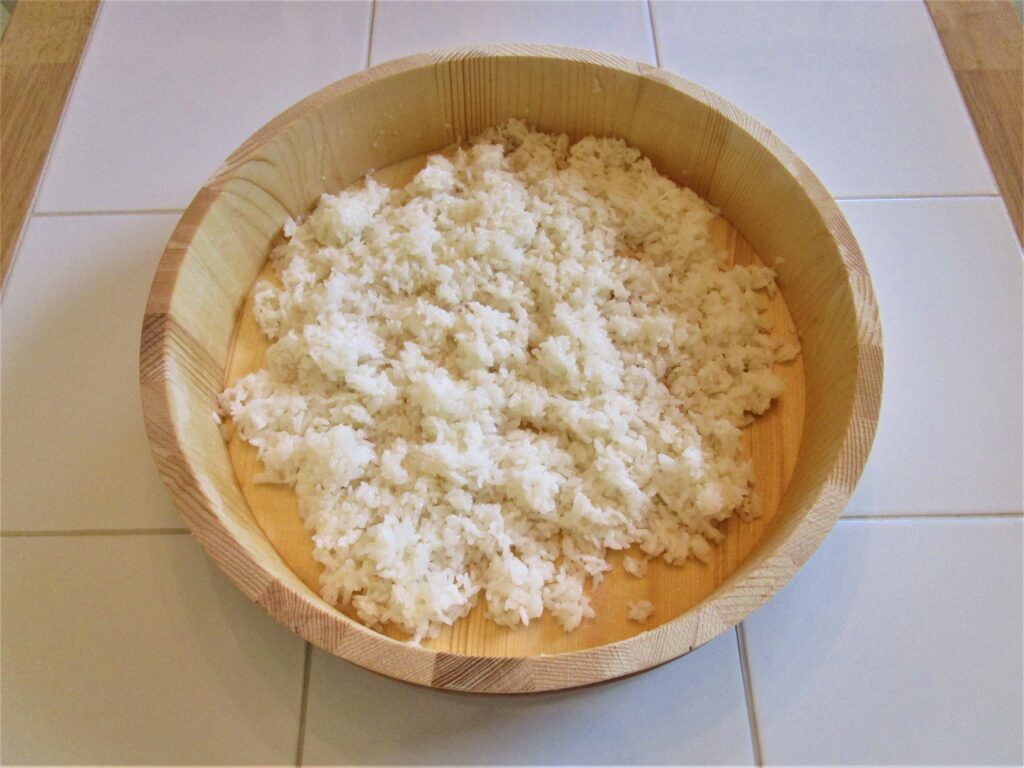 "Each large sushi roll (like the California or Dragon Roll) will need approximately 3/4 cup cooked sushi rice. If you are making smaller, simpler rolls you will only need about 1/2 cup each." – April Ferre
Sushi Rice
Ingredients
1 1/2

Cups

Japanese Short-Grain Rice

Uncooked

1 1/2

Cups

Water

1

Piece

(5 Grams) Kombu

Optional, but Preferred

2

Tablespoons

Seasoned Rice Vinegar (aka Sushi Vinegar)

See Note
Instructions
Rinse rice in cold water until the water is almost clear. Transfer rice to a sieve and drain completely.

Prepare the kombu by wiping of any dirt or grit (not usually found in most commercial preparations today), but do not wipe off the white substance as this is part of the flavor.

Put the rice in the rice cooker and add water. Put the kombu on top and let sit for 20 to 30 minutes and then start the cooking process.

When rice is finished cooking discard the kombu. Moisten a sushi oke/hangiri (wooden tub) or a glass 9×13 baking dish and spread rice out evenly so it will cool faster. While the rice is still hot, sprinkle sushi vinegar over.

With a rice paddle, make 45 degree slices through the rice and turn rice sections over. Repeat this process until the rice is cooled down to body temperature.

Transfer to a bowl and cover with a damp towel at room temperature until ready to use. Makes enough for approximately 4 large sushi rolls.

Sushi rice will become hard and dry in the refrigerator. It stores better if frozen. You can defrost it overnight in the refrigerator or in the microwave, but only bring it to room temperature.
Notes
If you can't get seasoned rice vinegar in the store, make your own by combining 4 Tablespoons Rice Vinegar, 2 Tablespoons Sugar and 1 Teaspoon Kosher or Sea Salt in a glass measuring cup. Microwave for 1 minute and stir until sugar is completely dissolved. Set aside to cool.
Large batch measurements: 2 1/4 Cups Rice, 2 1/4 Cup Water, 1 Piece (5 Grams) Kombu, 1/3 Cup Sushi Vinegar. Make enough for approximately 6 large sushi rolls.
2021 Recipe – April Ferre – From Just One Cookbook
Related Recipes: