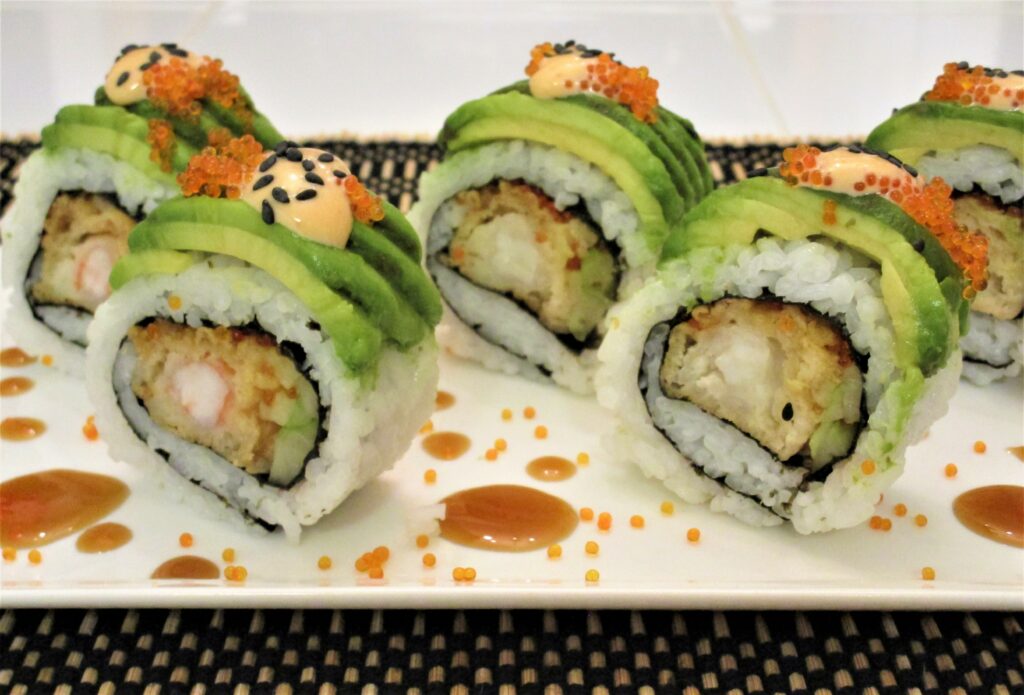 "When I went to find a recipe for California Rolls, I discovered this recipe as well. I love tempura shrimp, so I had to make it! The tobiko can be hard to find (check your local Asian grocery store), but it makes for such a pretty presentation with the avocado fanned out like dragon scales! While this recipe came from an authentic Japanese cook, I have been told that a Dragon Roll usually contains unagi (eel) either in place of the tempura shrimp and/or alternating with the avocado on top. But as I'm not so brave as to try to prepare this with eel myself, I'm sticking with the shrimp tempura!" – April Ferre
Sushi – Dragon Roll
Ingredients
1

Recipe Sushi Rice

2

Tablespoons

Water

1

Teaspoon

Rice Vinegar

4

Sheets Nori

(Seaweed)

8

Pieces

Shrimp Tempura

Cooked

Unagi Sauce

1/2

English Cucumber

2

Tablespoons

Tobiko (Flying Fish Roe)

2

Avocados

1/2

Lemon

Spicy Mayonnaise

Toasted Black Sesame Seeds
Instructions
Ingredient Preparation:
Prepare Tezu by combing water and rice vinegar in a small bowl. Use this to dip your fingers to prevent rice from sticking to them.

Peel cucumber and remove seeds. Cut cucumber lengthwise into quarters or julienne into thin strips.

Cut avocado in half and remove pit. Remove peel from outside of avocado halves. Slice each half into very thin slices widthwise. Gently press the avocado slices so that they spread out to about the length of the sushi rolls. Squeeze lemon juice over the avocado to keep it from browning.

Cut off top 1/3 of nori sheet and set aside for another use. Use the 2/3 sheet nori for the Dragon Roll.
Rolling the sushi:
Cover bamboo sushi mat with plastic wrap. Lay a 2/3 nori sheet, shiny side down on the sushi mat.

Wet your fingers with Tezu and spread 3/4 cup sushi rice evenly onto nori sheet.

Turn the nori sheet over so that the rice is facing down. Line the edge of the nori sheet at the bottom of the bamboo mat.

Put two pieces shrimp tempura at the bottom edge of the nori. If desired, add unagi sauce here. Place cucumber and tobiko next to the shrimp tempura.

Grab the bottom edge of the mat while keeping the filling in place with your fingers and roll it into a tight cylinder, tucking the fillings in firmly. Lift the edge of the mat slightly and roll forward will keeping gentle pressure on the mat.

Using the side of a knife, transfer the fanned out avocado to the top of the sushi roll. Place plastic wrap over the roll and gently put the bamboo mat over. Squeeze the roll until the avocado slices wrap around the sushi. Be gentle as to not break the avocado slices.

Wrap the rolls in plastic wrap to keep them from drying out while you make the other rolls.

With a sharp knife, cut each roll into 8 pieces. Keep a single layer of plastic wrap over the rolls while you cut to get a cleaner slice. Also clean your knife after every couple of cuts.

Transfer slices to a serving plate. Top each with tobiko, then a dab of spicy mayo and a sprinkle of toasted black sesame seeds. Place some unagi sauce on the plate so that you can dip the sushi.
2021 Recipe – April Ferre – From Just One Cookbook
Related Recipes: