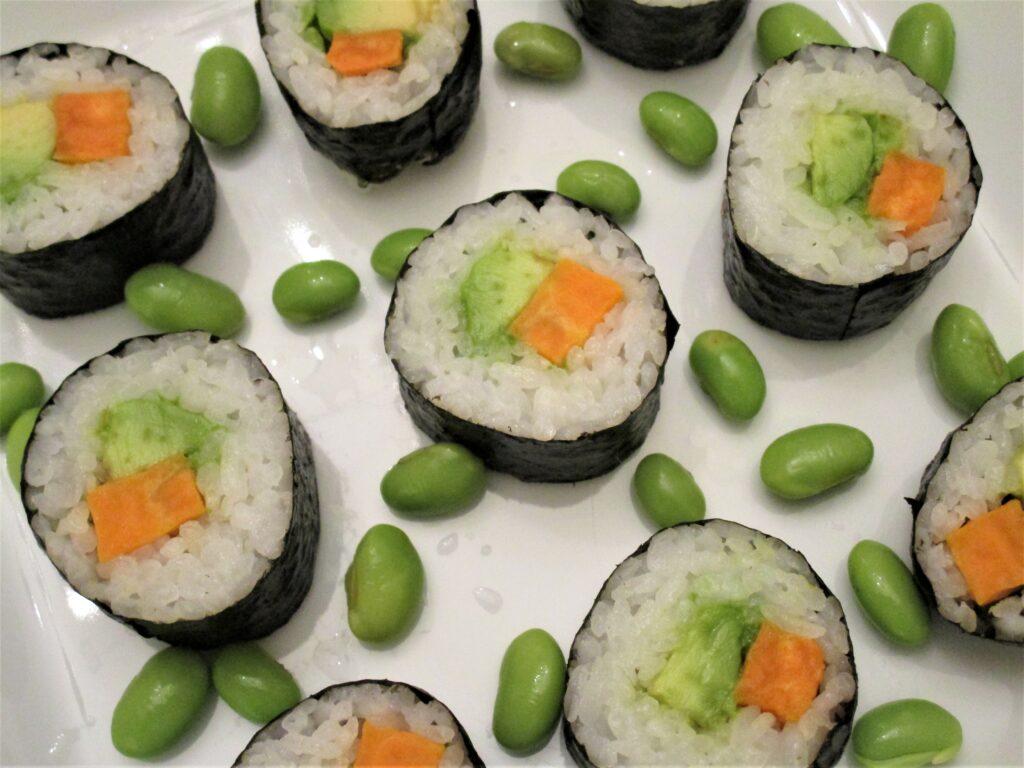 "When I began sushi making, I perused the web for recipes. I don't eat raw fish, so that ruled out quite a few, but then I came across the idea of a sweet potato filled roll and that was intriguing. The sweet potato pairs nicely with the creamy avocado. This is also a nice option for vegetarians/vegans who prefer to not eat fish." – April Ferre
Sushi – Sweet Potato Roll
Ingredients
1

Recipe Sushi Rice

2

Tablespoons

Water

1

Teaspoon

Rice Vinegar

1/2

Sweet Potato

Olive Oil

1

Avocado

1/2

Lemon

4

Sheets Nori

(Seaweed)
Instructions
Ingredient Preparation:
Prepare Tezu by combing water and rice vinegar in a small bowl. Use this to dip your fingers to prevent rice from sticking to them.

Roast Sweet Potato: Preheat oven to 400 degrees. Slice sweet potato into 1/4-inch strip (like fries). Toss sweet potato fries in olive oil. Place on a foil-lined baking sheet and roast for 20 minutes or until tender. Toss fries half way through cooking process. Remove to a plate and cool.

Peel and slice avocado into 1/4-inch thick slices. Squeeze lemon juice over avocado to prevent browning.

Cut nori sheets in half.
Rolling the sushi:
Cover bamboo sushi mat with plastic wrap. Lay a 1/2 nori sheet, shiny side down on the sushi mat.

Wet your fingers with Tezu and spread 1/2 cup sushi rice evenly onto nori sheet.

Line the edge of the nori sheet at the bottom of the bamboo mat.

Place the sweet potato at the bottom of the nori sheet, then add the avocado.

Grab the bottom edge of the mat while keeping the filling in place with your fingers and roll it into a tight cylinder, tucking the fillings in firmly. Lift the edge of the mat slightly and roll forward will keeping gentle pressure on the mat.

Wrap the rolls in plastic wrap to keep them from drying out while you make the other rolls.

With a sharp knife, cut each roll into 8 pieces. Keep a single layer of plastic wrap over the rolls while you cut to get a cleaner slice. Also clean your knife after every couple of cuts.

Serve with a side of edamame.

Sushi is best eaten the same day as the rice gets hard in the refrigerator. If they must be kept in the refrigerator, keep covered in plastic wrap and then wrap in a kitchen towel.
2021 Recipe – April Ferre
Related Recipes: