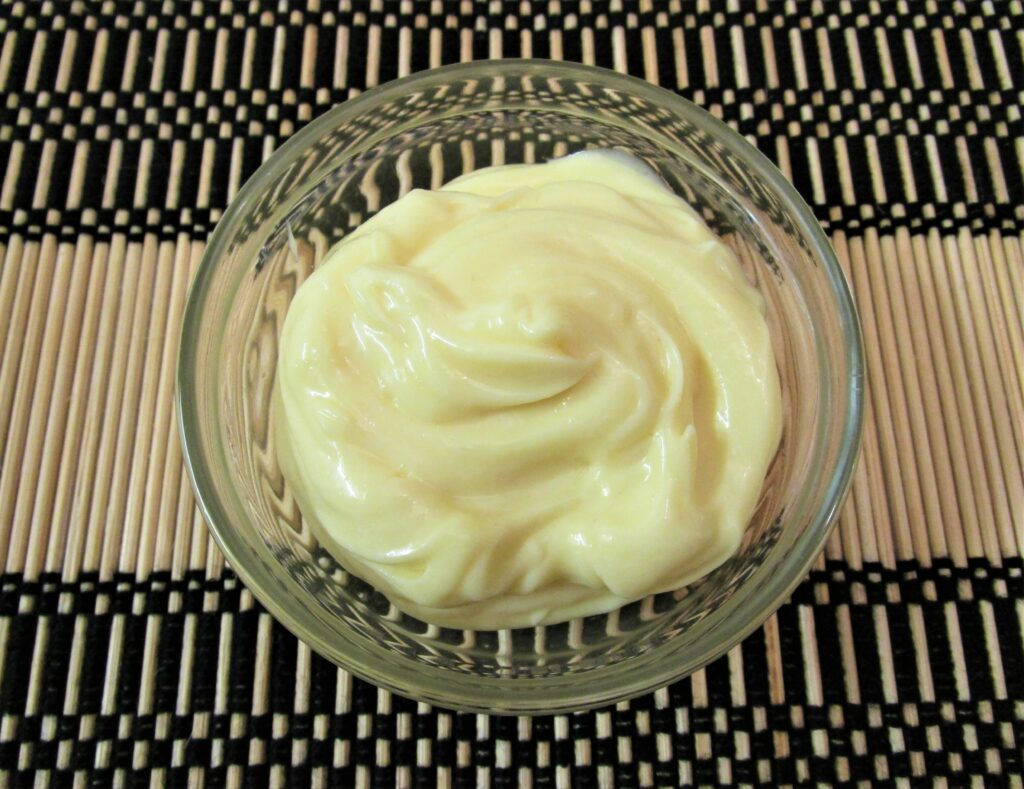 "When I decided to try making California Rolls for the first time, I found a great Japanese cooking website. I never knew there was a difference between American and Japanese mayo. Outside an Asian grocery store though, you might not find the Japanese version, which tends to be richer and creamier, as well as sweeter with still a nice balance of salt and vinegar. I did actually get some Kewpie Mayo for a local Japanese mini mart and did a side by side taste test, not surprisingly, homemade is far superior! It really is fantastic and I can't wait to try it on other things like sandwiches too.
This is also the base ingredient for the spicy mayo condiment to spice up sushi. The original recipe called for 1 teaspoon Sriracha for every tablespoon mayo, but that was a bit too spicy for me. So I prefer a ratio of 1/3 teaspoon Sriracha per tablespoon mayo." – April Ferre
Japanese (Kewpie) Mayonnaise
Ingredients
2

Egg Yolks

Room Temperature

2

Teaspoons

Dijon Mustard

1 1/2

Cups

Canola or Vegetable Oil

1

Teaspoon

Kosher or Sea Salt

2 to 4

Teaspoons

Sugar

1/2

Teaspoon

Dashi Powder

2

Tablespoons

Rice Vinegar

4

Teaspoons

Lemon Juice
Instructions
In a blender or food processor, add egg yolks and Dijon mustard. With the blender running. slowly add oil in a thin stream to egg yolks. Continue adding oil until you get an even egg yolk/oil mixture.

Turn off blender and add salt, sugar and dashi powder. If you want a sharper more acidic taste, use 2 teaspoons sugar, if you want it a bit sweeter and less sharp add a total of 4 teaspoons sugar. Begin blending again and add a bit more oil, again in a thin, steady stream, until you get a consistent mixture.

Stop the blender and add rice vinegar and lemon juice. Turn on blender and finish slowly adding the oil as before. Increase the blender speed as you finish adding the oil and blend until oil is just emulsified and mixture is thick and creamy white. Do not over blend or your mayonnaise may separate.

Taste the mayonnaise and adjust with sugar, salt or lemon juice to your taste. Store in an airtight container in the refrigerator for up to one week.
Variations:
Spicy Mayo: Combine 6 tablespoons Japanese Mayo and 2 teaspoons Sriracha. Stir until well blended.

Spicier Mayo: Combine 6 tablespoons Japanese Mayo and 2 tablespoons Sriracha. Stir until well blended.
Notes
In terms of sugar, I prefer the sweeter version with 4 teaspoons. 
2021 Recipe – April Ferre – From Just One Cookbook
Related Recipes: