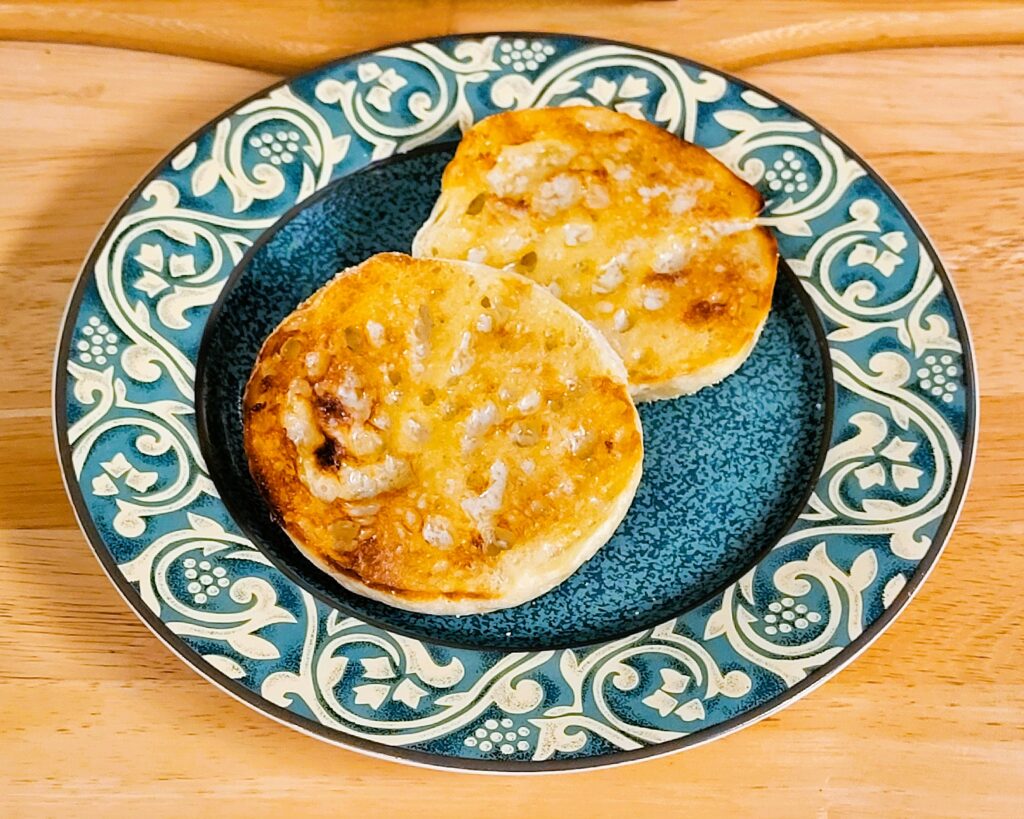 "Yes, it is easier to buy English Muffins in the store, but if you have some extra time, these are worth the effort." – April Ferre
Sourdough English Muffins
Ingredients
100

grams

(1/2 Cup) Active Sourdough Starter

20

grams

(1 Tablespoon) Honey

240

grams

(1 Cup Warm Milk)

About 100 degrees

360

grams

(3 Cups) All-Purpose Flour

5

grams

(1 Teaspoon) Fine Sea Salt

40

grams

(1/4 Cup) Corn Meal

For Sprinkling
Instructions
Feed your starter 12 hours before you plan on making the dough. Active starter will double in size following a feeding.

In a large glass bowl, combine active starter, honey and warm milk and whisk well to combine.

Add flour and salt and mix with a wooden spoon until a shaggy dough forms. Cover with a damp cloth or plastic wrap and let stand for 1 hour.

Fill a small bowl with water to wet your fingers with (this will help prevent the dough from sticking to your hands.) With moistened fingers, lift the top edge of the dough up and fold over onto the bottom half. Press down slightly to seal. Turn the bowl 90 degrees and repeat for a total of 4 stretch and folds. Cover the bowl and let sit for 20 minutes.

Repeat this process at least one more time, or for better results, two more times.

Shape your dough into a ball and place in a large, clean bowl. Make sure your towel is still sufficiently damp and recover the bowl. Let rise until slightly puffed. The time of the bulk rise will depend on the room temperature. At 68 to 70 degrees this will take 10 to 12 hours. The time will be much shorter, about 6 hours, in the summer.

When the dough has sufficiently risen, dust a large cookie sheet with corn meal and set aside.

Transfer dough to a well-floured surface and roll or stretch to 1/2-inch thickness. Use a 3-inch biscuit cutter to cut approximately 8 muffins.

Place each muffin on the cookie sheet and then sprinkle the tops with more corn meal. Cover the muffins with a towel and let rise for 1 hour.

Preheat an electric griddle to 350 degrees approximately 5 to 10 minutes before you are ready to cook your muffins.

Place 4 muffins on the griddle, cover and cook for 8 to 10 minutes. Flip muffins and press each down slightly to flatten. Cook another 5 to 7 minutes or until the internal temperature of the muffins reaches 200 degrees. Repeat with the second batch of muffins.

Let muffins cool for 1 hour before cutting. Makes 8 muffins.
2023 Adapted Recipe – April Ferre – Adapted from Little Spoon Farm
Related Recipes: