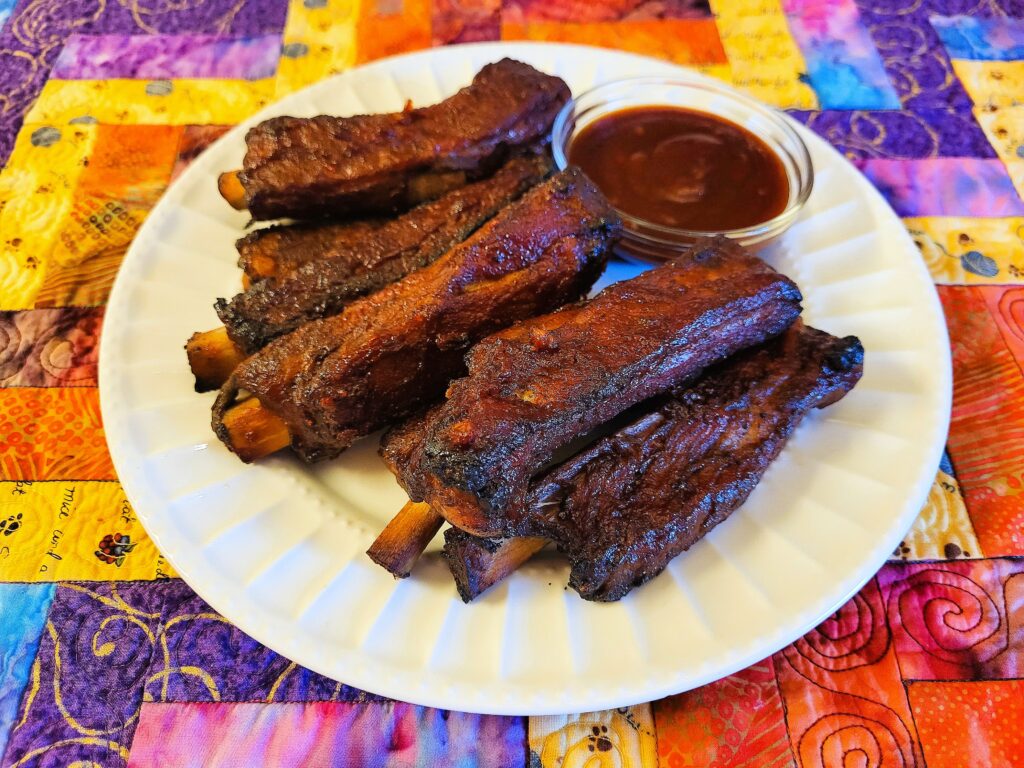 "This is a variation of my Oven-Baked Barbecue Ribs recipe using the Dr. Pepper BBQ sauce. Very tasty!" – April Ferre
Dr. Pepper Barbecued Ribs
Ingredients
Dr. Pepper Barbecue Sauce

1

Rack

Pork Spareribs

6

Ounces

(1/2 Can) Dr. Pepper

Original or Cherry

Chipotle Seasoning or Salt & Pepper

See Note
Instructions
The night before, make the Dr. Pepper Barbecue Sauce.

Cut rack of ribs into individual pieces. Place ribs in a large Ziploc bag with 1/2 can Dr. Pepper. Marinate ribs in Dr. Pepper overnight.

Preheat oven to 350 degrees. Dry ribs and sprinkle with chipotle seasoning or salt and pepper.

Place in a 9×13-inch baking dish and cover with foil. Bake ribs for 1 hour.

Meanwhile line a baking sheet with foil or a silicone mat. Place a wire rack in the baking sheet.

Remove ribs from the oven and place on the wire rack. Increase oven temperature to 425 degrees.

Brush ribs generously with Dr. Pepper BBQ sauce. Return to oven and bake for another 15 to 20 minutes or until ribs are tender and well-glazed.

If desired, baste ribs a second time after 10 minutes.

Serve ribs with extra BBQ sauce, if desired.
Notes
You can find several chipotle-based spice mixes in the grocery store, each with varying levels of chipotle. Taste before using on ribs to decide how spicy you want your ribs. Alternatively, you can just season the ribs with salt and pepper.
2023 Adapted Recipe – April Ferre – Adapted from Baking Beauty
Related Recipes: