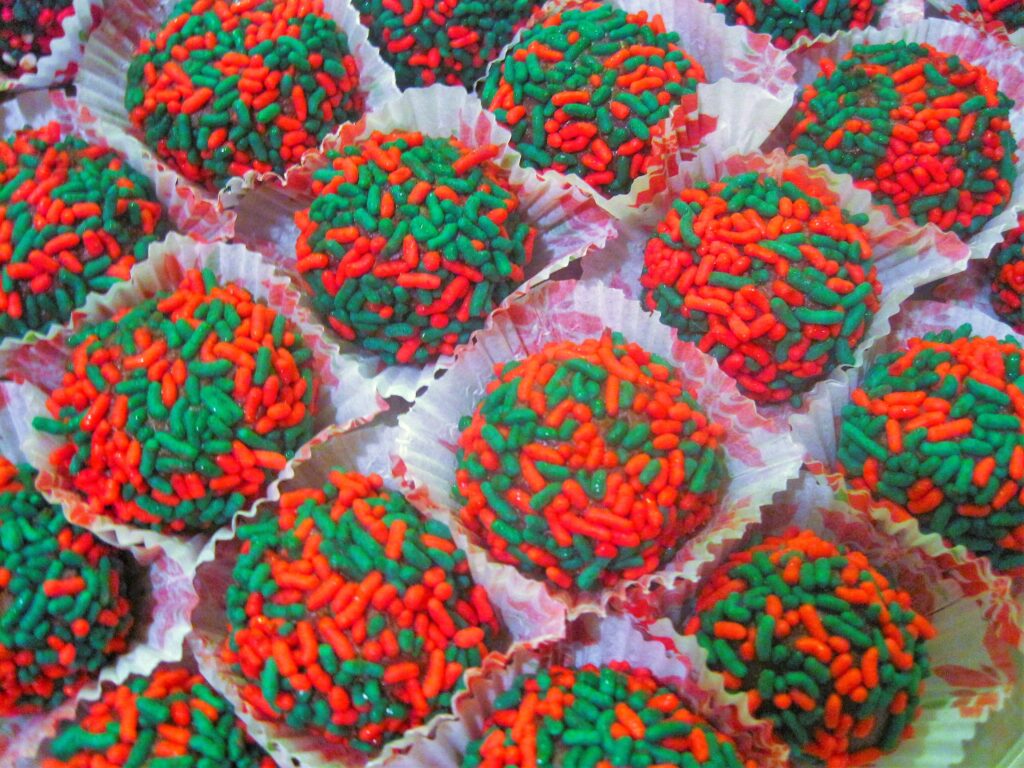 "I have my Mom make the German Chocolate Cake for my birthday pretty much every year. I've always thought that the ganache would make good truffles. A great addition to any candy or cookie platter, or for an after-dinner treat with coffee. Add a marschino cherry to the inside for a really nice truffle." – April Ferre
Chocolate Truffles
Ingredients
1

Recipe Chocolate Ganache

2

Tablespoons

Brandy or Cognac

(Or Other Alcohol or Liqueur)

Desired Coatings*
Instructions
* Examples of coatings: cocoa powder, chopped toasted nuts, toasted coconut, candy sprinkles, powdered sugar, crushed candy cane, crushed red hots, crushed toffee (coated just before serving), other crushed candies, etc.

Prepare Chocolate Ganache, blending in brandy after chocolate is smooth. Place in refrigerator and chill overnight.

Form chocolate into balls and roll in desired coating. Keep chocolate cold while working so that it retains its shape. Store in refrigerator and set out at room temperature 30 minutes prior to serving.
Variations:
Use the chocolate ganache recipe to make other sorts of truffles as well:

Encase different types of nuts or dried fruits or maraschino cherries in the middle.

Add espresso powder to warm cream and use Kahlua for coffee truffles.

For orange truffles, steep 1 Tablespoon Orange Zest in warm cream for 10 to 15 minutes, strain, and then continue making ganache, using Grand Marnier in place of brandy.

For fruit flavor truffles, use 2 Tablespoon fruit puree or jam instead of alcohol.

Use Calla's Blue Ribbon Caramels for a truffle center, cooking caramel to slightly below soft ball stage to make sure your caramel center isn't too hard.

Experiment with Toriani flavored syrups as well.

Try using different types of alcohol or liqueurs. Or add a hint of cinnamon or nutmeg to your warm cream.

The sky is the limit, so tap into your creativity and have fun!
Notes
Some Alcohol and Liqueurs for Truffles:
– Brandy/Cognac – All Purpose
– Kahlula – Coffee
– Grand Marnier – Orange
– Irish Cream
– Amaretto – Almond
– Creme de Menthe – Mint
– Frangelico – Hazelnut
– Chambord – Raspberry
2011 Recipe – Calla and April Ferre
Related Recipes: