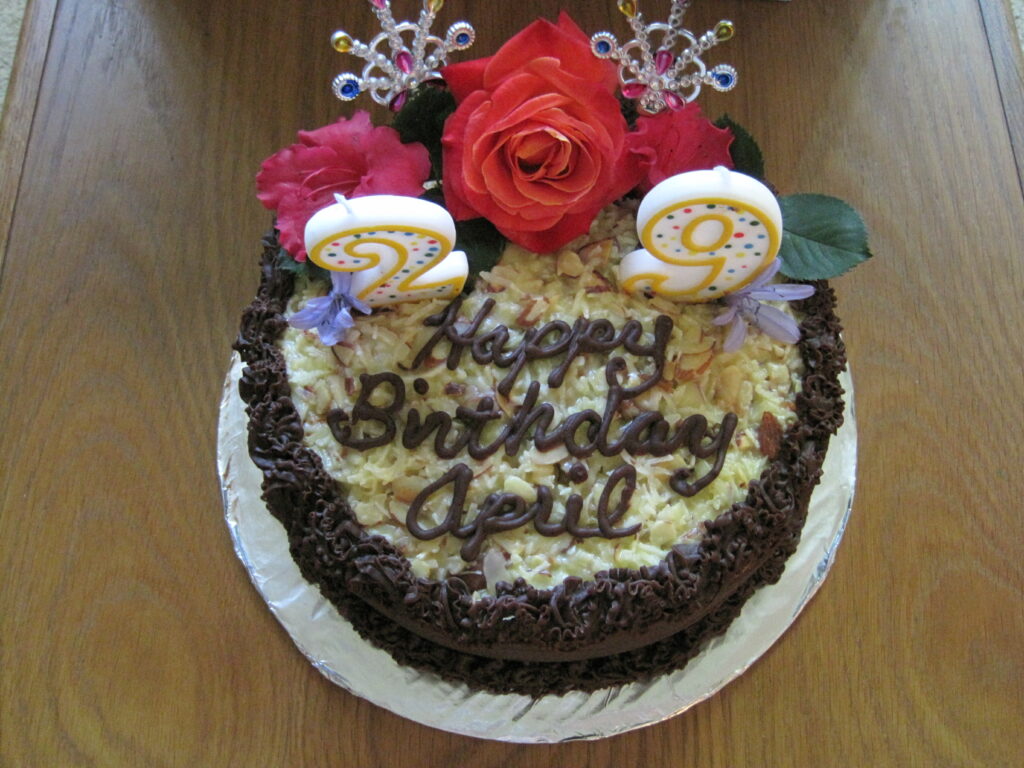 "David's favorite cake was German Chocolate, so I looked up this recipe. It quickly became a favorite among all the kids. It even travels well. Everyone laughed at me when I said I was going to send this across the country to Tom when he was in the Navy, but it made it! Also goes over excellent as finger food when making mini cupcakes topped with the coconut filling." – Calla Ferre
German Chocolate Cake
Ingredients
1

Cup

Heavy Cream

1

Cup

Sugar

4

Large Egg Yolks

1/2

Cup

Butter

Cut Into 4 Pieces

1

Tablespoon

Vanilla

2 2/3

Cup

(7 Ounces) Sweetened Shredded Coconut

2

Cups

Pecans or Almonds

Coarsely Chopped & Lightly Toasted

1

Chocolate Cake

1

Recipe Chocolate Ganache

Prepared 1 Day In Advance

1

Cup

Pecan Pieces

Lightly Toasted & Finely Ground
Instructions
Toasting Nuts:
For pecans, almonds or walnuts, spread nuts evenly on a dry baking sheet and place in a preheated 350 degree oven. Toast just until they start to color and become aromatic, about 5 to 7 minutes. Let cool completely and then chop or grind as directed. For hazelnuts, repeat above except toasting time will be closer to 15 minutes.

Immediately remove nuts from oven and wrap in kitchen towel. Set aside to cool. When cool, rub nuts (still in towel) vigorously between palms to remove the slightly bitter skins. It is not necessary to remove all the skins, but remove as many as possible.
For German Chocolate Cake Icing:
With a whisk, mix together the cream, sugar and egg yolks in the top of a double boiler off the heat. Add the butter and heat the mixture over boiling water. Once the butter has melted, cook for 10 minutes, whisking occasionally, until slightly thickened.

Remove from the heat and pour the mixture into a medium mixing bowl. Whisk in the vanilla. Let cool completely, stirring occasionally, about 2 hours.

When the sugar-egg mixture is cool, stir in the coconut and pecans. Let sit for 15 minutes.

Use as directed or store tightly covered in the refrigerator for up to 1 week. If refrigerated, let come to room temperature and stir to remix before using.
Assembly:
Spread German Chocolate Cake Icing between layers of prepared chocolate cake.

Ice the sides of the cake with Chocolate Ganache and pipe a border along the top edge of the cake. Fill top of cake with remaining German Chocolate Icing.

Grind pecans: place in food processor and pulse several times, stopping when they are finely ground but not paste-like. Holding the cake in one hand, carefully press ground pecans into side of cake, working from bottom to top.
2002 Recipe – Calla Ferre – The Village Baker's Wife: The Desserts and Pastries That Made Gayle's Famous, 1997. – Gayle's Bakery
Related Recipes: