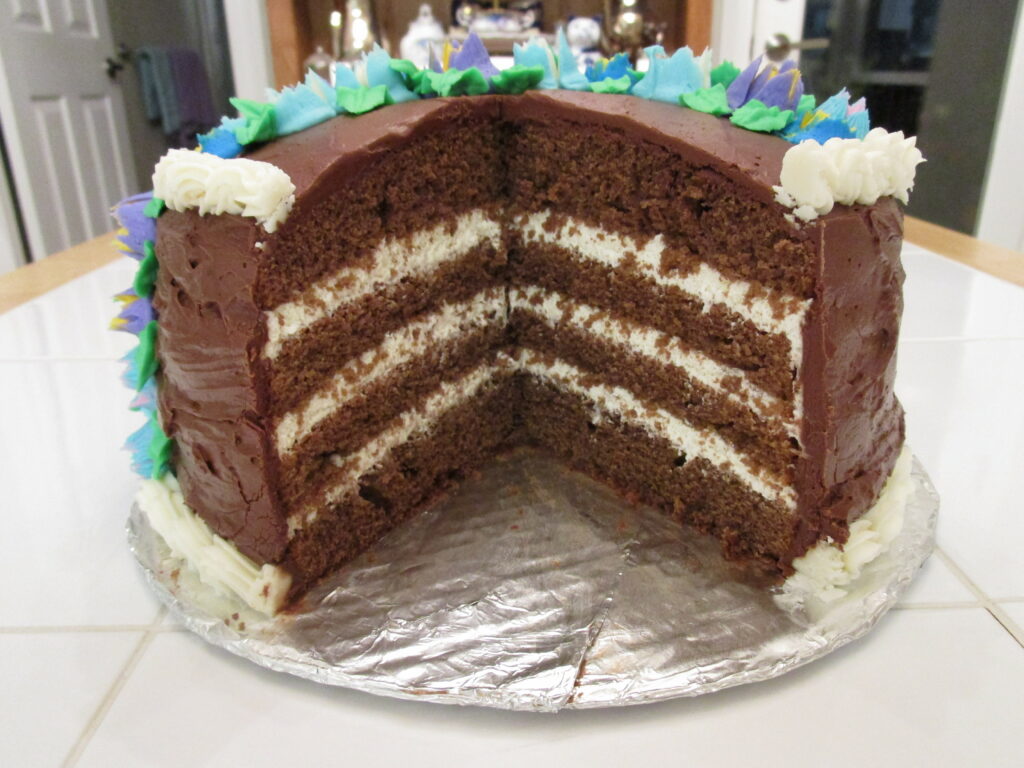 "This was commonly done as a family birthday cake when we were growing up." – Calla Ferre
Dutch Cocoa Cream Cake
Ingredients
2

Cups

Cake Flour

Sifted

1 2/3

Cup

Sugar

4

Teaspoons

Baking Powder

1

Teaspoon

Salt

5

Tablespoons

Cocoa

2/3

Cup

Shortening

2/3

Cup

Evaporated Milk

2/3

Cup

Water

1 1/3

Teaspoon

Vanilla

3

Eggs

Sweetened Whipped Cream

Milk Chocolate Icing

Classic Vanilla Buttercream Frosting

Optional
Instructions
Line the bottom of two 9-inch layers or one 13×9-inch baking pan with parchement paper; grease and flour the sides.

Sift together cake flour, sugar, baking powder, salt and cocoa. Add shortening. Combine evaporated milk , water and vanilla. Pour in a little over half of the milk mixture into flour mixture. Beat 2 minutes. Add eggs and remaining liquid. Beat 2 minutes. Batter may appear "curdled", but do not worry. Pour into prepared pan(s).

Bake at 350 degrees until cake tests done, about 35 to 40 minutes. Cool. Split each layer into 2 layers. Spread "Sweetened Whipped Cream" between layers. Finish with "Milk Chocolate Icing". Cake will keep in refrigerator 2 to 3 days.

For smaller cake: 1 1/2 Cup Flour, 1 1/4 Cup Sugar, 3 Teaspoons Baking Powder, 3/4 Teaspoon Salt, 4 Tablespoons Cocoa, 1/2 Cup Shortening, 1/2 Cup Evaporated Milk, 1/2 Cup Water, 1 Teaspoon Vanilla, 2 Eggs, and Sweetened Whipped Cream.
1954 Recipe – Jean Hansen – From the Betty Crocker Cookbook Picture Cookbook, 1950.
Related Recipes