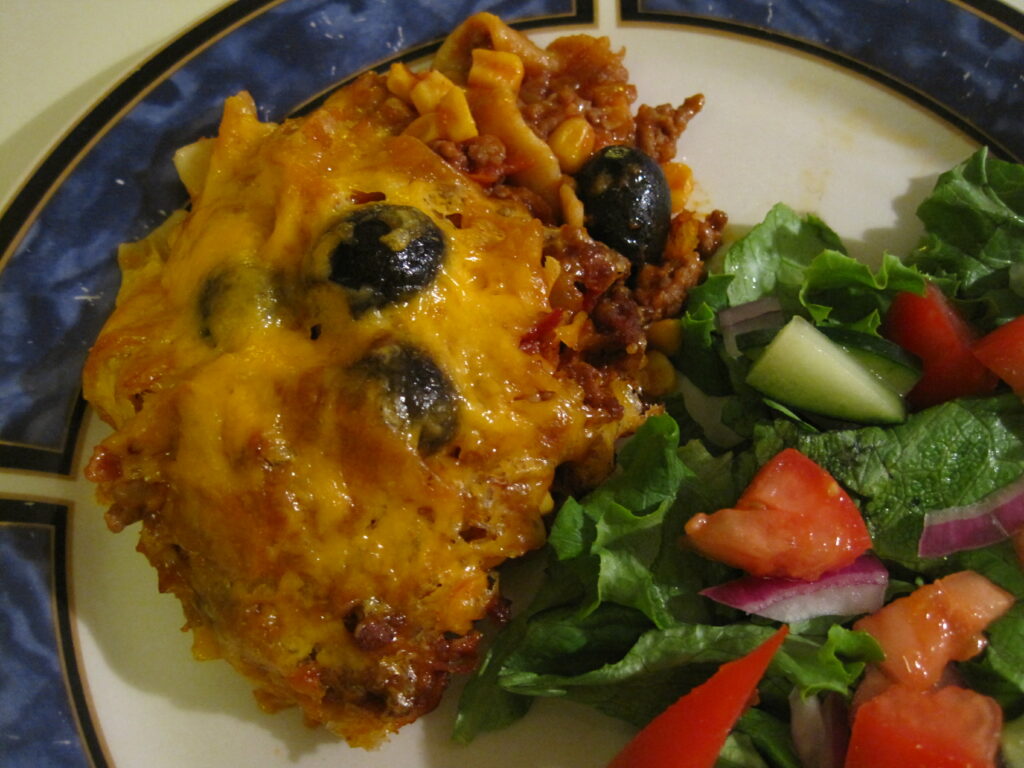 "My Aunt Ethel's husband, Fred, was a good ole southern gentleman from Tennessee. He had a niece, Hazel, who was a bit of a shirt tail relative, but a really sweet girl. Cousin Elsie brought her down to live with Ethel and Fred for a time. When I was 15, I spent the summer with Aunt Ethel and Uncle "Freddy," as I called him. I was the only one who could get away with calling him that. Hazel was graduating from Eagle Rock High School that year, and I was invited to go the Grad Night Dance at the Hollywood Palladium. Hazel and I both had dates for the night, and she ended up marrying hers, his name was Dean Spurgeon. Dean went to war soon after and was captured by the Germans. He spent time in the concentration camps, but thankfully survived. When I would go over to Hazel's house for lunch, she always served Tallerene, tossed green salad and chocolate cake." – Jean Hansen
"When I was growing up, this was the staple of casseroles. I continued to make it a tradition with my own kids." – Calla Ferre
"Probably the most memorable dish from my childhood. As a kid, I loved the whole olives; I use to put them on all my fingers and then eat them. As I got older and stopped playing with my food, I noticed the olives end up effective 'stuffed' with the corn and for some reason that made it feel very special." – April Ferre
Tallerene
Ingredients
1

Pound

Ground Beef

1

Onion

Chopped

1

15-Ounce

Can Tomato Sauce

1

Cup

Water

2

Cups

Noodles

1

15-Ounce

Can Corn

1

15-Ounce

Can Pitted Olives

1/8

Teaspoon

Garlic Powder

1/2

Teaspoon

Salt

1/8

Teaspoon

Pepper

3

Cups

Cheese

Grated
Instructions
Brown ground beef and onion together. Add tomato sauce and water.

Add noodles and cook until noodles are done, adding more water if necessary.

Add corn, olives, garlic powder, salt, and pepper.

Move to a 9×13-inch baking dish and bake at 350 degrees for 1 hour. During the last 10 minutes of baking, top with grated cheese.
1945 Recipe – Hazel Spurgeon
2012 Modified Recipe – April Ferre (Adjusted proportions slightly)