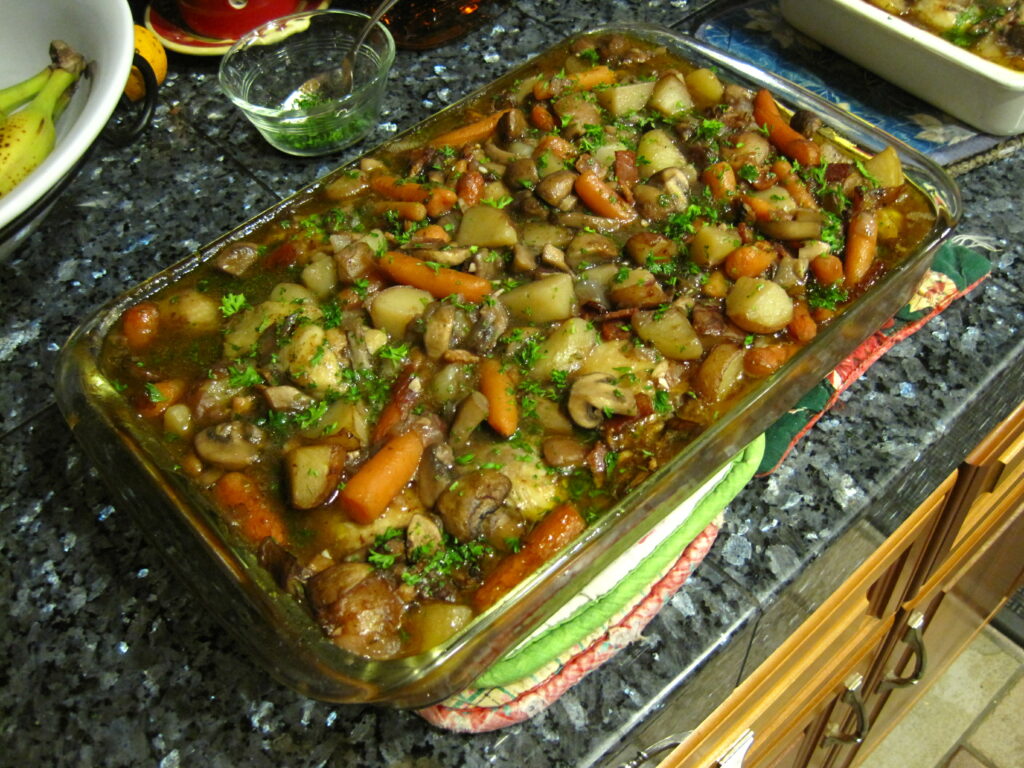 "This recipe is SO good. Bridget brought it to our French-themed Shacklett Lab holiday party. It's best with chicken legs and thighs, and any old red wine will do, even the cheap stuff. Don't worry that this makes a lot of food; you'll be surprised how fast it goes. Besides, it freezes well." – April Ferre
Coq Au Vin (Chicken in Red Wine)
Ingredients
3

Tablespoons

Olive Oil

8

Ounces

Bacon or Salt Pork

6

Pounds

Chicken

1

Pound

Carrots

2

Medium Onions

1

Pound

Red Potatoes

8

Large Cloves Garlic

2

Tablespoons

Butter

2

Pounds

White Mushrooms

2

Tablespoons

Cornstarch

2

Cups

Chicken Broth

2

Cups

Red Wine

1/4

Cup

Cognac or Brandy

2

Tablespoons

Tomato Paste

1

Tablespoon

Red Currant Jelly

1

Tablespoon

Brown Sugar

1

Tablespoon

Fresh Thyme

2

Bay Leaves

1/2

Teaspoon

Ground Black Pepper

6

Tablespoons

Parsley
Instructions
Preheat oven to 375 degrees. Heat olive oil in Dutch oven, add salt pork (diced) and cook until fat is rendered and pork is crispy, about 10 minutes. Remove to paper towel. Brown chicken (skin on, legs and thighs preferred) in pork fat, approximately 4 minutes a side. Remove to two 9×13-inch pans and set aside.

Add carrots (sliced), onions (coarsely chopped), and potatoes (diced) and cook over medium low heat until just browned, about 10 minutes. Stir in garlic (finely chopped) and cook 5 minutes longer. Add butter and mushrooms (quartered) and cook another 5 minutes.

Sprinkle the vegetables with cornstarch and cook over medium heat 1 minute. Add chicken broth, red wine (full-bodied, such as Burgundy) and Cognac. Bring to a boil and cook, stirring occasionally, until sauce thickens slightly, about 5 minutes. Add more cornstarch prepared with water, as needed. Stir in tomato paste, jelly, brown sugar, thyme, bay leaves, and pepper. Fold in salt pork.

Pour vegetables over chicken, making sure 1 bay leaf ends up in each pan. Bake covered for 30 minutes. Remove cover, and stir briefly. Return to oven and bake uncovered 30 minutes more. Remove bay leaves and fold in parsley (chopped) and serve hot over rice (preferred) or egg noodles. Serves 6 to 8.
2009 Recipe – Bridget McLaughlin – From All Around the World Cookbook by Sheila Lukins, 1994