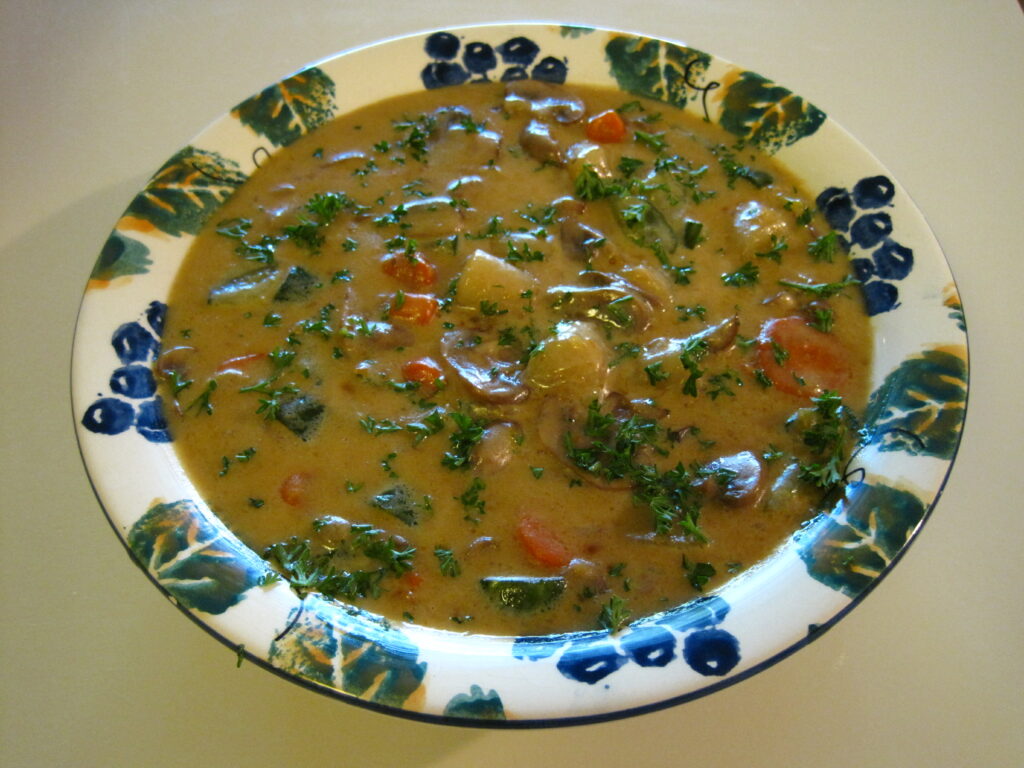 "I found this recipe among my Mom's recipe clippings to try. I love scallops, and when I saw the large sea scallops go on sale for half their usual price, I decided it was time to try this. I have learned that 'brouet' is an old term for soup. This hearty recipe though could maybe be better described as a chowder. I would also be good as a mixed seafood chowder with some shrimp, mussels, clams, and calamari." – April Ferre
"One of the highlights of our visit last summer to the Stratford, Ontario, Shakespeare Festival was The Church Restaurant's superb coquilles, served in a delicate cream base with fresh vegetables. We were certainly surprised when the waiter informed us that this rich-tasting dish was actually 'cuisine minceur'. Do you think that you could persuade the chef to part with this wonderful recipe? (From a magazine clipping.)
Brouet De Coquilles St. Jacques
Ingredients
1/4

Cup

Butter

3

Carrots

Sliced

1

Small Celery Heart

Sliced

2

Shallots

Chopped

1

European Cucumber

Cubed

24

Small Mushrooms

Sliced

3/4

Cup

White Wine

2

Pounds

Scallops

Thoroughly Washed

2

Cups

Creme Fraiche

See Below

Salt & Pepper

To Taste

Coarsely Chopped Fresh Parsley

For Garnish
Instructions
Creme Fraiche: 2 Cups Whipping Cream and 1 Tablespoon Buttermilk. Mix together in covered jar and shake 2 minutes. Let stand at room temperature 8 hours, or until thick. Place in refrigerator.

Melt 2 Tablespoons Butter in a 1-quart saucepan over medium heat and sauté carrots 5 minutes. Reduce heat, add celery and cook 5 minutes.

Add cucumber and mushrooms, cover and cook an additional 5 minutes. Add more butter as necessary during cooking.

Meanwhile, In separate pan, reduce wine by one-half.

In a large skillet, melt remaining 2 Tablespoons Butter over medium heat and sauté scallops 30 seconds or until opaque; do not allow to brown.

Deglaze vegetable pan with reduced wine. Add vegetables with their pan juices and Creme Fraiche. Cook 3 minutes and season to taste with salt and pepper.

Scallops should not be overcooked. Remove scallops and vegetables from pan and reduce sauce to desired thickness over medium-high heat.

If more sauce is desired, add a bit more heavy cream and butter an continue to reduce. Return scallops and vegetables to sauce and serve. Garnish with chervil and/or parsley.
2011 Modified Recipe – April Ferre