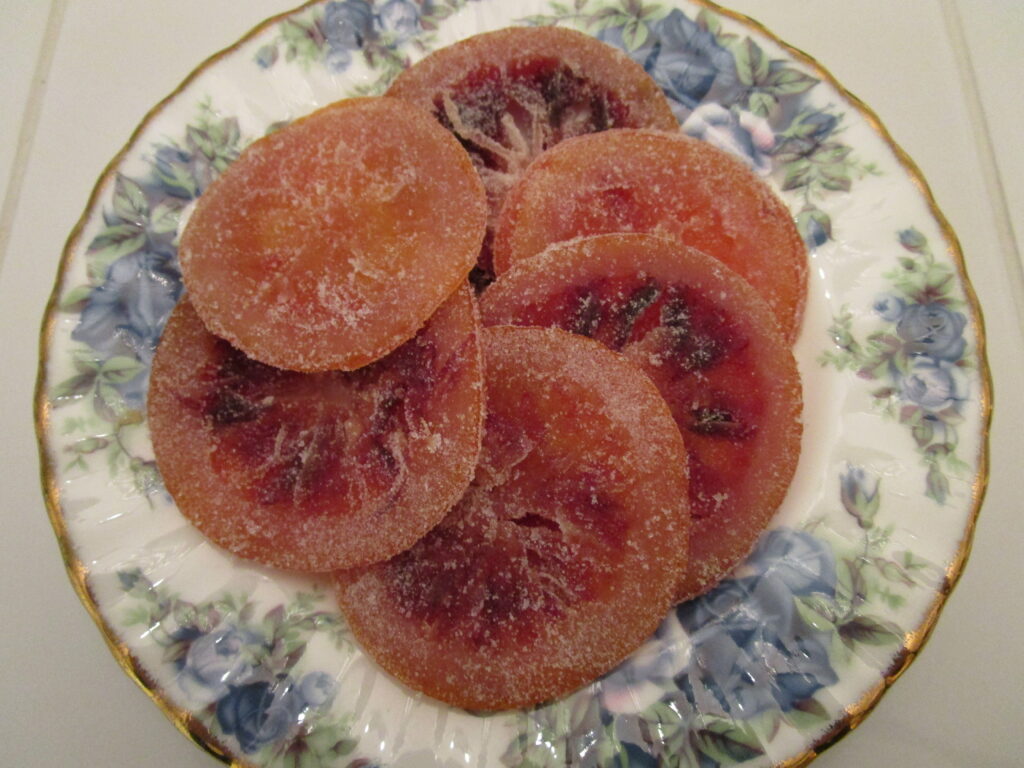 "I went looking for this recipe after find the recipe for Blood Orange Cheesecake Squares. This is a nice basic recipe to have on hand for making lovely garnishes or just having something different to snack on. Save the simple syrup and make yourself a nice citrus sorbet!" – April Ferre
Candied Citrus Slices
Ingredients
4

Small Oranges or Other Citrus Fruit

8

Cups

Water

Divided

4

Cups

Sugar

Plus More For Coating

Dipping Chocolate

Optional
Instructions
Slice orange slices very thin, approximately 1/8-inch. A mandolin slicer may be helpful, but be sure it is very sharp.

Fill a large bowl with an ice water bath and set aside.

Add 4 cups water to a large saucepan and bring to a boil over night heat. Add orange slices and boil for 2 minutes to remove bitterness from the rind. Transfer orange slices to the ice water bath. Discard boiling water.

In the same saucepan, add remaining 4 cups water and 4 cups sugar. Bring to a boil over medium heat, stirring occasionally until the sugar has dissolved. Add orange slices and simmer for 45 minutes to an hour or until rinds are slightly translucent. Gently stir the orange slices every 15 minutes to ensure they are evenly coated with sugar water.

Transfer the slices to a cooling rack set over a large baking sheet. Dry them on the rack for 24 hours. Dip the candied slices in granulated sugar, if desired. Use immediately or store them in an airtight container in the refrigerator for up to 1 month.

Optional, dip the candied orange slices in chocolate and place on parchment paper until solidified. Also try lemons, limes, small grapefruit, or any other citrus fruits.
Notes
If desired, strain the citrus-infused simple syrup and store in the refrigerator for use in other recipes. It can be used in creating cocktails, to moisten cake layers, or for making sorbet.
2020 Recipe – April Ferre – from www.bakedbyanintrovert.com
Related Recipes: