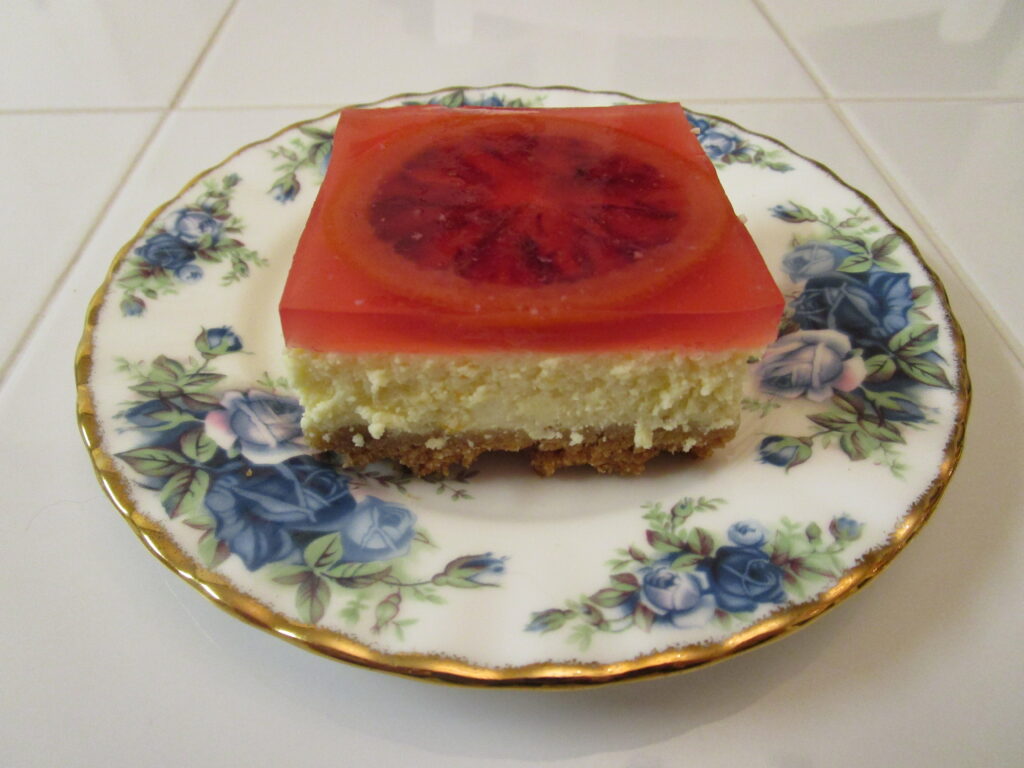 "If you have a good amount of time on your hands and want to make an impressive looking dessert, give this a try. You will first need to make up some candied orange slices, which are a bit of work in and of themselves, but then you have some nice decorations for other desserts too. This could be adapted for lemons or limes as well." – April Ferre
Blood Orange Cheesecake
Ingredients
1

Recipe Graham Cracker Crumb Crust

2

8-Ounce

Packages Cream Cheese

Softened

1/2

Cup

Sugar

1

Tablespoon

Flour

2

Large Eggs

2/3

Cup

Sour Cream

1/2 to 1

Teaspoon

Orange Rind

Grated

1/2

Teaspoon

Vanilla

6

Tablespoons

Sugar

1

Tablespoon

Gelatin

1/2

Cup

Blood Orange Juice

1/4

Cup

Lime Juice

1/2

Cup

Water

9

Candied Blood Orange Slices
Instructions
At least the day before, make Candied Blood Orange Slices.

Bring all ingredients to room temperature.

Bake Graham Cracker Crumb Crust in an 8×8-inch baking dish for 8 minutes at 375 degrees. Allow to cool while you prepare cheesecake batter.

Reduce oven temperature to 325 degrees.
Cheesecake Layer:
In large mixer bowl, beat cream cheese. Add 1/2 cup sugar and flour and beat again.

Add eggs, one at a time, mixing well in between each addition. Mix in sour cream, orange rind and vanilla and stir until well combined.

Pour over cooled Graham cracker crust and bake until there is just a slight wobble in the middle, approximately 1 hour.

Let sit at room temperature until cool enough to put in the refrigerator, then refrigerate until cold.
Jelly Layer:
Combine 6 Tablespoons sugar and gelatin in a small mixing bowl.

In a small saucepan, combine blood orange juice, lime juice and water; bring to a boil. Whisk hot juice into sugar/gelatin mixture until gelatin is fully dissolved.

Let cool slightly, the poor over the top of cheesecake.

Place candied orange slices on top and refrigerate until set. Slice into squares and serve.
Notes
If the edges have puffed up you may want to level the cake. If you do, make sure to remove any crumbs. If you don't, they will end up suspended in your jelly layer and will ruin your presentation.
2020 Adapted Recipe – April Ferre – Adapted from www.cookinglsl.com
Related Recipes: