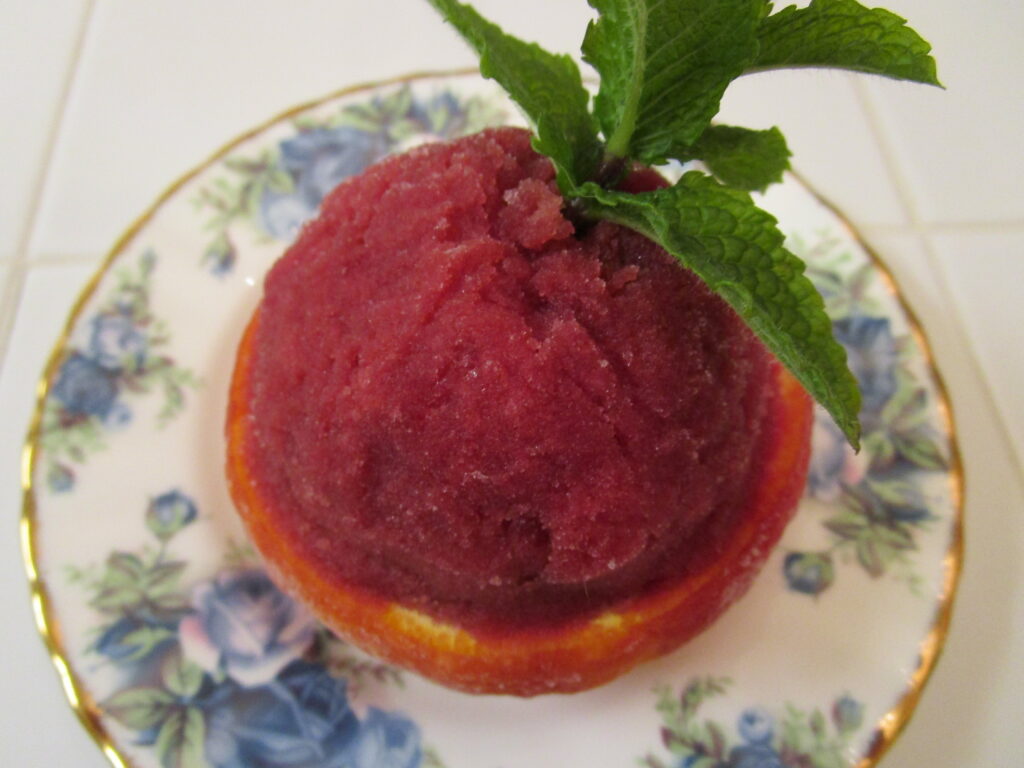 "I found this really impressive looking Blood Orange Cheesecake recipe that I wanted to try, which meant that I also needed to learn to make Candied Orange Slices. At the end of that process I had this beautiful blood orange-infused simple syrup and I knew there had to be a good way to use it. That's how I found this very versatile sorbet recipe. And because the simple syrup from the Candied Orange Slices is so concentrated, you end up with a very flavorful sorbet!" – April Ferre
Blood Orange Sorbet (Basic Sorbet Method)
Ingredients
3

Cups

Blood Orange Juice

1/2 to 2

Cups

Simple Syrup

1

Tablespoon

Vodka or Grand Marnier

Optional
Instructions
In a small bowl, combine orange juice (freshly squeezed preferred) and 1/2 cup simple syrup (orange-infused from making Candied Citrus Slices, if available). Mix well.

Place a clean egg in a 2 1/2 Cup measuring cup. Pour in orange juice mixture to the top. What you are looking for is the egg to float to the top until the exposed portion of the egg is about the size of a quarter. This is a nifty trick I learned from www.zoebakes.com (see website for very nice pictures and explanation) to get the correct sucrose percentage for making sure the sorbet freezes correctly. You can buy a specialized tool for measuring sucrose content, but this is a fun, easy and accessible method. Add simple syrup bit by bit, mixing well after each addition, until this is achieved. How much you use will depend on how concentrated your simple syrup is.

If desired, add alcohol for extra help so that the sorbet doesn't freeze quite as hard. Use vodka if you don't want to add any extra flavor.

Freeze in ice cream maker according to manufacturer's directions.

For a beautiful presentation, save orange rinds to use for serving cups. Put them in the freezer before hand to chill so that the sorbet doesn't melt as fast. Garnish with fresh mint leaves.

This method may be used for most any fruit juice you like, with the exception of banana which tends to be too thick for the floating egg test.
2020 Recipe – April Ferre – from www.zoebakes.com
Related Recipes: