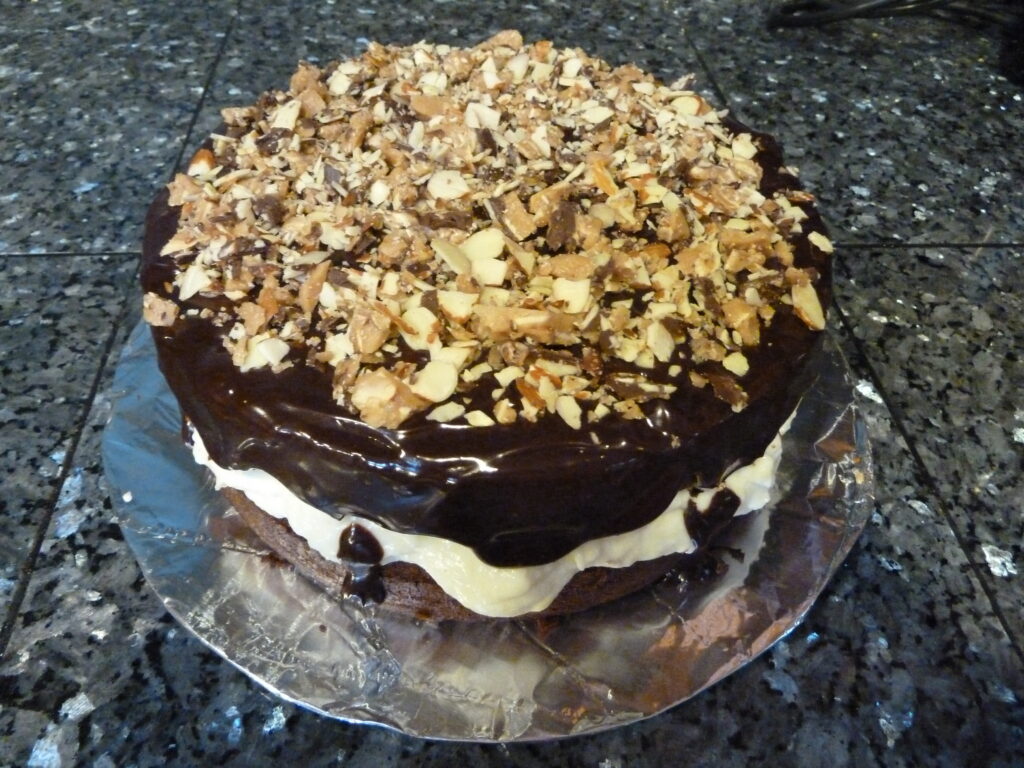 "I developed this recipe because I wanted something different and special for my Mother's 85th birthday. It is based off my memories of Boston Cream Pie, but with a few extra modifications. Just remember: there are no calories in birthday cakes. Or at least we don't count them!" – Calla Ferre
Calla's Chocolate Banana Cream Cake Deluxe
Ingredients
Two 8- or 9-Inch Chocolate Cake Layers

2 to 3

Bananas

1

Recipe Banana Pudding

3/4

Cup

Semi Sweet Chocolate Chips

1/2

Cup

Heavy Whipping Cream

1/2

Teaspoon

Vanilla

Toffee Chips
Instructions
Cake Layers:
Make 1 recipe of your favorite chocolate cake. (I like Red Devils Food Cake. It tends to result in a more moist cake.)

Boxed cake mix may also be used. Make two 8- or 9-inch layers.
Filling:
Make 1 Recipe Banana Variation of Vanilla Pudding. You could also substitute Jello Banana or Vanilla Pudding.

If cake tops are rounded (generally they are) cut tops off so that layers will sit evenly. Or assemble cake layers with flat sides together in the middle.

Place first layer on serving plate. Slice bananas and arrange on top of the first layer. Top with banana pudding filling. Top with second layer of cake.
Ganache Frosting:
Place chocolate chips in a heat-proof bowl. In second microwavable bowl, heat whipping cream to boiling. Add half of the heated cream to chocolate chips. Let sit for approximately 30 seconds. Stir gently with rubber spatula until smooth.

Reheat rest of whipping cream and add to mixture. Stir until smooth. If necessary heat the entire mixture for only a few seconds in the microwave to get rid of any lumps.

Spoon frosting over the top of the cake, letting it drip artistically over the sides. No need to let it cover the entire side. Let some of the layers and filling peek out.
Topping:
Crush enough See's Toffee to create toffee chips to cover the top of the cake. Purchased Hershey's Toffee Bits may also be used, or several chopped Health Candy Bars.

While frosting is still warm, cover top of cake with chopped toffee.
2011 Original Recipe – Calla Ferre
Related Recipes: