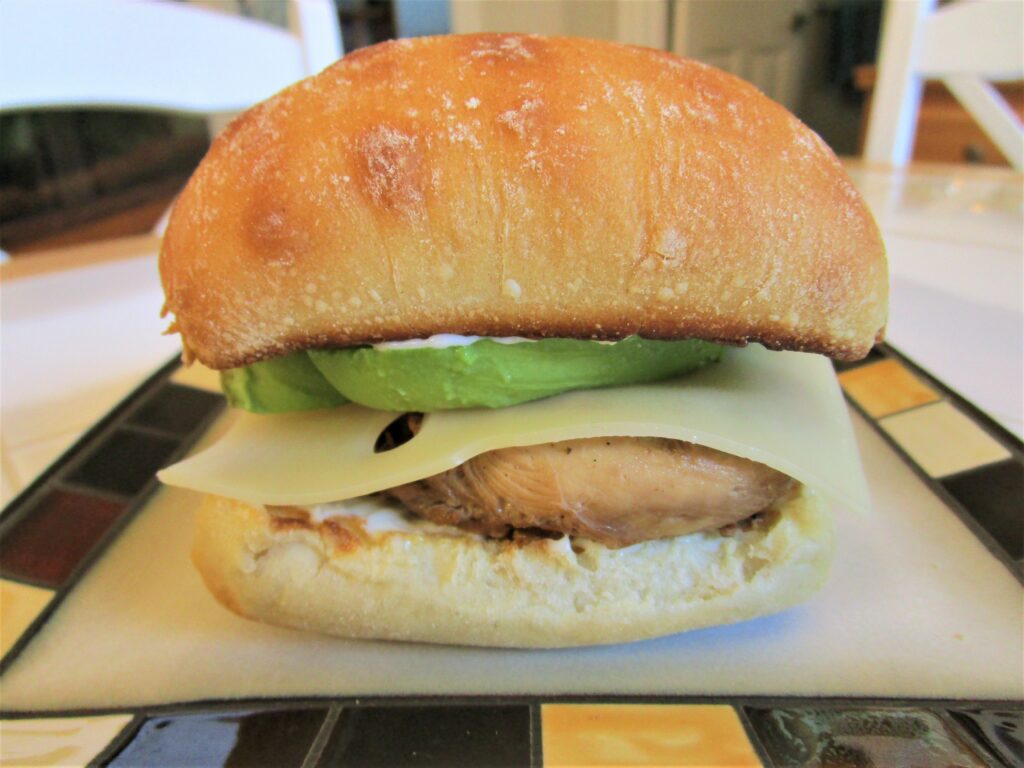 "Right now (2021), chicken sandwiches are all the rage, particularly there are all sorts of crispy chicken sandwich wars going on with all the fast food places. But long before this, I came up with this grilled chicken sandwich that I fell in love with. It wasn't planned. This was another case of having a bunch of ingredients that I needed to use up soon, so I put them together and it came out magic. Originally, I made these using precooked chicken breasts from the frozen food aisle and it makes for a tasty, quick meal if you have company coming over for lunch. You can also go fancier and marinate and grill your own chicken." – April Ferre
California Grilled Chicken Sandwich
Ingredients
Chicken Breasts

Cooked

Ciabatta Rolls or Large Croissants

Mayonnaise

Swiss Cheese

Sliced

Avocado

Sliced
Instructions
If using precooked, frozen chicken breasts reheat according to directions on the package for a quick, easy meal.

Alternatively, you can cook your own. First pound chicken breasts to 1/2-inch thickness. Season to taste and cook on an electric grill. Or marinate chicken overnight using your marinade of choice. Depending on the size of your chicken breasts, you may need to cut them in half to fit the bun or croissant.

If using ciabatta rolls, toast under a broiler until golden. To assemble sandwich, spread mayonnaise on ciabatta roll or croissant. Then top with hot chicken breast, Swiss cheese and avocado. Serve immediately.
2012 Original Recipe – April Ferre
Related Recipes: