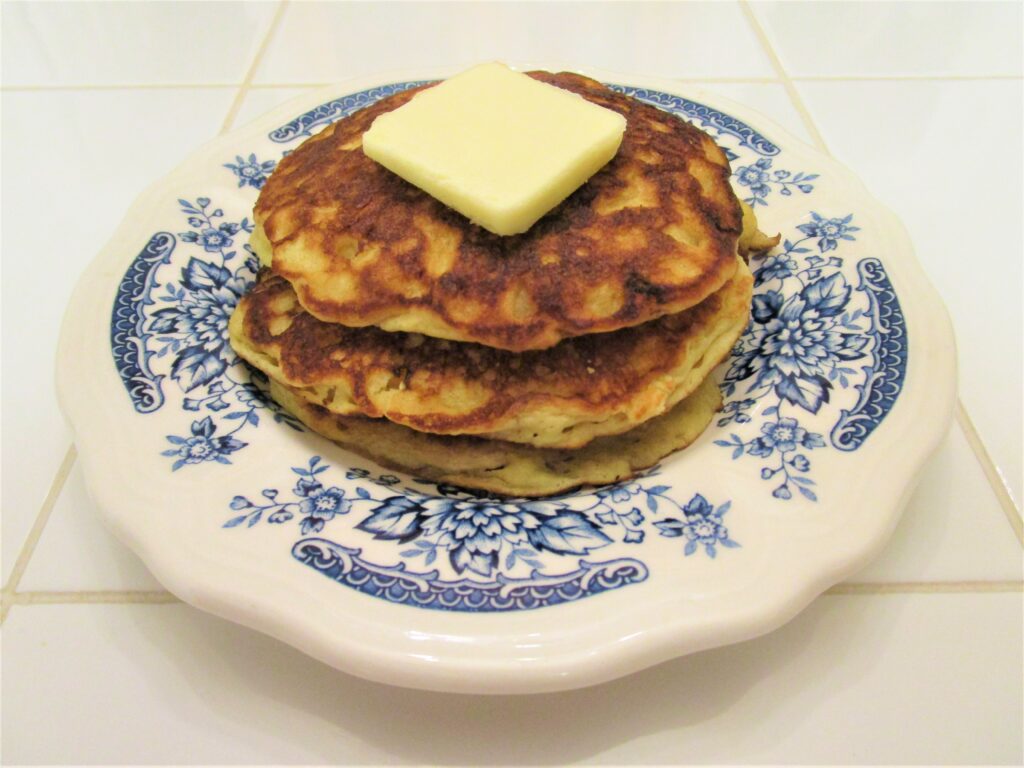 "I am still on the hunt for a pancake recipe like the one at Silver Spur Restaurant in Santa Cruz, California. They have the most wonderful, thick, fluffy pancakes. These are pretty darn good though! The apple-cinnamon variation is especially good. You'll never want maple syrup again after having the Apple Cider Syrup! " – April Ferre
Buttermilk Pancakes
Ingredients
2

Cups

Flour

1/3

Cup

Sugar

1 1/2

Teaspoons

Baking Powder

1 1/2

Teaspoons

Baking Soda

1 1/4

Teaspoon

Kosher Salt

2

Eggs

1 1/2

Cups

Buttermilk

1

Cup

Heavy Cream

1

Teaspoon

Vanilla

1/4

Cup

Butter

Melted & Cooled

1

Stick Cold Butter

For Greasing the Pan
Instructions
Preheat oven to 200 degrees.

Mix together flour, sugar, baking powder, baking soda, and salt.

In a separate bowl lightly beat eggs. Add buttermilk, heavy cream, vanilla, and melted butter.

Add wet ingredients to dry ingredients and mix until just combined. Do not over mix; batter will be lumpy. Set batter aside to rest 10 minutes. Or, batter may be refrigerated for up to 1 hour.

Meanwhile, heat and electric skillet to 375 degrees or heat a cast iron skillet on the stove over medium-high heat.

Lightly grease the pan with the stick of cold butter. Ladle 1/3 cup batter onto greased, hot skillet.

Flip pancakes after bubbles rise to the surface and the bottoms are nicely browned. Cook second side until lightly browned.

Remove to a plate and place in the oven to keep warm until all pancakes are cooked and you are ready to serve.
Variations:
Apple-Cinnamon Pancakes: Peel, core and slice two apples. In a medium pan, melt 1/4 cup butter. Sauté apples until cooked through. Part way through cooking, add some sugar to taste. Once apples are cooked, add cinnamon to taste. Top pancakes with sautéed apples and apple cider syrup.

Blueberry Pancakes: Measure 2 cups frozen blueberries. Thaw and drain well. Add to batter and mix until just combined. Cook as directed. Serve with Blueberry Syrup.
2021 Adapted Recipe – April Ferre – Based on New York Times Cooking recipe
Related Recipes: