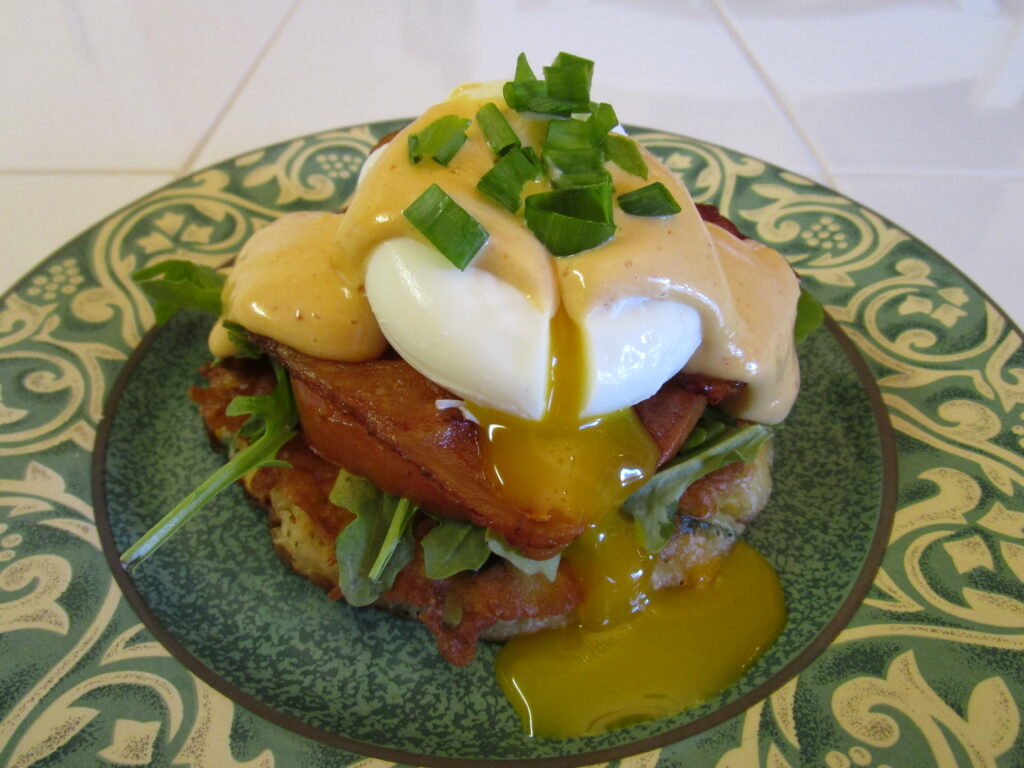 "In trying to figure out what I could serve with the Fried Corn Cakes with Green Onion, I came up with a fantastic idea … Eggs Benedict! You can also make this with Canadian bacon, but if you use regular bacon, you can use the grease to fry the tomatoes for extra flavor. I was inspired to include a Sriracha Hollandaise Sauce from the fantastic Irish Eggs Benedict served at DeVere's Pub in Davis." – April Ferre
April's Farmhouse Eggs Benedict
Ingredients
8

slices

Bacon

Cooked, Grease Reserved

1

Recipe Fried Corn Cakes with Green Onion

1

Recipe Sriracha Hollandaise Sauce

8

Slices

Tomato

1

Tablespoon

White Vinegar

8

Eggs

Baby Arugala

Green Onions

Sliced
Instructions
Heat oven to 375 degrees. Line a baking sheet with foil. Cook bacon until crisp. Remove bacon to a foil covered pan. Lower the oven temperature to 200 degrees. Place bacon in the oven to keep warm.

Make Fried Corn Cakes (use 1/3 cup batter per cake). When completed place in oven with bacon. Make Sriracha Hollandaise Sauce and set aside.

Use reserved bacon grease to fry tomato slices until cooked through but not mushy. Place in oven-safe dish in the oven.

To poach eggs: Bring a medium pot of water (4 inches deep) to a boil. While waiting for the water to boil, crack an egg into a small fine mesh sieve over a bowl. Swirl the egg in the sieve until all the liquidy egg whites have been removed. Then, place the egg in a ramekin. Stir the vinegar into the water and create a vortex. Add the egg to the middle of the vortex and cook the egg for 3 minutes. Remove the egg with a slotted spoon and dab it on a paper towel to remove any excess water. Serve immediately.

Alternatively, if making the poached eggs for meal prep or ahead of time, transfer the cooked poached eggs to an ice water bath and refrigerate for a couple of days. When ready to serve, add boiling water to a bowl, then add the cold poached egg and submerge for 20-30 seconds or until warmed through. Remove the poached egg with a slotted spoon, dab dry and serve immediately.

To assemble the Eggs Benedict: Start with a fried corn cake, then top with arugala, fried tomato, bacon and a poached egg. Top with sriracha Hollandaise sauce and green onion.
2020 Original Recipe – April Ferre – Poached Egg directions from www.downshiftology.com
Related Recipes: