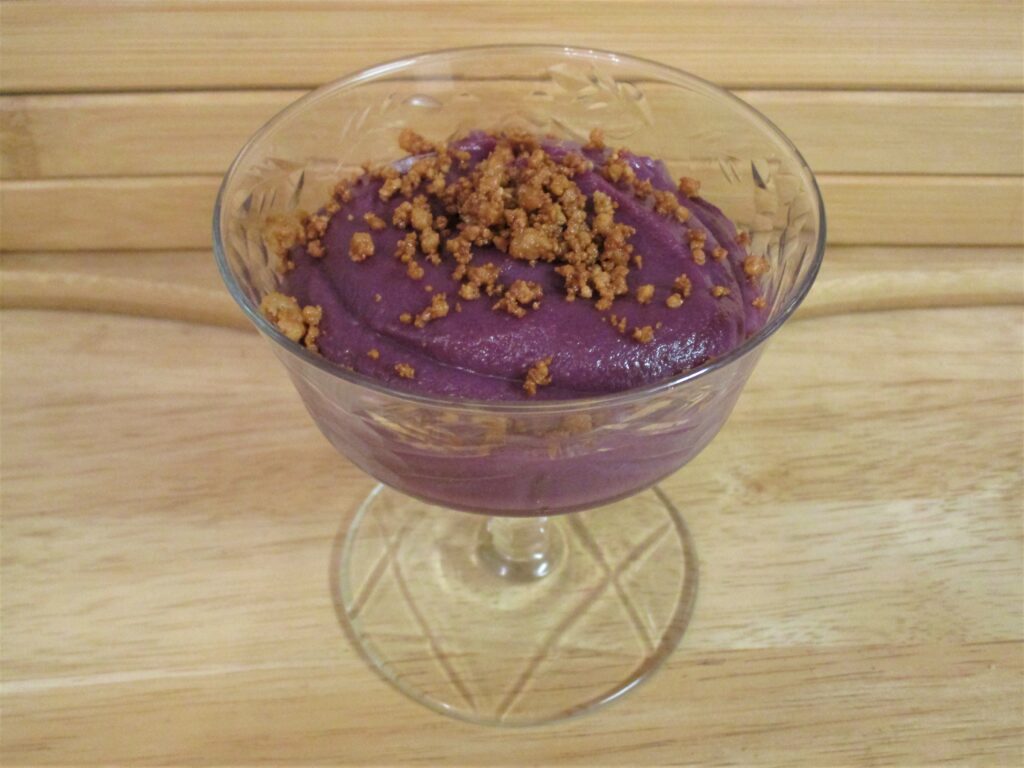 "I was in Pedrick Produce one day picking up persimmons to dehydrate when I saw 'purple sweet potato.' I was very excited, thinking that I had found fresh ube. I bought a bunch and planned all sorts of baked goods. Then as I was researching recipes, I came to realize that while all ube are purple yams not all purple yams are ube. In reality, I did not have ube. But since I already had all the ingredients, I decided to go ahead with this recipe to see what would happen. I have no idea how different this tastes from real ube, but I do know that it came out really tasty! So you could call this 'Faux Ube Halaya.' I'll try it in some cookies next and see how those come out. I'm hopeful!" – April Ferre
Ube Halaya with Latik
Ingredients
1.5

Pounds

Ube

1

Cup

Evaporated Milk

1

Cup

Coconut Milk

(Full Fat)

14

Ounces

Sweetened Condensed Milk

1

Cup

Sugar

1/2

Cup

Butter

1

Tablespoon

Lemon Juice

2

Teaspoons

Vanilla Extract

1/4

Teaspoon

Salt

1 to 2

Cans Coconut Cream
Instructions
For the Ube Halaya (Ube Jam):
Wash the ube, but leave the skins on. Steam or boil them whole until tender in the middle, about 30 to 40 minutes depending on their size. Once cooked through, let cool until you are able to handle and then peel off the skin.

Roughly chop the ube and place into a blender. Add evaporated milk and coconut milk and blend until smooth.

Pour ube puree into a large, heavy-bottomed pot and add sweetened condensed milk and sugar. Stir until well combined.

Heat the mixture over medium heat until in comes to a simmer, then reduce the heat slightly to medium low. Simmer for 40 to 45 minutes, stirring frequently to prevent the jam from sticking to the bottom of the pot and burning.

Note: the jam is thick and will spit, take precautions to prevent being burned. Have a lid available to cover while not actively stirring. Long sleeves and heat resistant barbecue gloves are recommended. Do not put your face directly over the pot to avoid burns to the face.

Remove the jam from the heat and stir in butter, lemon juice, vanilla and salt.

Transfer the jam to jars and allow to come to room temperature, then refrigerate. It will last in the refrigerator for about 5 days. Alternatively, you can freeze it for up to 4 months. Makes approximately 5 cups jam.

Top the ube halaya with latik (see below) and eat as a pudding. Ube halaya is also the base ingredient for many ube-flavored desserts including cookies, brownies, cheesecake, ice cream, etc.
For the Latik (Toasted Coconut Milk Curd):
In a medium saucepan, heat the coconut cream over medium heat until it comes to a boil. Continue to cook until the liquid evaporates and a residue begins to form.

Reduce the heat to medium low and gently stir the residue. Continue to cook until you are left with the curd in coconut oil. Once the curd becomes light brown stir frequently so that it cooks evenly. Cook until the color turns golden brown; be careful not to let it burn.

Set a sieve over a heat resistant bowl or pot and pour the toasted curds in to separate it from the oil. Store in an airtight container in the refrigerator.
2021 Adapted Recipe – April Ferre – Adapted from Bigger Bolder Baking & Panlasang Pinoy
Related Recipes: