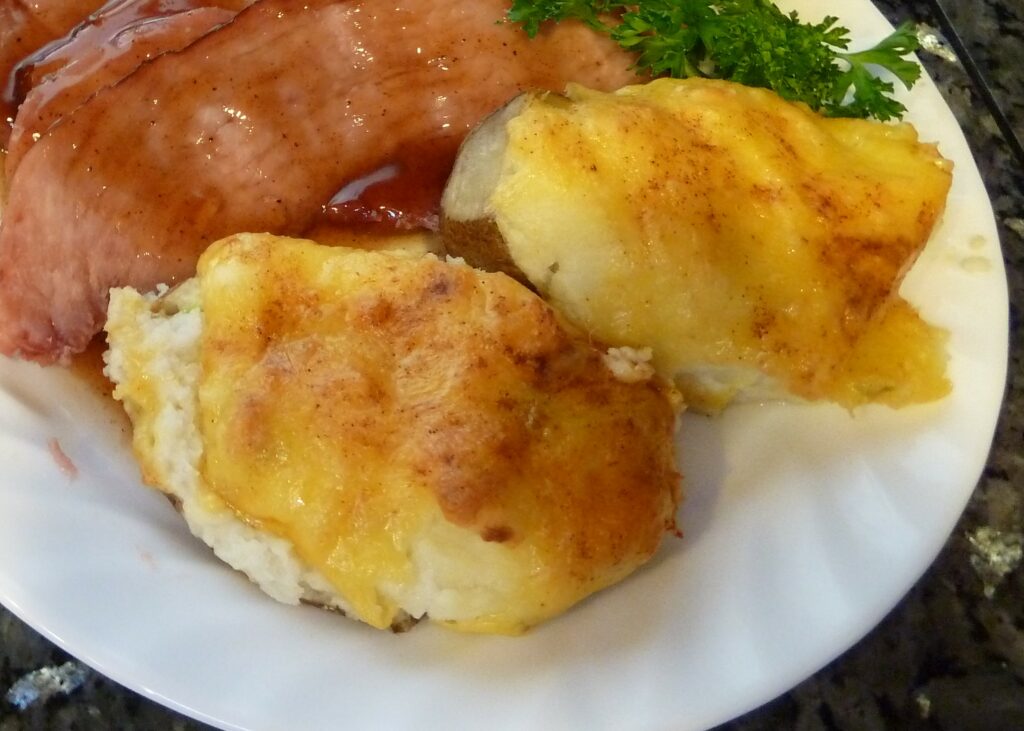 "My second favorite way to make baked potatoes, after serving them with Chef's Cheese Sauce. There's lots of room for customization here. They also freeze well. After putting the mashed potatoes back in the shell and topping them with grated cheese, lay flat in a pan and freeze. When solid, transfer to freezer bags. The morning you want to use them, put them in the refrigerator to thaw. Then they are ready to pop out quickly bake to go with your meal. They can be microwaved as well." – April Ferre
Twice-Baked Potatoes
Ingredients
Potatoes

Milk

Butter

Salt

To Taste

Garlic

To Taste, Optional

Chopped Green Onions

Optional

Bacon Bits

Optional

Cheddar Cheese

Shredded

Paprika

Optional
Instructions
Bake Potatoes. Halve potatoes lengthwise and scoop out insides.

Whip insides with milk, butter, salt, and garlic to taste. If desired, blend in green onions and/or bacon bits. Refill potato skins. Top with cheese and paprika, if desired.

Place in 400 degree oven until golden brown and cheese has melted.
Recipe – Calla Ferre – From Betty Crocker's Picture Cookbook, 1956
Related Recipes: