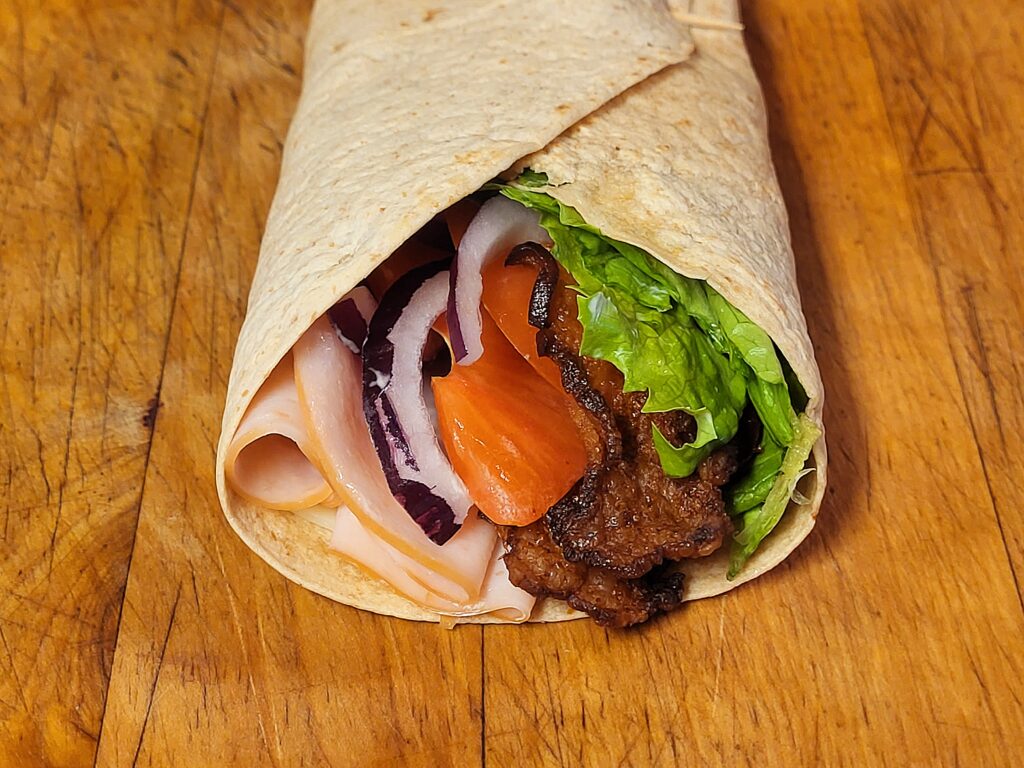 "In preparing the 20th anniversary addition to this cookbook, I went back to some previous editions and found some missing recipes. While this isn't a genius sort of recipe, it is nice to have this idea floating around when you are looking for something a little different. Apparently this is something I was making during college. Honey mustard was a theme during that time. More recently one of the wrap ideas that I enjoy comes from my friend, Donna, who does a Mediterranean version using hummus, lettuce, tomato, bell pepper, and cucumber. Kalamata olives and onion would also be good in it!" – April Ferre
Turkey Club Wraps
Ingredients
Tortillas or Flatbread

Mayonnaise

Honey Dijon Mustard

Swiss or Cheddar Cheese

Thinly Sliced

Turkey Sandwich Meat

Crisp Fried Bacon

Lettuce

Tomato

Red Onion
Instructions
Combine mayonnaise and honey Dijon mustard to make a slightly sweet honey mustard sauce. Spread sauce over tortilla.

Layer remaining ingredients, leaving enough room on sides of tortilla to wrap it up in the end. Wrap up as you would a burrito.

Additionally, any combination of meats, cheeses or veggies can be used to make creative sandwich wraps.
2003 Recipe – April Ferre