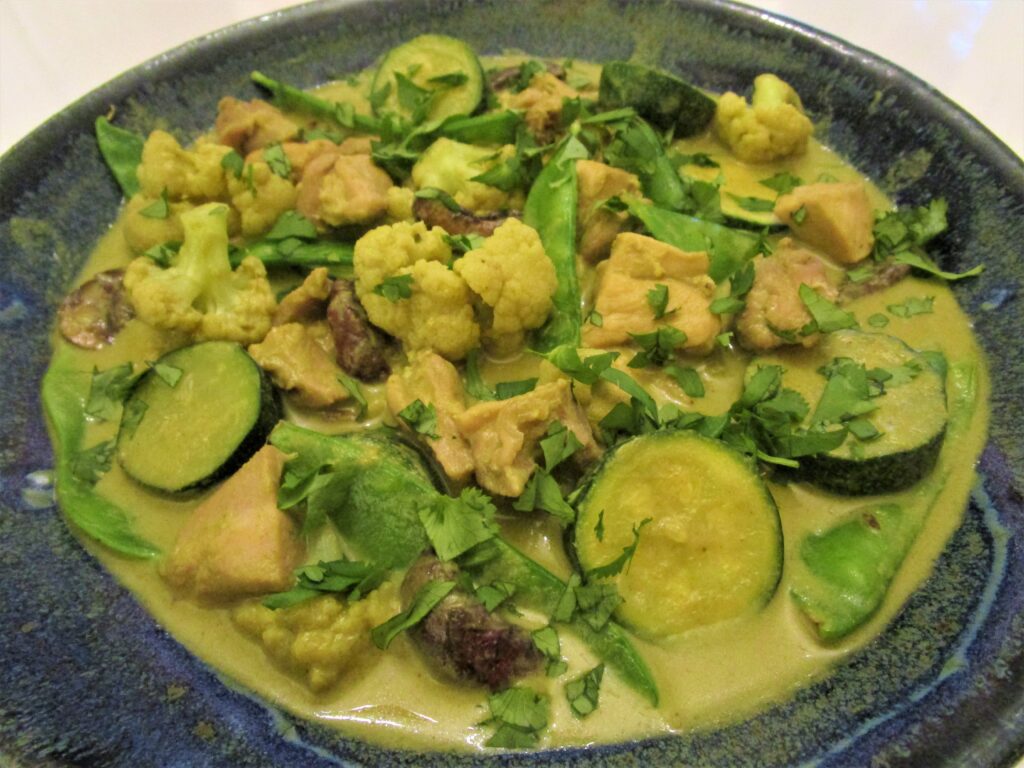 "Those who know me well know I'm not a big lover of especially spicy foods. Usually I find that really spicy food covers up the flavor of the ingredients. So I never really ventured into the various curries at Thai restaurants (especially when there was peanut sauce to be had!) But it just so happened that during our annual Flow Cytometry course they brought in Thai food for lunch and it included some green curry. So I decided to give it a try and was extremely surprised to find out that, despite the high spice level, it was really tasty! From time to time I still think about it, so I decided to give it a try myself. This recipe replicates just what I remember from that meal. Extremely spicy, but such great flavor. The original recipe called for Japanese eggplant, but I'm not a fan, so I substituted zucchini and added cauliflower and mushrooms." – April Ferre
Thai Green Curry (Gaeng Khiao Waan Gai)
Ingredients
4 to 6

Tablespoons

Green Curry Paste

Maesri Preferred

1

Recipe

Homemade Green Curry Paste

2

Large Garlic Cloves

Minced

2

Teaspoons

Finely Grated Ginger or Ginger Paste

1

Tablespoon

Lemongrass Paste

– Or 2 Teaspoons Fresh Lemongrass

Finely Minced

2

Tablespoons

Vegetable Oil

1

Cup

Chicken or Vegetable Broth

14

Ounces

Coconut Milk

1

Teaspoon

Fish Sauce

1

Teaspoon

Sugar

6

Makrut (Thai) Lime Leaves

Torn in Half (See Note)

12

Ounces

Boneless, Skinless Chicken Thighs

Cut In Bite Sized Pieces

1 1/2

Cup

Cauliflower Florets

1

Large

Zucchini

Sliced

4 to 5

Large

Cremini Mushrooms

Stems Removed & Sliced

1

Handful

Snow Peas

Small Pods Preferred

16

Thai Basil Leaves

Juice of 1/2 Lime

Cilantro

For Garnish
Instructions
Combine green curry paste, garlic, ginger paste and lemongrass paste in a small bowl. Stir to combine.

If using homemade green curry paste, omit garlic, ginger and lemongrass.

Heat oil in a large Dutch oven over medium high heat. Turn on the exhaust over your stove top. Add curry paste mixture and cook for 2 to 3 minutes until it mostly dries out. DO NOT breathe in the fumes!

Add chicken broth and coconut milk; mix to dissolve the paste. Add fish sauce, sugar, and lime leaves. Mix and bring to a simmer.

Add chicken, stir and then lower the heat to medium so that it is bubbling gently. Cook for 7 minutes.

Add cauliflower and cook 2 minutes more. Add zucchini and mushrooms. Cook until just barely tender, about 3 minutes. Taste the sauce. Add fish sauce for more saltiness or sugar for more sweetness. Add snow peas and cook 2 minutes until a bit softened.

Remove from heat. Do not keep simmering or the sauce will darken. Stir in basil leaves and lime juice.

Serve curry over jasmine rice and garnished with cilantro.
Notes
About Makrut Lime Leaves:  This is the less well known name for the specific variety of lime leaves commonly used in Thai cooking.  The more common name, unfortunately, is also an offensive racial slur, so I will not be using it here.  If you have any question about this ingredient, please do a google search and help educate others by using the term "Makrut" or simply refer to the plant as the Thai lime. 
Other vegetables can be used depending on your tastes and what might be lurking in your refrigerator. Some suggestions include: Japanese eggplant, green beans, broccoli, asparagus, carrots, sweet potato and pumpkin. You will have to consider the various cooking times of each addition so that everything is cooked, but not mushy at the end of the cooking process.
In total, the sauce should simmer for 13 to 15 minutes to achieve the right flavor and thickness.
You can also use different proteins. If you use fish or shrimp, add it in the last couple minutes of cooking. If using beef or pork, choose quick cooking cuts, sliced thin, seasoned with salt and pepper and seared prior to adding to sauce.
2021 Adapted Recipe – April Ferre – From RecipeTin Eats
Related Recipes: