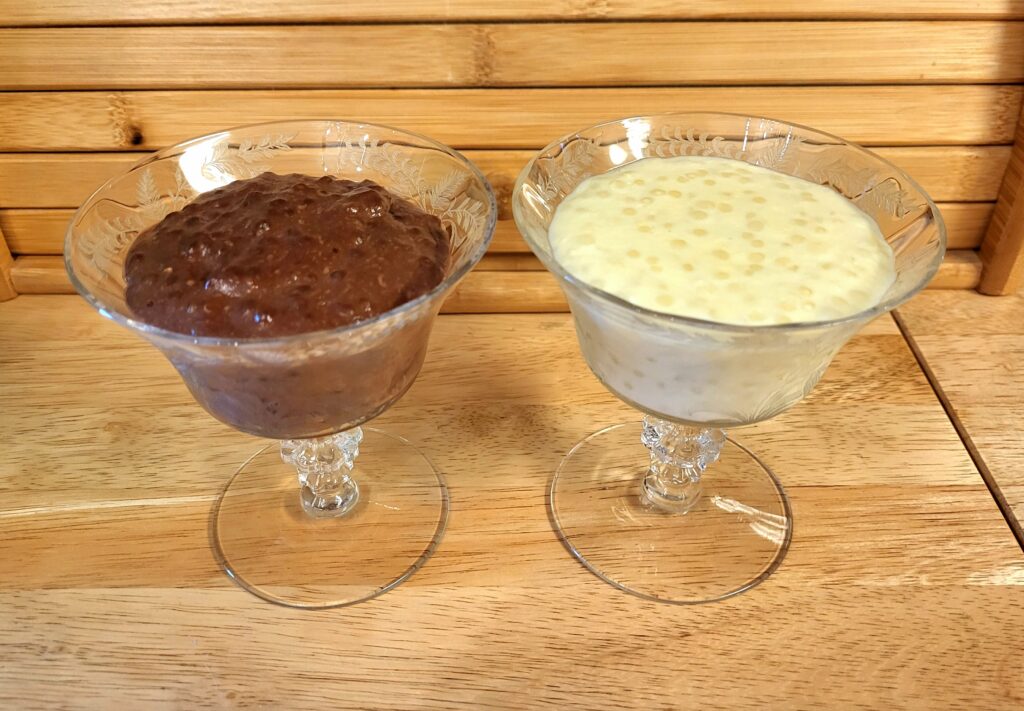 "I had a bunch of milk that was about to expire and I had already made a custard pie, so went and found this recipe for tapioca pudding. After the success of my coconut tapioca pudding, I thought it would be nice to have a vanilla and chocolate version as well. This makes a lot of pudding, so after I was finished cooking the pudding, I split it into two bowls and added the chocolate chips to one so I could enjoy both flavors." – April Ferre
Tapioca Pudding
Ingredients
3 1/2

Cup

Whole Milk

1/2

Cup

Heavy Cream

1/2

Cup

Small Pearl Tapioca

1/2

Cup

Sugar

1/4

Teaspoon

Kosher Salt

2

Large Eggs

1

Teaspoon

Vanilla

1

Cup

Semi-Sweet Chocolate Chips

Optional, For Chocolate Pudding
Instructions
In a 2-quart saucepan, combine milk, cream and tapioca pearls. Soak the tapioca for 30 minutes to an hour.

In a medium bowl, whisk eggs until well beaten and set aside.

Add sugar and salt to the tapioca mixture. Bring tapioca to a simmer over medium heat, stirring frequently. Reduce heat to medium low and continue stirring.

When the tapioca pearls being to soften and turn translucent and the mixture starts to thicken slightly, slowly add spoonfuls to the beaten eggs, whisking well with each addition to temper the eggs.

Add the egg mixture back to the tapioca, string constantly to combine. If making chocolate tapioca, add chocolate chips. Cook an additional 2 to 3 minutes.

Remove from heat and cool slightly. Add vanilla and stir well to combine.

Transfer to a serving or storage container. Cover the top of the pudding with plastic wrap to prevent a skin from forming on the surface.

Serve warm or refrigerate and serve chilled.
2022 Adapted Recipe – April Ferre – Adapted from Tastes Better from Scratch