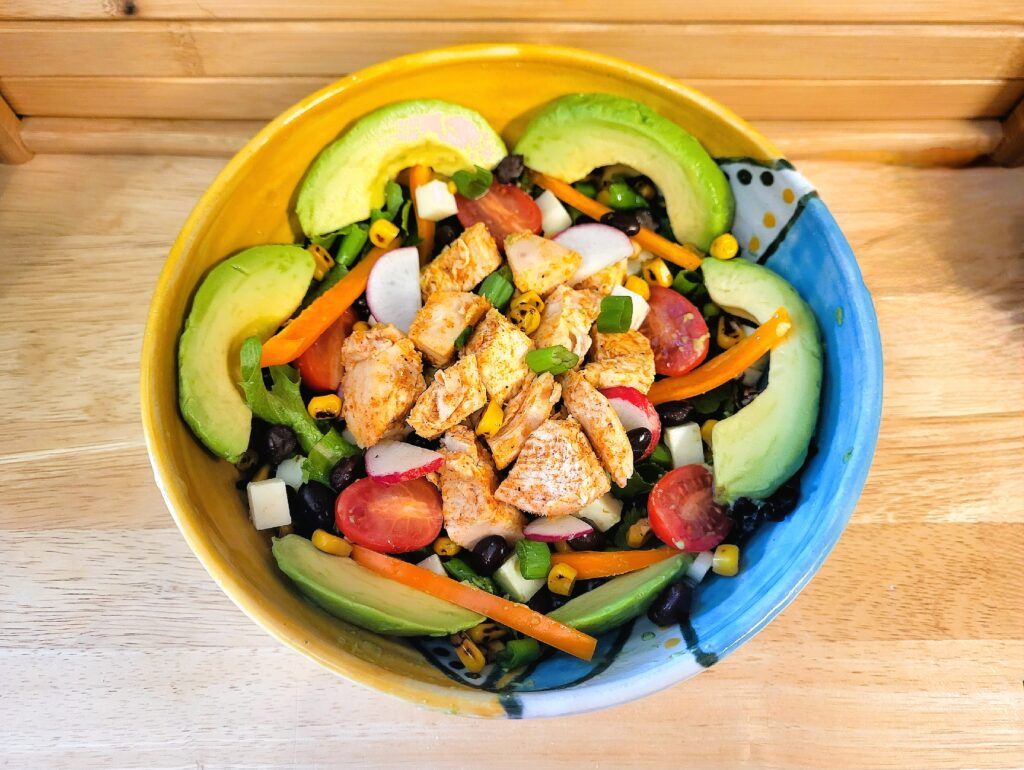 "This is a really flavorful and satisfying main-dish salad and a great way to use extra rotisserie chicken." – April Ferre
Southwest Chicken Salad
Ingredients
Chicken:
2

Boneless, Skinless Chicken Breasts

Taco, Tex-Mex or Southwest Seasoning
Salad Dressing:
1/2

Cup

Ranch Dressing

1/2

Cup

Salsa

2

Tablespoons

Cilantro

Finely Minced
Salad:
Salad Greens

Cilantro

Cherry Tomatoes

Halved

Corn (Fresh, Frozen or Canned)

Charred

Black Beans

Orange Bell Pepper

Juillened

Avocado

Sliced

Pepper Jack Cheese

Diced

Radishes

Sliced

Green Onion

Sliced
Instructions
Prepare Chicken:
Option 1: Pound chicken breasts to 1/2-inch thickness. Generously coat chicken with your favorite taco, Tex-Mex or Southwest seasoning. Grill over high heat for 5 to 7 minutes until grill marks form; flip and cook another 4 to 6 minutes or until chicken reaches an internal temperature of 165 degrees. Let stand 5 minutes and then dice chicken into cubes.

Option 2: Remove the chicken breasts from a rotisserie chicken and dice. In a medium bowl, combine diced chicken and southwest seasoning to taste.

Serve chicken hot or chilled on top of salad.
Prepare Salad Fixings:
For corn: For best results, grill freshly shucked ears of corn until well charred. If grilling fresh chicken, grill over the same spot to give your corn some extra flavor. Alternatively, heat a large Dutch oven over medium-high heat. When hot add thawed frozen or well-drained canned corn all at once evenly over the bottom of the pan. Do not stir. Continue to cook until char marks form. Stir once and continue to cook corn until sufficiently charred.

Serve salad topped with seasoned chicken and salsa-ranch dressing.
2023 Adapted Recipe – April Ferre – Adapted from Ree Drummond's recipe on the Food Network
Related Recipes: