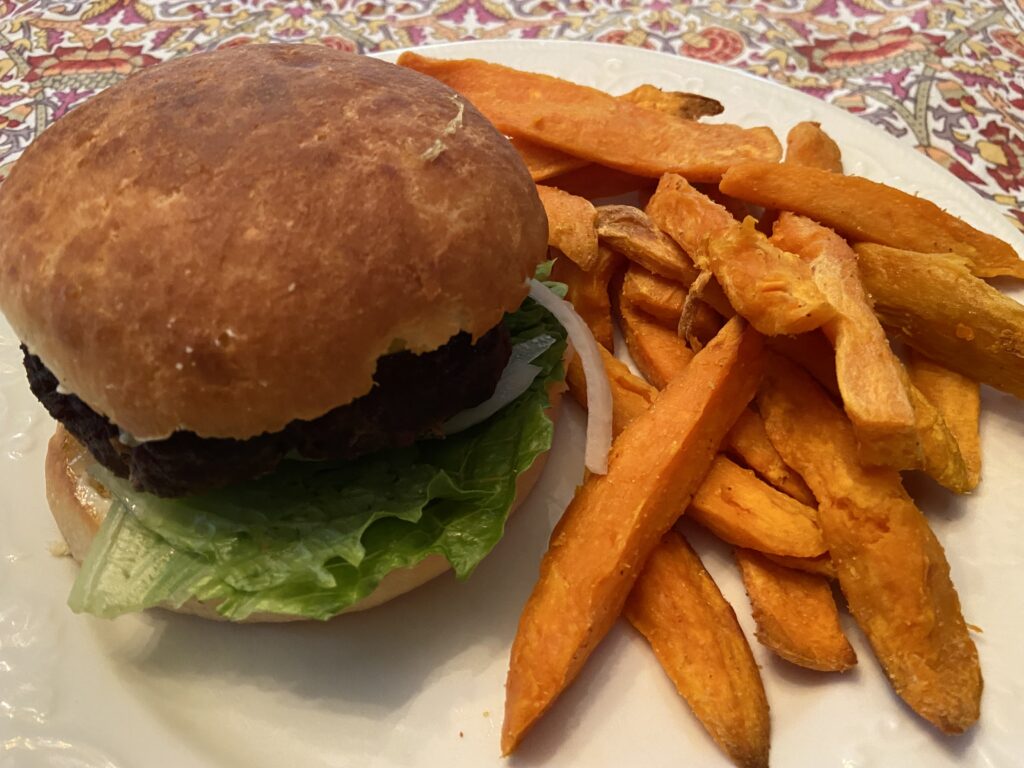 "When maintaining a sourdough starter you have to discard a certain amount when you feed it. How nice would it be not to have to waste that starter? This recipe allows you to use what otherwise would have been thrown out and also have a much better hamburger bun than store bought. The bun halves can also be made into good garlic bead." – Calla Ferre
Sourdough Hamburger Buns
Ingredients
1 1/2

Cups

Warmed Milk

(110 to 115 degrees)

2 1/2

Teaspoons

Yeast

1

Cup

Sourdough Starter Discard

1/4

Cup

Canola Oil

1

Teaspoon

Salt

1

Tablespoon

Sugar

1/2

Teaspoon

Baking Soda

4 3/4

Cup

Flour

Plus Extra For Kneading

1/4

Cup

Butter

Melted
Instructions
Pour the warmed milk into the bowl of a stand mixer, and sprinkle the yeast over the milk. Add the sourdough starter, canola oil, salt, sugar, baking soda and flour. Using a silicone spatula or wooden spoon, stir ingredients until they are combined.

Using the dough hook, set speed on mixer to medium and knead for 10 minutes. The dough should be slightly tacky to the touch. If dough is too wet, add an additional tablespoon of flour. Be careful not to add too much flour.

Grease a large bowl with butter and transfer dough to the greased bowl. Roll the dough slightly in the bowl and turn it over so the top is buttered slightly. Cover the bowl and allow the dough to rise in a warm place for 30 minutes or until doubled. To check if dough has risen enough, take two fingers and poke into dough. If indentations remain, the dough has risen enough.

Grease two cookie sheets. Divide dough in half and work with half the dough at a time. Keep the dough covered when not working with it. Divide each half into 6 equal pieces.

To form the buns, with lightly floured hands roll each piece into a ball. The top of the bun will be in the palm of your hand. With your thumb, punch into the dough and then with the opposite hand, pull dough over and pinch dough closed just as you slide your thumb out, rounding what will be the top of the ball. Do this several times, then place the pinched portion down on the cookie sheet. Flatten slightly with your hand and brush with melted butter.

Do this with the remaining dough. Place pans of formed buns in warm location and allow to rise for another 20 minutes.

Carefully brush tops of the buns with more melted butter. Bake at 400 degrees for 12 minutes. The buns should be golden. Cool on wire rack. Makes 12 buns.
Notes
This is a recipe that uses discard, which is why additional yeast is used.
2021 Adapted recipe – Calla Ferre
Related Recipes: