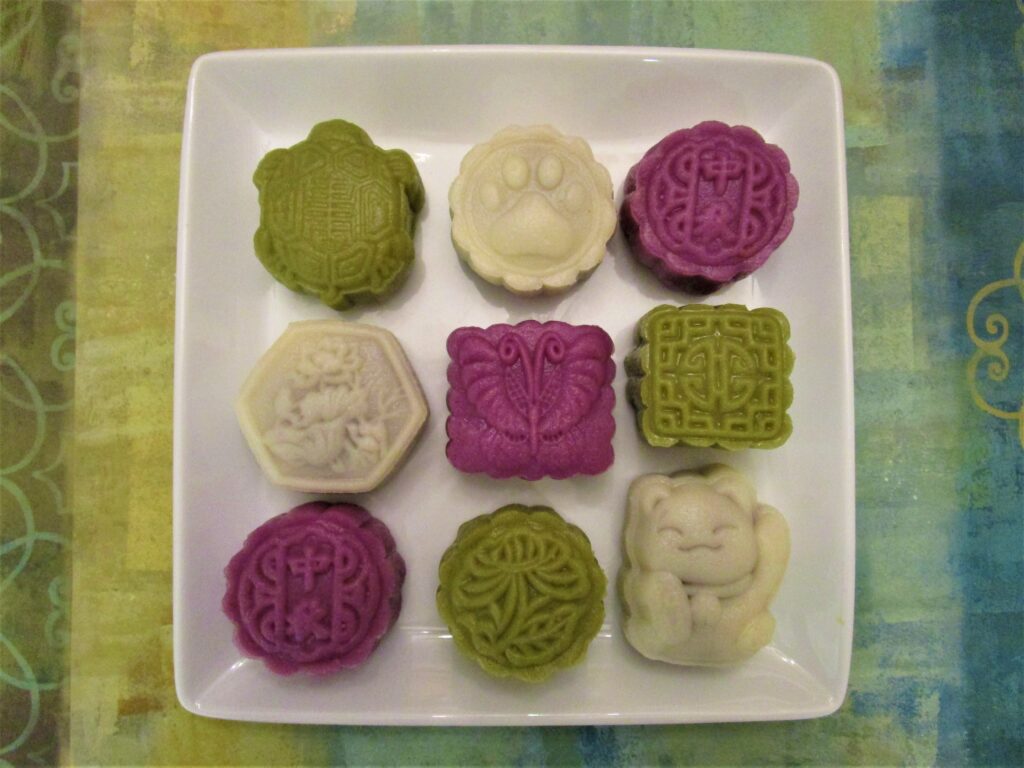 "Mooncakes are a traditional Chinese treat for the Mid-Autumn festival. I've always wanted to learn how to make them, but traditional mooncakes require ingredients that are difficult to come by outside of a good Asian grocery store (i.e. salted egg yolks.) Then I came across this recipe for snow skin mooncakes with more accessible ingredients. While very different from traditional mooncakes, these are very fun and the options are limitless. The 'skin' is a mochi-like concoction which you can color and flavor with various food powders. Custard fillings can be made with all sorts of flavored powders and extracts, but you can also opt for more traditional fillings like lotus seed or red bean paste too." – April Ferre
Snow Skin Mooncakes
Ingredients
3

Tablespoons

Glutinous Rice Flour

(Mochiko)

3

Tablespoons

Rice Flour

2

Tablespoons

Wheat Starch or Cornstarch

3

Tablespoons

Powdered Sugar

Sifted

1/2

Cup

Milk

1

Tablespoon

Sweetened Condensed Milk

1

Tablespoon

Vegetable Oil

7 to 9

Ounces

Mooncake Filling of Your Choice
Instructions
To make the skin:
In a mixing bowl, whisk together all the ingredients until well combined. Pour the mixture into a deep plate or shallow bowl.

Steam over medium heat for 15 minutes. (If the ingredients are doubled, steam for an additional 5 minutes.)

Scrape the hardened dough off the plate onto a work surface. When cool enough to handle, knead until smooth and elastic. (Gloves will help prevent sticking and are highly recommended.)

Wrap in plastic wrap and refrigerate for 2 hours.
Color Options:
If you wish to color the dough, add the color during kneading and continue kneading until it is well distributed. Add color little by little until the desired color appears.

Pink: Beet Powder, Yellow: Turmeric, Green: Matcha Powder (also adds great flavor), Blue: Butterfly Pea Flower Powder, Purple: Purple Potato Powder, Brown: Cocoa Powder, Black: Charcoal Powder (food grade)
Prepare the filling:
Custard paste (with variations including chocolate), red bean paste, lotus seed paste, sesame seed paste, or anything that you can reasonably shape into a ball.
Assemble the Mooncakes:
Divide the dough into 9 equal pieces and shape into balls. Form 9 equal balls of filling.

Flatten each piece of dough into a round wrapper with your fingers. Place filling in the center of the wrapper and seal.

Insert ball (seam-side facing you) into a 50 to 75 gram mooncake mold dusted with powdered sugar to prevent sticking. Invert the mold onto your work surface and push gently to press into shape.

Place onto a wax or parchment paper lined tray. Makes 9 mooncakes.
Serving & Storage:
Mooncakes may be served straight away after assembling.

Otherwise, place them in a single layer in an air-tight container and refrigerate up to 48 hours. Remove from the refrigerator 1 hour before serving.

Mooncakes can also be frozen in an airtight container for up to 1 month. Thaw in the refrigerator before serving.
2021 Adapted Recipe – April Ferre – Adapted from Red House Spice
Related Recipes: