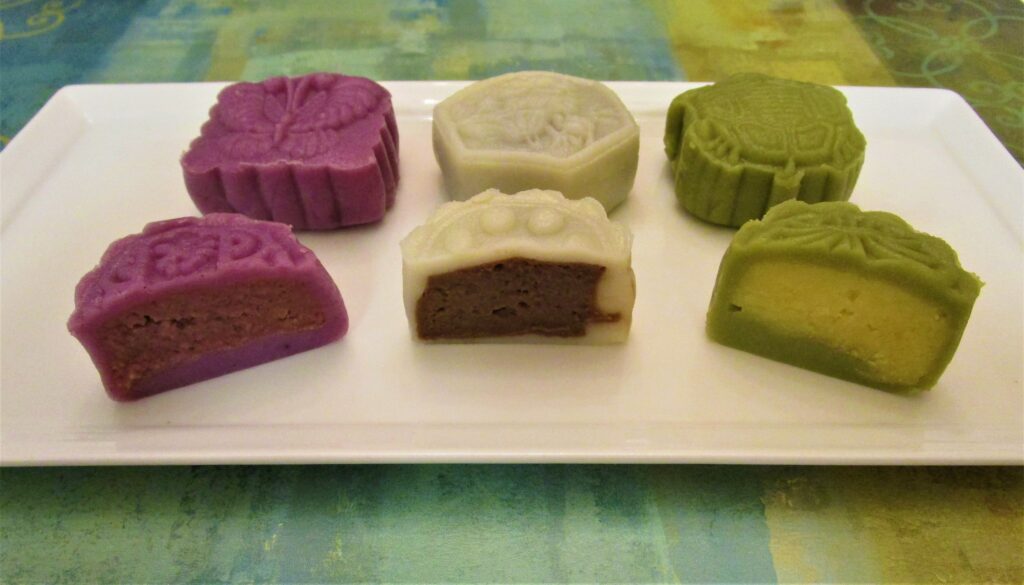 "This creamy custard is very versatile! The sky is the limit so feel free to experiment with different extracts and powders for your snow skin mooncakes. These are the variations I have tried so far and will be updated as I try new ones, but think matcha powder, coconut extract, lemon zest, or maybe some hazelnut extract or espresso powder to the chocolate variation for nutella or mocha fillings. You can also color your filling using liquid or powdered food colorings." – April Ferre
Custard Paste (For Snow Skin Mooncakes)
Ingredients
3

Tablespoons

Butter

2

Eggs

Lightly Beaten

2 1/2

Tablespoons

Wheat Starch or Cornstarch

2

Tablespoons

Sweetened Condensed Milk

3

Tablespoons

Powdered Sugar

Sifted
Instructions
Mix all the ingredients in a small bowl fitted on top of a saucepan with boiling water (i.e. double boiler). Do not let the boiling water touch the bottom of the bowl.

Heat over low heat. Stir the mixture constantly with a spatula until it becomes solid and doesn't stick to the spatula anymore. Cool and refrigerate for 2 hours.

Makes approximately 8 ounces and is sufficient for 9 snow skin mooncakes.
Variations:
Almond or Vanilla: Add 1/2 teaspoon vanilla or almond extract.

Chocolate: Add 1 tablespoon cocoa powder and 1/2 teaspoon vanilla extract.

Raspberry: Add 1 tablespoon raspberry powder, 1/2 teaspoon vanilla extract and 3 drops red food coloring.
2021 Adapted Recipe – April Ferre – Adapted from Red House Spice
Related Recipes: