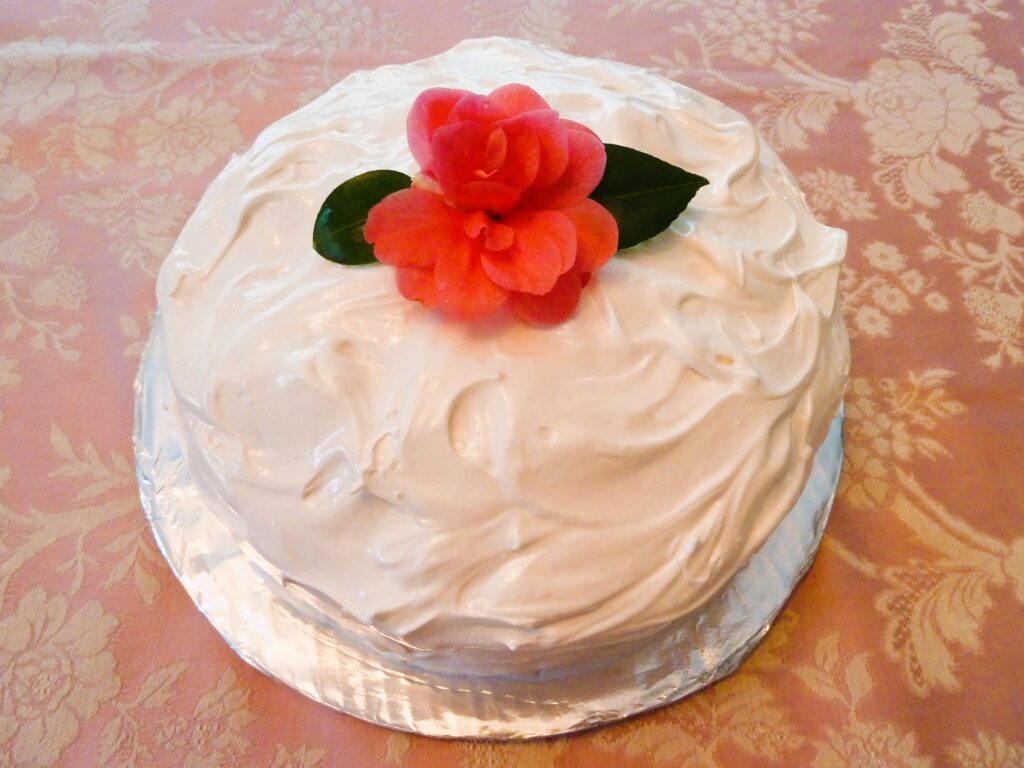 "This is an old-fashioned frosting recipe that most young people are unaware of, but it is one of my favorites. When made with cream of tartar, the outside sets to a stiff, dry, 'meringue-like' shell while the inside remains soft and gooey, kind of like a light marshmallow. Don't be surprised that it takes a bit of beating after the addition of vanilla or other flavoring to reach the desired consistency. When frosting, pull icing up in peaks with spoon or spatula to create a beautiful topographical pattern. This is also the frosting (when made with corn syrup) used in the Lemon Coconut Cake." – April Ferre
"My Mom would use this frosting on the Red Devil's Food Cake for a 4th of July treat." – Calla Ferre
Seven Minute Frosting (Double Boiler Frosting)
Ingredients
2

Egg Whites

1 1/2

Cups

Sugar

1

Tablespoon

Light Corn Syrup or 1/4 Teaspoon Cream of Tartar

1/3

Cup

Water

Cold

Dash Salt

1

Teaspoon

Vanilla
Instructions
Place all ingredients except vanilla in double boiler. Mix thoroughly. Cook, beating constantly with rotary or electric beater until mixture forms peaks; about 7 minutes. Remove from heat, add vanilla and beat until of spreading consistency.

For a harder shell, use cream of tartar, for a softer frosting use corn syrup.
Variations:
Harvest Moon Frosting: Substitute 1 cup brown sugar for granulated sugar, omit corn syrup, and reduce water to 1/4 cup. Add 3/4 cup toasted almonds.

Ivory Frosting: substitute 1/4 cup brown sugar for 1/4 cup granulated sugar.

Pineapple Parfait Frosting: Substitute syrup from canned pineapple for water. Omit vanilla and add 1 teaspoon grated lemon rind. Garnish with drained spoon-sized pineapple cubes.

Chocolate Frosting: Add 3 ounces unsweetened chocolate, melted and cooled, to frosting just before spreading on cake. Fold in, do not beat.
This recipe is originally from the Betty Crocker Cookbook 1st edition, 9th printing and has been used in the Stacker/Hansen Family as long as we can remember
Related Recipes: