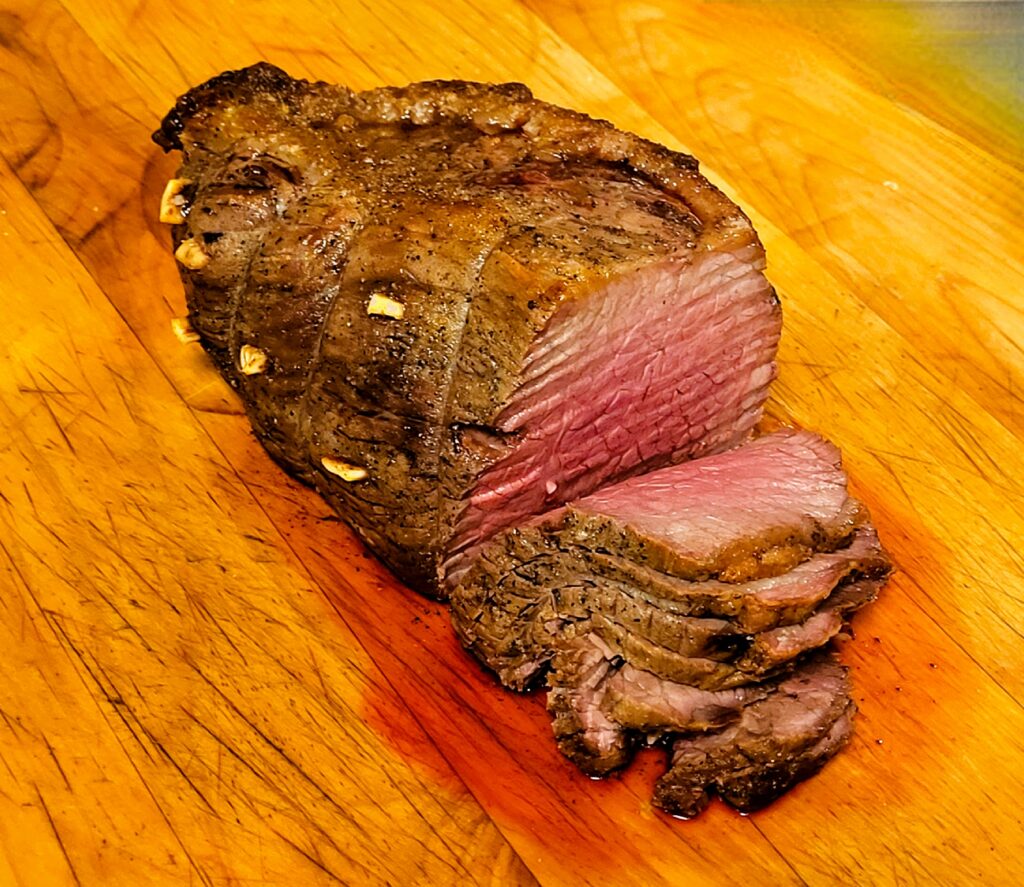 "Rump roasts tend to be a cheaper cut of meat, but cooked well you can have a really nice dinner with some mashed potatoes and vegetables. And then you can use the leftovers (if you have any!) for sandwiches the next day." – April Ferre
Roast Beef
Ingredients
3 to 3 1/2

Pound

Boneless Rump Roast

End Cut with a Layer of Fat, Preferred

1

Tablespoon

Olive Oil

Salt & Pepper

3 to 4

Cloves

Garlic

Slivered

Red Wine or Beef Stock

Cornstarch & Water Mixture
Instructions
Remove roast from the refrigerator 2 hours before cooking. Salt the roast, wrap it in plastic wrap and let it come to room temperature.

Preheat the oven to 375 degrees. Tie roast with butchers twine to help it cook more evenly.

Rub the roast with olive oil and then sprinkle it all over with salt and pepper. With a sharp paring knife, make small incisions all around the roast. Put a sliver of garlic in each cut.

Place the roast on a rack in a roasting pan, fatty side up. Brown roast in the oven for 30 minutes, then lower the heat to 225 degrees.

Roast to an internal temperature of 135 degrees (for medium rare.) The roast should cook for another 1 1/2 to 2 hours, but the shape of the roast will affect the roasting time. Start checking the temperature at an hour.

When the roast is done, remove from the oven to a baking sheet and tent with foil. Allow the roast to rest for 20 to 30 minutes. If you cut into the roast before then, you will loose most of the juices.

While the roast is resting, deglaze roasting pan with a little red wine or beef stock. Transfer to a small saucepan and bring to a simmer. If there are not enough drippings in the roasting pan, add a little butter. Add cornstarch/water mixture and cook until thickened. Add salt and pepper to taste.

Alternatively, see Marsala Wine Sauce for Roast recipe.
2022 Adapted Recipe – April Ferre – Adapted from Simply Recipes
Related Recipes: