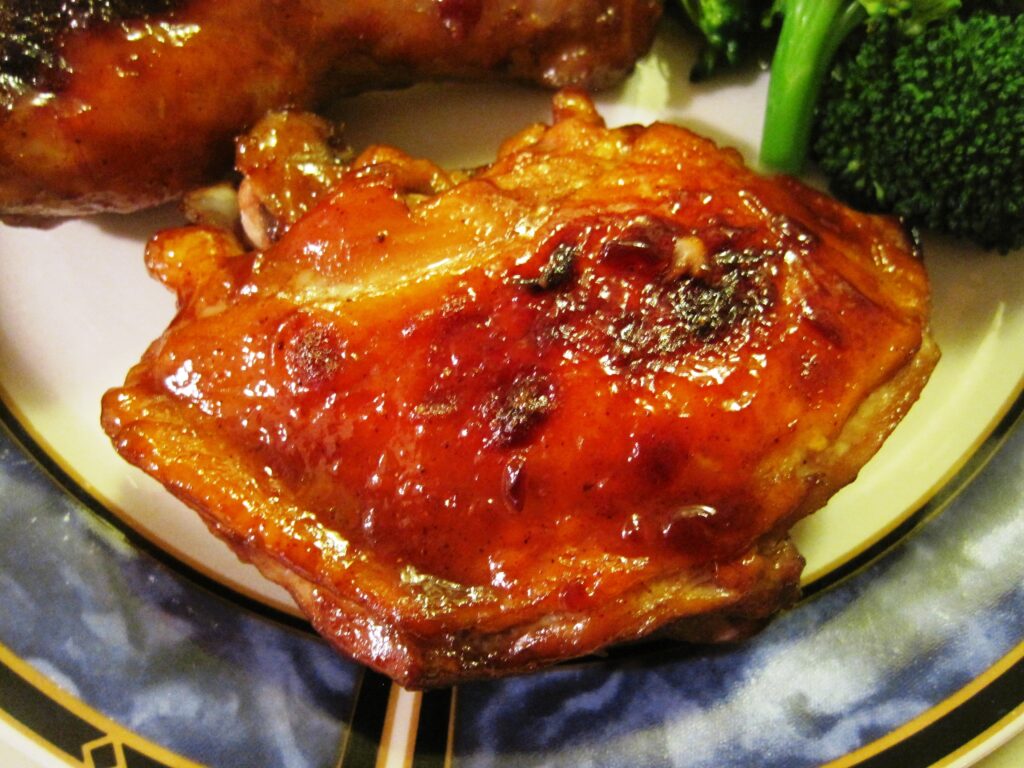 "Another plum glaze recipe that I found on my search for a good plum-glazed duck recipe." – April Ferre
Plum-Glazed Chicken
Ingredients
3/4

Cup

Plum Jam

1/4

Cup

Cider Vinegar

2

Tablespoons

Worcestershire or Soy Sauce

1

Tablespoon

Catsup

2

Teaspoons

Fresh Ginger, Finely Chopped, or 1 Teaspoon Ground Ginger

1/4

Teaspoon

Ground Cinnamon

1/4

Teaspoon

Dry Mustard

1/8

Teaspoon

Ground Cloves

1/8

Teaspoon

Liquid Hot Pepper Seasoning

Tabasco

1

Broiler-Fryer Chicken (3 1/2 to 4 Pounds)

In Serving Size Pieces
Instructions
In a small saucepan, stir together plum jam, vinegar, Worcestershire or soy sauce, catsup, ginger, cinnamon, mustard, cloves and hot pepper seasoning. Cook, stirring over medium-low heat, until hot.

Arrange chicken pieces, skin side down, in a greased, shallow-rimmed baking pan or broiler pan. Brush part of the sauce over chicken. Bake, uncovered, in a 375 degree oven for 30 minutes, basting occasionally.

Remove pan from the oven and turn chicken pieces over. Brush with more plum sauce. Return to oven and continue baking, basting occasionally, about 25 minutes longer or until thigh meat is no longer pink when cut near bone.
2000's Recipe – April Ferre
Related Recipes: