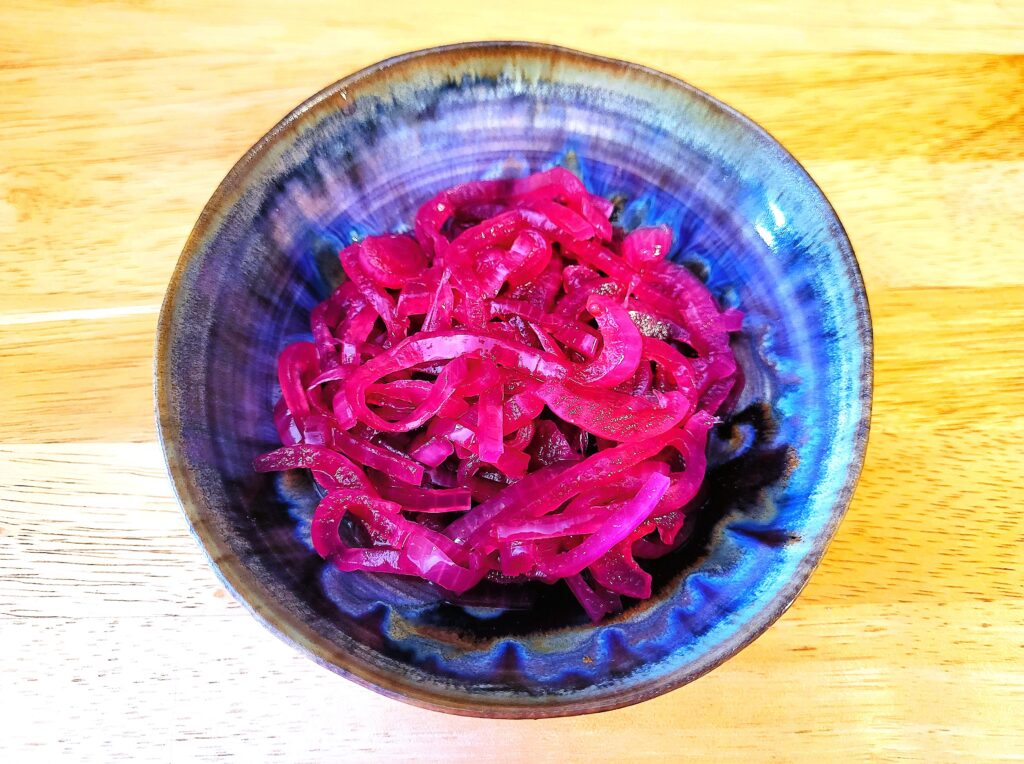 "I once had some fish tacos served with pickled red onion and it was a really great addition. One day when I had the water bath canner out, I decided to try making my own. Good on tacos, salads, sandwiches, etc. The plain pickled onions are sweet and tangy and go great on just about anything. Adding the spices gives them a bit more depth and a really great flavor, though not really recommended for Mexican food. If you want something less sweet with a more pronounced Mexican twist, try my Mexican Pickled Red Onions." – April Ferre
Pickled Red Onions
Ingredients
1

Quart

Red Onions

Thinly Sliced

1/4

Cup

Non-Iodized Salt

2

Cups

Apple Cider Vinegar

3/4 to 1

Cup

Sugar

6

Bay Leaves

(1 per Jar), Optional

1

Tablespoon

Mustard Seed

(1/2 Teaspoon per Jar), Optional

12

Whole Allspice

(2 per Jar), Optional

3

Cloves

Garlic

(1/2 Clove per Jar), Optional
Instructions
Combine red onions and salt in large bowl. Let stand for 1 to 3 hours. Drain well.

Combine vinegar and sugar in a medium saucepan. Bring to a boil and then reduce to a simmer.

To 6 hot, sterilized half-pint jars add any or all of the optional spices and pack in red onions. Pour hot brine over onions, leaving 1/4-inch headspace.

Remove any air bubbles, clean rims and attach 2-piece lids. Process in a water bath canner for 10 minutes. Makes 6 half-pint jars.
2022 Original Recipe – April Ferre