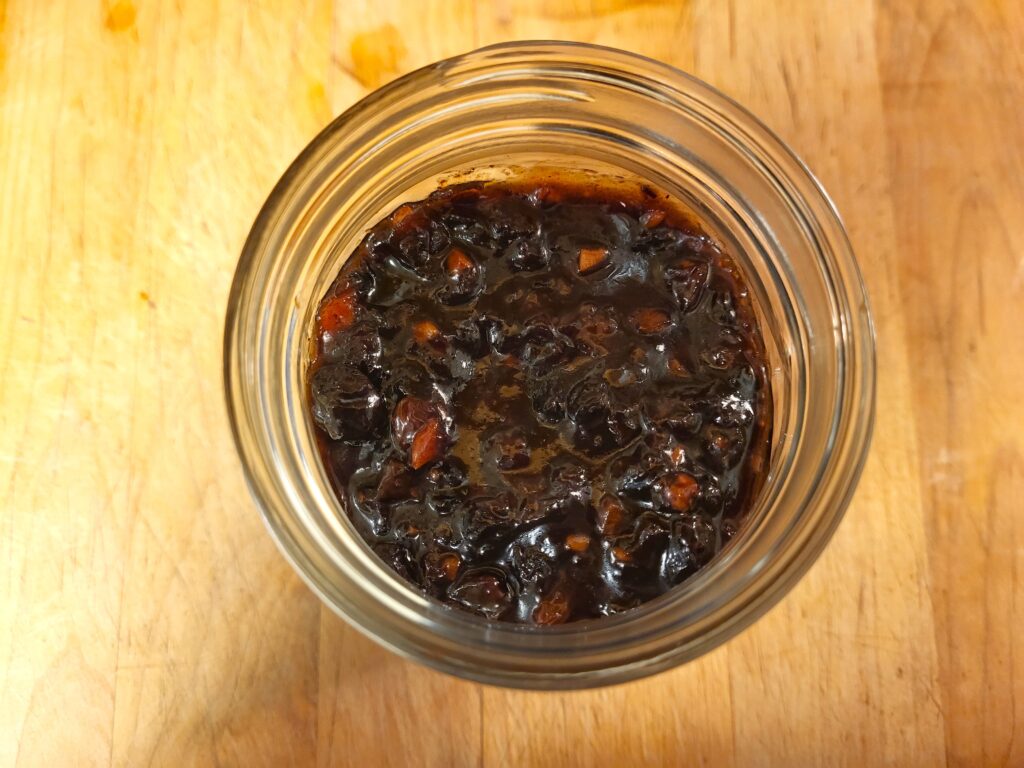 "With our strong English heritage, Mincemeat Tarts have always been a tradition at Christmas time. My grandmother use to make them every year and then I started making them most years when she no longer could. Unfortunately, this past year they discontinued the prepackaged, condensed mincemeat we had used all these years in favor of a jarred, reconstituted mincemeat full of corn syrup and lots of artificial nastiness. So this year I made our mincemeat from scratch! It's not difficult to make, but some of the ingredients may be a challenge to find. I used this after a week and a half in the refrigerator and it did well in our mincemeat tart recipe. For Christmas this year my parents got me a pressure canner, so I can make this up ahead of time for next year!" – April Ferre
Mincemeat
Ingredients
1

Pound

Beef

Finely Chopped (See Note)

1 1/4

Cup

Raisins

1 1/4

Cup

Currants

1/2

Cup

Sultanas

(Golden Raisins)

2

Cups

Granny Smith Apple

Unpeeled & Chopped

2

Tablespoons

Candied Orange Peel

2

Tablespoons

Candied Lemon Peel

Zest and Juice of 1 Lemon

1 1/2

Tablespoons

Blanched Almonds

Finely Chopped

200

Grams

Shredded Beef Suet

2

Cups

Dark Brown Sugar

Packed

2

Tablespoons

Apple Cider Vinegar

1 1/2

Teaspoons

Cinnamon

1/2

Teaspoon

Nutmeg

1/4

Teaspoon

Cloves

1/4

Teaspoon

Allspice

1/4

Teaspoon

Mace

or Substitute Nutmeg

1/4

Teaspoon

Ginger

1/4

Teaspoon

Coriander

2

Tablespoons

Brandy

2

Tablespoons

Dark Rum

Apple Juice

Not From Concentrate, If Needed
Instructions
Preparation:
In a large Dutch oven, combine all ingredient except brandy, rum and apple juice. Mix well.

Slowly bring to a simmer over medium low heat. There won't be much liquid at first until the apples start to release their juices, so do this slowly so that your mixture does not burn.

Once at a simmer, reduce heat to low and continue to cook, uncovered until the liquid reduces, mincemeat is thick and beef is tender, approximately 1 1/2 to 2 hours. Stir occasionally, especially towards the end when mixture becomes thick.

If the liquid reduces too quickly, add a little bit of apple juice to prevent scorching.
Storage Options:
Refrigerator: If you will use the mincemeat within a couple weeks, store in a sterilized mason jar in the refrigerator. The beef suet may rise to the top of the mincemeat, this is normal and will only help further preserve your mincemeat. When you go to use your mincemeat in pies or tarts, you can stir it back in. You can remove it if you like, but for best flavor, do incorporate some back into your mixture.

Freezer: You can also freeze your mincemeat for several months in a freezer safe container.

Pressure Canning: For longer term storage (12 to 18 months), you may can your mincemeat using a pressure canner. With or without beef, if you are going to can this, it MUST be using the pressure canning method. Pack into hot, sterilized pint or quart jars, leaving 1-inch headspace. Remove any air bubbles, clean rims and adjust 2-piece lids. Process at 11 PSI for 90 minutes.
Using Mincemeat:
The flavor of your mincemeat will deepen the longer you let the flavors blend, so if you can home can this the year before, you will get the best flavor, but this is also good after a couple weeks in the refrigerator.

Use your mincemeat in tarts or pies. You can also use this on top of toast or hot cereals. Bake into cookies or fill donuts. Wrap in phyllo dough to make mincemeat samosas!
Notes
Beef: Traditional mincemeat contains beef, lamb or wild game. Choose a cut of meat that is well marbled and stands up well to long, slow cooking. You can choose not to add beef, if so, add an additional 1 1/2 cups of dried fruit. Other Dried Fruit: You can also add and experiment with adding other dried fruits such as cranberries, prunes, dates, glacé cherries, and apricots. Just made sure they are chopped to the size of the other fruit in your mincemeat. Candied Citrus Peel: It is highly recommended that you make your own candied citrus peel. Store-bought candied peel tends to have an unpleasant artificial taste. Beef Suet: If you are in the US you will have to special order this. The easiest option would be to order the Atora brand shredded beef suet online from the UK. If you have a knowledgeable butcher (try Asian or Hispanic grocery stores) you can see if they can get it for you. Have them run it through a fine meat grinder. Beef suet is important for the flavor and texture. Don't substitute butter. You may substitute shortening or lard if necessary. Brandy & Rum: If you prefer to have the alcohol cooked out, add it with the rest of the ingredients at the beginning of the cooking process.
2022 Adapted Recipe – April Ferre – Adapted from The Daring Gourmet
Related Recipes: