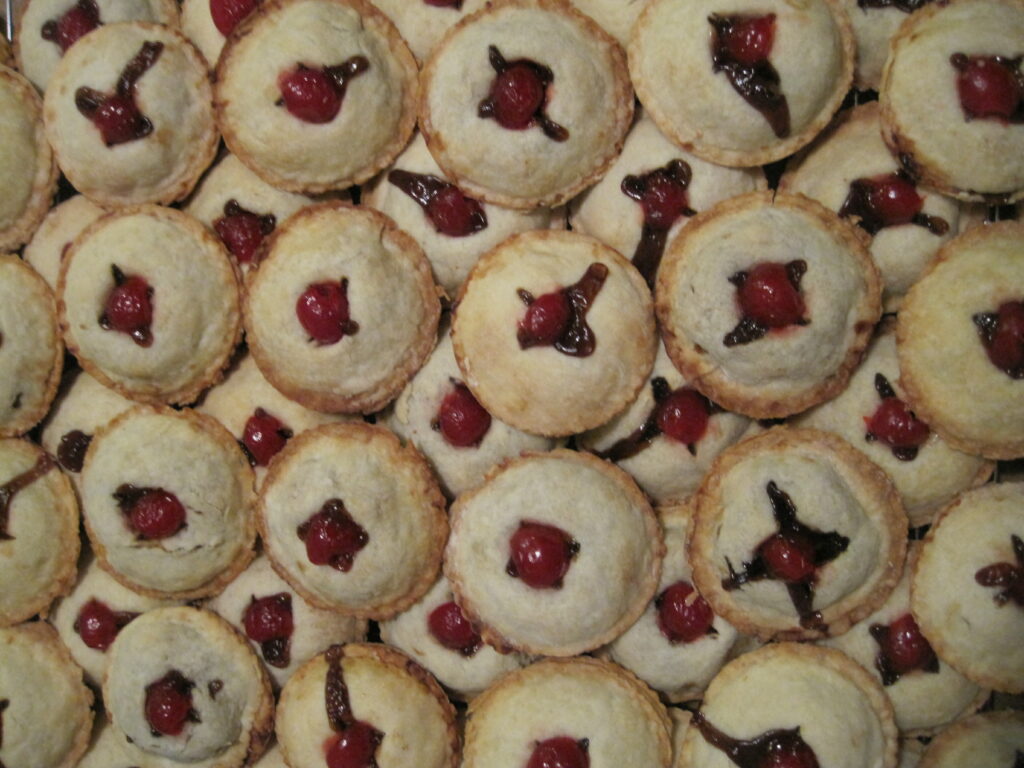 "In 2010, I finally got a chance to Bridget's Christmas Time Cookie Swap Party. While these aren't quite cookies, they are about the right size and something I knew that no one else would make and that most probably never even tasted before. So for the first time, I attempted to make these on my own. My grandmother traditionally made for us every year at Thanksgiving or Christmas, but in recent years she hasn't been able to make them, since they are quite a bit of work. Well, one night I embarked on a mission to make 8 dozen mincemeat tarts; 6 1/2 hours later I had made 125 tarts for the party!" – April Ferre
"These have always been a holiday favorite it our house. Originally, my Mom made these as mincemeat pie, but she found that having both mincemeat and pumpkin pie was too much. So she started making these as tarts so that you could have a little of each. After that, the tarts were requested every year. Now Mom is not always up to standing and making them, so thank goodness we have the recipe to continue the tradition." – Calla Ferre
Mincemeat Tarts
Ingredients
Mincemeat:
1 9-

Ounce

Package Condensed Mincemeat

(See Note)

3/4

Cup

Coffee

Cold

3/4

Cup

Water

1

Apple

Diced (No Need To Peel)

1/3

Cup

Raisins

2

Teaspoons

Brandy or Grand Mariner

Optional
Crust:
3

Cups

Flour

1

Cup

Shortening

6

Tablespoons

Water

1/2

Teaspoon

Salt

Maraschino Cherries

Halved
Instructions
Put mincemeat, coffee, 3/4 cup water, apple, raisins and brandy into saucepan and bring to a boil. Boil 2 minutes, stirring constantly, until quite thick. Place in refrigerator to cool. May be done the day before.

Make basic pie crust with flour, shortening, water and salt. Roll out dough. Form tarts using approximately 1 tablespoon filling for each tart. Seal well. Cut an "X" in the center of each tart to vent and insert a half of a maraschino cherry. Sprinkle generously with granulated sugar.

Bake in a 350 to 375 degree oven until crust is golden.
Notes
Condensed Mincemeat has been discontinued!
Condensed Mincemeat Substitutes:
Homemade Mincemeat: Use 1 1/2 cups homemade mincemeat, add coffee and diced apple (omit extra water, raisins and brandy). Simmer until liquid is reduced and apples are tender.
Ready-to-use mincemeat (Classic Original with Apples & Raisins NOT Brandy & Rum): Omit 3/4 cup water. Use 1 1/3 cup (1/2 of a 27-ounce jar) reconstituted mincemeat for 1 9-ounce package condensed mincemeat. Boil all ingredients 2 minutes and then reduce heat and simmer until of proper consistency.
This recipe is really much better using the condensed mincemeat, but the condensed form has now been discontinued in favor of the ready-to-use variety (which has added corn syrup). I suggest increasing the amount of brandy and the strength of the coffee to overcome this limitation.
Early 1900s Recipe – Calla Stacker, Updated over the decades by Jean Hansen and April Ferre
Related Recipes: