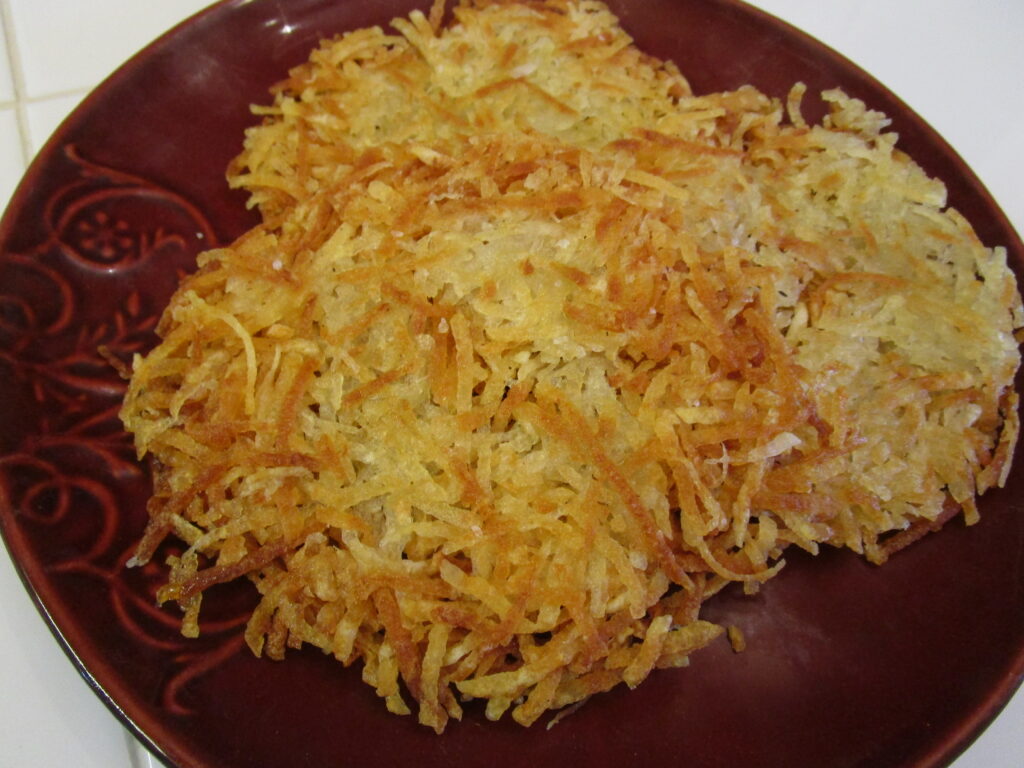 "One of my favorite things when I go out to breakfast are the hash browns, since I never make them at home. It is also a favorite treat when Mom makes them for breakfast on Christmas morning. What finally brought me to make them myself, and I will be making them more on my own from now on, was that the company I had bought my meat grinder from contacted me and offered me a free slicer/shredder attachment for my KitchenAid mixer if I wrote a review and included pictures. This was a great opportunity since I had always wanted one of these attachments, but didn't want to spend the money. Since I needed to take pictures, I decided to shred potatoes for hash browns, in addition to slicing cucumbers for Agurkesalat and shredding cheese for on top of my Special Scramble." – April Ferre
Hash Browns
Ingredients
Potatoes

Coarsely Shredded

Vegetable Oil

Salt & Pepper

To Taste
Instructions
Coarsely shred potatoes and transfer to a bowl of cold water. Mix potato shreds in water to remove starch. Drain. Continue to rinse potato shreds until water runs clear. This prevents the browning of the potatoes.

In order to ensure that your hash brown are not mushy, drain and dry the shreds. This can be accomplished using paper or kitchen towels, but preferably, put the shreds between layers of cheesecloth and squeeze out as much water as possible. Return to the bowl and season with salt and pepper.

In a large skillet, add vegetable oil to cover and heat over medium-high heat. Add potatoes in an even layer to the hot oil and cook, undisturbed, until the bottom is well browned. Flip sections of hash browns over and cook until that side is nicely browned as well. Alternatively, you can make individual patties.

Remove for heat and drain on paper towels. Serve immediately.
2020 Recipe – April Ferre – Adapted from www.thesaltymarshmallow.com