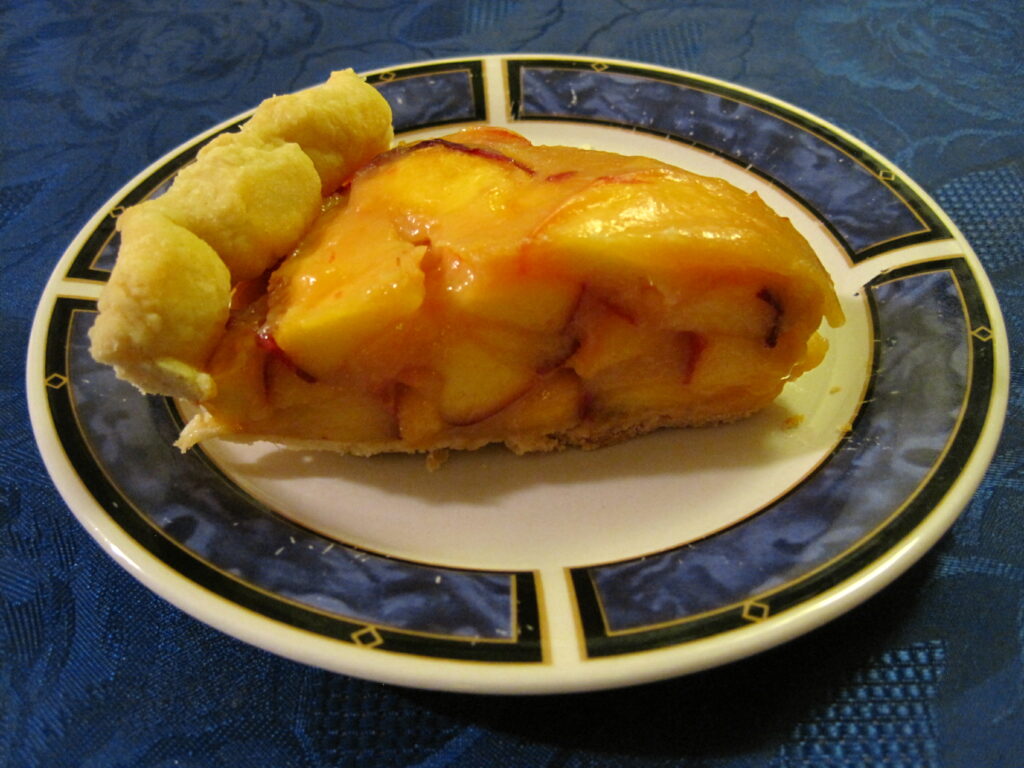 "This peach pie is similar to the Loon Lake Blueberry Pie and the Strawberry Glace Pie in that it uses mostly fresh fruit in place of cooked fruit. Though I find this pie a little less sweet than its Blueberry and Strawberry counterparts. It is best with firm, ripe fruit with a smooth as compared to grainy texture. I personally don't peel the peaches, as many nutrients are in the skin. This results in a more cloudy glaze, but the red skin of the fresh peaches peaks through for a nice effect." – April Ferre
Glazed Peach Pie
Ingredients
5

Cups

Peeled, Sliced Fresh Peaches

1/2

Cup

Water

1

Cup

Sugar

3

Tablespoons

Cornstarch

2

Tablespoons

Butter

1/4

Teaspoon

Almond Extract

1

Baked 9-Inch Pie Shell

Whipped Cream or Vanilla Ice Cream
Instructions
Place 2 cups of peach slices and water in container or an electric blender or food processor. Cover and process until smooth. Pour pureed mixture into a medium saucepan.

Combine sugar and cornstarch. In saucepan, add sugar mixture to peach puree; stir well. Cook over medium-high heat 5 minutes or until mixture is thickened and clear, stirring constantly. Remove from heat. Add butter and almond extract, stirring until butter melts. Let cool.

Arrange remaining 3 cups of peach slices in baked pastry shell. Pour glaze mixture over peach slices. Chill thoroughly. Serve with sweetened whipped cream.
2011 Recipe – Calla Ferre – From A 1989 Hometown Collection: America's Best Recipes