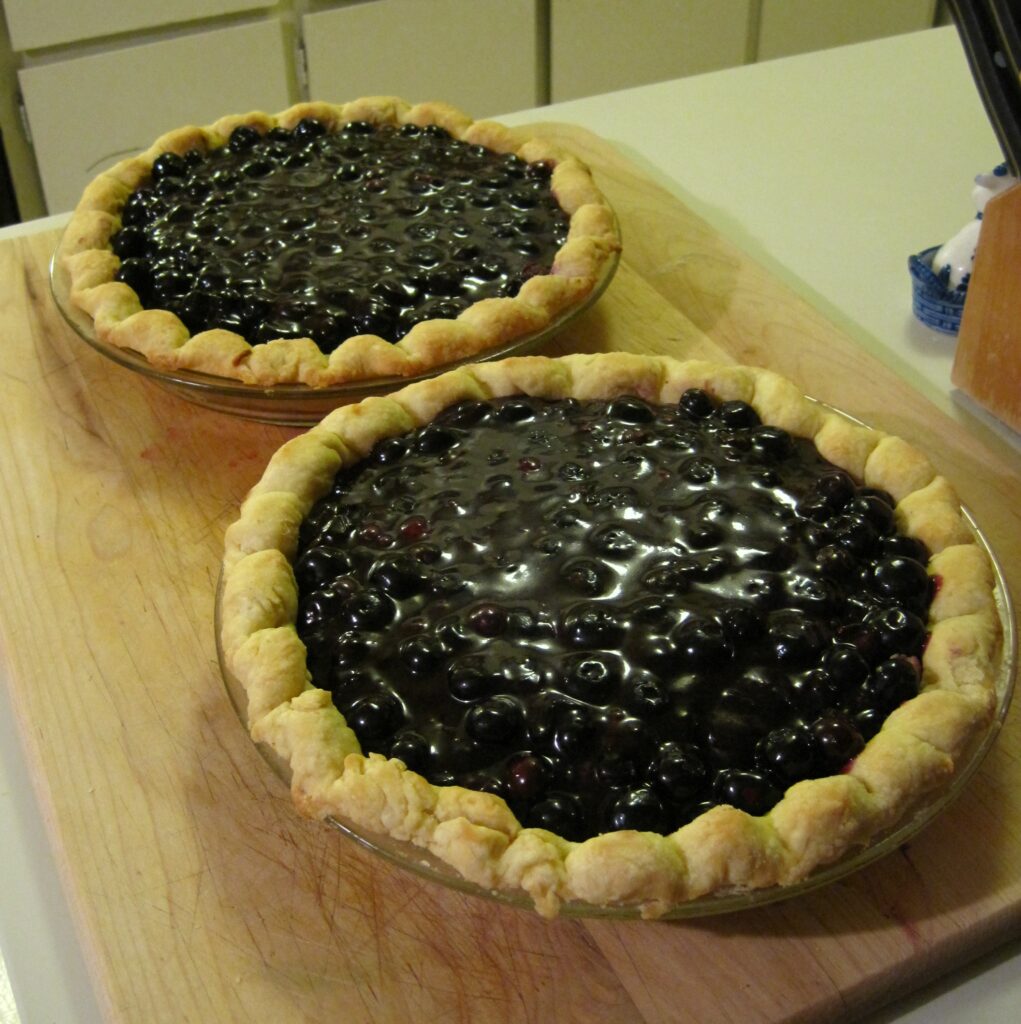 "When my brother Jack and I were little, we spent the summers out on Loon Lake. Every morning we were charged with going out to the fields and picking wild blueberries. My mother would then make them into pie. I would get so furious when someone like the pastor and his wife would come over and my parents would give the pie away to them! It was hard work picking all those tiny blueberries every morning. Why couldn't they give away some of those darn fish that they caught in the lake? This was during the depression and blueberries and fish were free, so we ate a lot of them. It was many years before I could stand eating either of them. Though, now I do enjoy them quite a bit." – Jean Hansen
"When I was growing up, every couple of years we would ride the train from Oregon to Wisconsin to visit Grandpa out on Loon Lake. I can vividly remember sitting at the kitchen table having Blueberry Pie, using freshly picked blueberries of course, and passing around the whipped cream. We used the kind in the can because it was easier. I was young at the time, and for the first time I was allowed to put the whipped cream on myself. I was shocked because I hadn't been allowed to handle the whipped cream before. Well, I didn't aim right, and the whipped cream splattered all across the table and hit Grandpa! I think my Mom was sorry she let me handle the whipped cream, but Grandpa was OK with it. And we all had a good laugh. So I learned at a very young age to make sure the tip was pointed down at the pie. This is the best blueberry pie by far!" – Calla Ferre
"Yes, you do like blueberries, you just don't know it yet. A little slice of heaven! Words cannot completely describe how wonderful this pie is. My absolute favorite thing to eat! I look forward every August to when the blueberries come into season and are affordable enough to buy the amount needed for this pie. I have come across many people who say that they don't like blueberries, but I make them try this pie. I have converted so many people to blueberry lovers with just one bite of this." – April Ferre
Loon Lake Blueberry Pie
Ingredients
1

Baked Pie Shell

4

Cups

Fresh Blueberries

3/4

Cup

Sugar

Or To Taste

3

Tablespoons

Cornstarch

1/2

Cup

Water

1

Tablespoon

Butter

Sweetened Whipping Cream

Whipped
Instructions
Place 2 cups fresh blueberries in baked pie shell.

Combine sugar and cornstarch in saucepan. Add water and 2 cups blueberries. Cover and heat until mixture comes to a boil. Continue cooking over low heat for 2 minutes, stirring constantly, until mixture has thickened and become clear. Remove from heat and stir in butter. Cool.

Pour cooled mixture over berries and chill at least 2 hours. Serve with sweetened whipped cream.
1930 Recipe – Calla Stacker