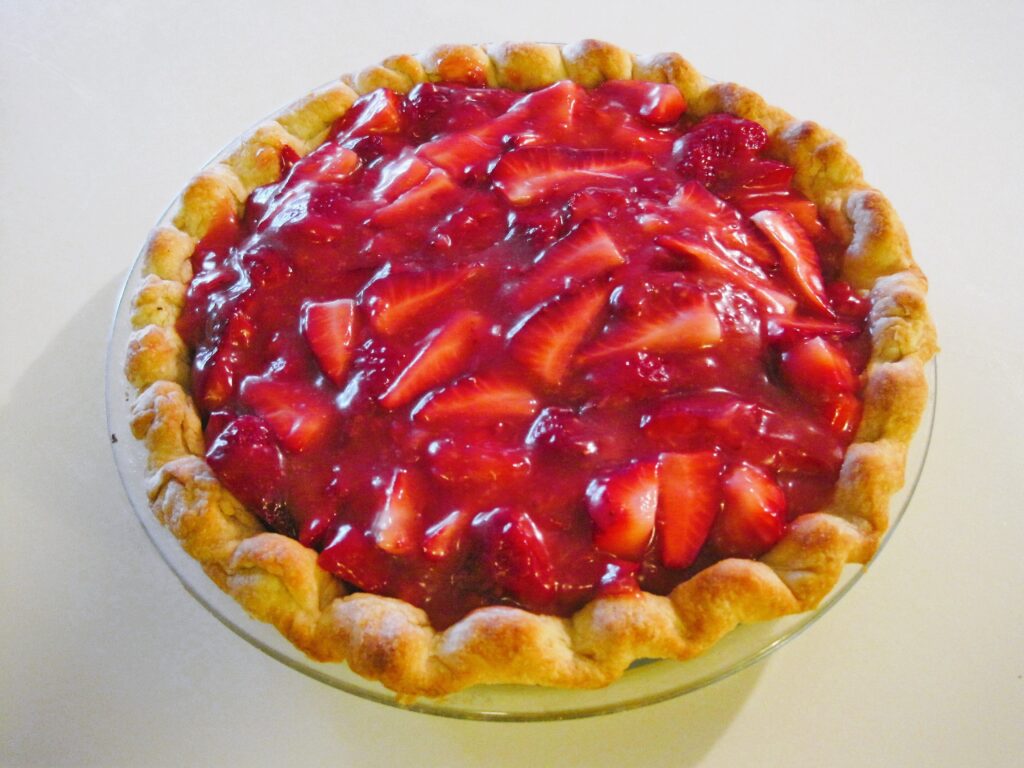 "I once belonged to a book club, and every month I was sent a new cookbook. One of them was the Farm Journal Complete Pie Book, and I found this recipe there. Since then, it has been one of our favorites because the strawberries are fresh and not cooked, so you get a true strawberry flavor." – Calla Ferre
"When I was building up my basic cookbook library, the Farm Journal Complete Pie Book was a must have. Luckily, I was able to find a copy on eBay. I loved this pie, so I made it often. I served some to my best friend Alvin in college and it instantly became his favorite pie (until much later when he had the Loon Lake Blueberry Pie.) I would make it often for him as a bribe … or a thank you. When I make it though, I usually quarter the strawberries into more manageable slices. That way you get a better sauce to strawberry mixture." – April Ferre
Strawberry Glacé Pie
Ingredients
1

Baked 9-Inch Pie Shell

1 1/2

Quarts

Strawberries

1

Cup

Sugar

3

Tablespoons

Cornstarch

1/2

Cup

Water

1

Tablespoon

Butter or Margarine

1

Cup

Heavy Cream

Whipped

2

Tablespoons

Confectioner's Sugar

Sifted
Instructions
Hull, wash in cold water, and thoroughly drain berries. Crush enough (with potato masher) to make 1 cup.

Combine sugar and cornstarch. Add crushed berries and water. Cook over medium heat, stirring constantly, until mixture comes to a boil. Continue cooking and stirring over low heat for 2 minutes. The mixture will be thickened and translucent. Remove from heat and stir in butter. Cool.

Place whole berries in pie shell, reserving a few choice ones for garnishing. Pour cooked mixture over berries and chill at least 2 hours. Serve topped with whipped cream sweetened with confectioner's sugar. Garnish with remaining strawberries.

Variation: Strawberry Cheese Glace Pie: Combine 1 3-ounce package cream cheese (room temperature) with 1 tablespoon milk and spread over bottom of pie shell before adding berries.
Recipe – Calla Ferre – From Farm Journal's Complete Pie Book, 1965