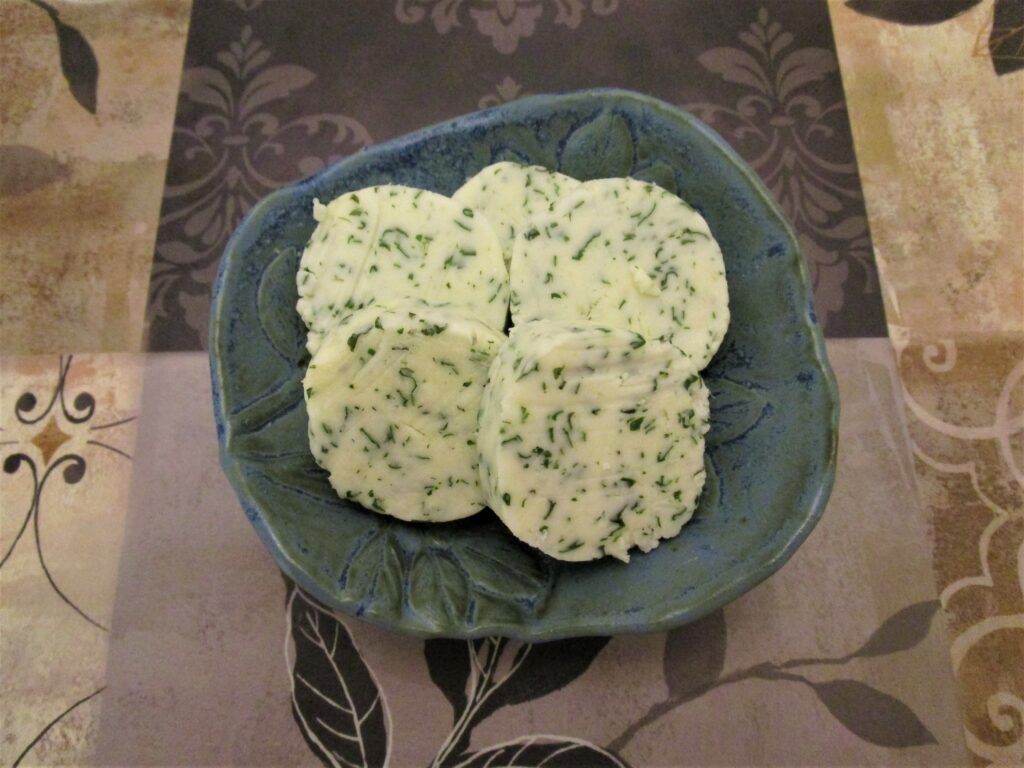 "I was looking for new ways to serve tri tip and came across a recipe for a BBQ sandwich. It used this compound butter recipe. Spread on thick-sliced sourdough, it reminded me a bit of the herb-marinated chicken sandwich I use to get at de Vere's Irish Pub, which closed due to the COVID-19 pandemic. Eventually I plan to make a copy-cat version of that sandwich and this will be one of the main ingredients. It is also great for making garlic bread!" – April Ferre
Garlic & Herb Compound Butter
Ingredients
1

Cup

Butter

Room Temperature

1

Teaspoon

Garlic Paste

or 1 Clove, Finely Minced

3/4

Teaspoon

Kosher Salt

1

Tablespoon

Fresh Parsley

Chopped

1

Tablespoon

Fresh Basil

Chopped

1 1/2

Teaspoons

Lemon Juice

Fresh Squeezed
Instructions
Combine all ingredients and mix until well combined. Refrigerate until just firm enough to begin to shape.

Add a long strip onto a piece of wax paper, roll and shape butter into a log about the diameter of a quarter. Twist the ends of the wax paper to seal. Refrigerate for at least 30 minutes or freeze about 10 minutes or until firm. Slice of rounds of butter as needed. Store in the refrigerator for up to 2 months or freeze for up to 6 months.

Good on steak, grilled chicken, salmon or shrimp. Add to pasta, serve over baked potatoes or toss with cooked rice. Makes the best garlic bread (add a little Parmesan cheese to make it extra special!) Use on cold, hot or grilled sandwiches. Great to spice up your cooked vegetables including corn on the cob; use to sauté onions or mushrooms.
Variations:
Use a total of 2 Tablespoons fresh herbs per cup of butter. Lime juice may be substituted for lemon juice.

Cilantro, Garlic & Lime Juice: corn on the cob, cooked carrots, grilled chicken

Chive & Parsley: baked potatoes with sour cream

Rosemary & Garlic: steak, potatoes

Sage & Thyme: turkey rub, other poultry, sautéed vegetables
2021 Recipe – April Ferre – From Pitch Fork Foodie