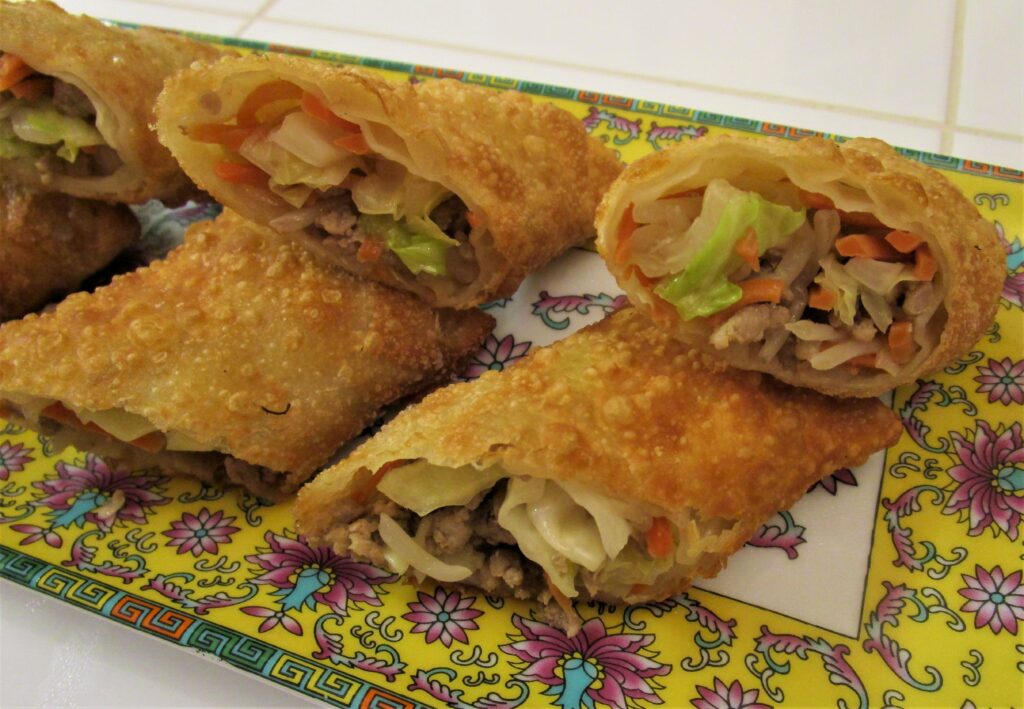 "I modified this a bit to include some cabbage and carrots for color (1 1/2 cup cabbage, 1 cup bean sprouts, and 1/2 cup match stick carrots in place of 3 cups bean sprouts.) You can take out the ground pork and make these into spring rolls as well." – April Ferre
Egg Rolls
Ingredients
1/2

Pound

Ground Pork

1

Teaspoon

Soy Sauce

1

Teaspoon

Sherry

1/2

Teaspoon

Garlic

2

Tablespoon

Salad Oil

3

Cups

Bean Sprouts

1/2

Cup

Onion

Sliced

1

Tablespoon

Soy Sauce

1

Teaspoon

Cornstarch

1/4

Cup

Water

8

Sheets Egg Roll Skins

1/2

Cup

Bisquick

1/2

Cup

Water

1

Egg

Beaten

Salad Oil
Instructions
Combine pork, 1 teaspoon soy sauce, sherry and garlic; mix well. Let stand 15 minutes.

In a large skillet, brown meat in 2 tablespoons oil. Add bean sprouts, onion, and 1 tablespoon soy sauce. Cook, stirring constantly, until vegetables are tender, but still crisp. Drain and cool.

Dissolve cornstarch in 1/4 cup water. Place about 1/3 cup vegetable-meat mixture on the lower half of an egg roll skin. Moisten left and right edges with cornstarch mixture. Fold bottom edge up just enough to cover fillings, left and right edges 1/2-inch over, and roll as for jelly roll. Moisten top edge with cornstarch mixture and seal. Continue with the rest of the spring rolls.

Mix together bisquick, 1/2 cup water and egg. Dip each roll in batter. Deep fry in oil until golden brown. Drain.

Slice each roll into 4 pieces. Serve with hot mustard, catsup or sweet and sour sauce if desired. Makes 8 spring rolls.
1975 Recipe – Jean Hansen
Related Recipes