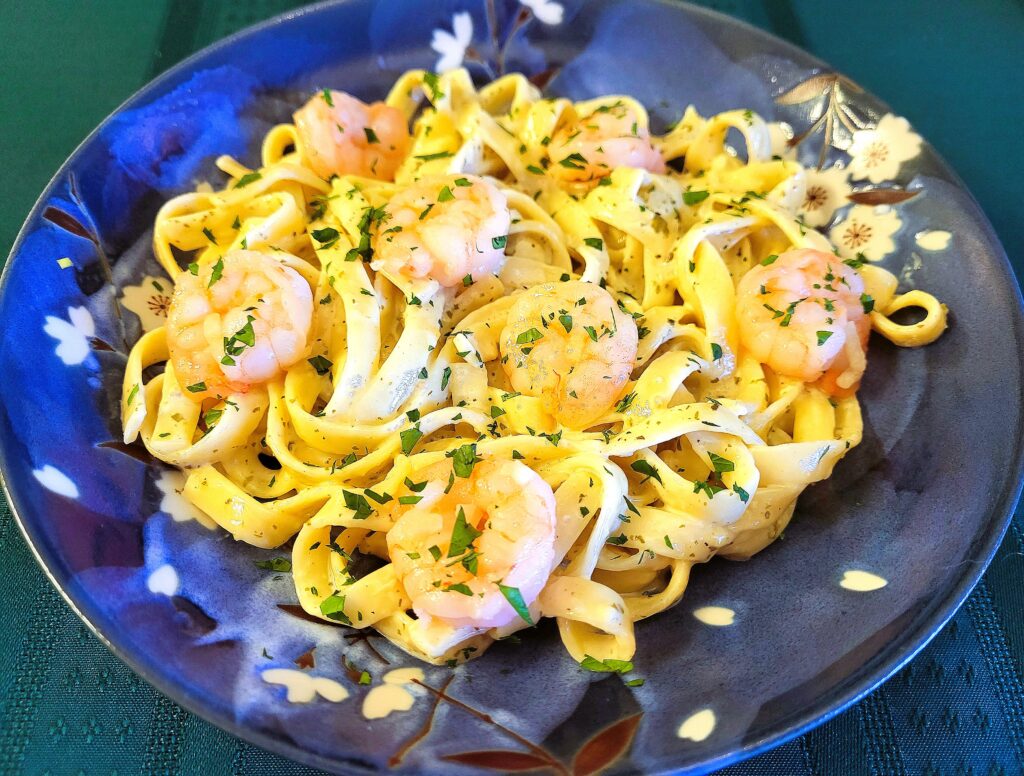 "This recipe combines Alfredo with pesto for the best of both worlds. The final sauce is actually pretty light on the pesto flavor, so feel free to add more depending on what sort of taste you are going for." – April Ferre
Creamy Pesto Pasta with Shrimp
Ingredients
1

Pound

Fettuccine or Linguine

1/2

Cup

Butter

3

Cloves

Garlic

Minced

2

Cups

Heavy Cream

1/2

Teaspoon

Pepper

1

Cup

Parmesan Cheese

Grated

1/2

Cup

Basil Pesto

Or to Taste

1/2

Teaspoon

Salt

Or to Taste

Olive Oil

1

Pound

Large Shrimp

Peeled, Deveined & Tails Removed

– Or a Mixture of Shrimp, Scallops, Mussels & Clams

Cleaned & Shucked

Chopped Fresh Parsley

For Garnish
Instructions
Bring a large pot of salted water to a boil and cook pasta. Drain.

Meanwhile, melt butter in a medium saucepan over medium heat. Add garlic and sauté for one minute, do not brown the garlic.

Stir in cream and pepper. Cook for 6 to 8 minutes, stirring frequently.

Add Parmesan cheese and gently stir until smooth. Mix in pesto and cook for 3 to 5 minutes until thickened.

Taste sauce and add salt as necessary. You want your sauce to taste just a bit more salty than what you want the final flavor on the pasta to be. Keep warm, but do not boil.

In a large sauté pan, heat olive oil until shimmering over medium heat. Add shrimp (or seafood mixture) and sauté until the shrimp is fully pink and other seafood is just cooked through. Do not over cook!

Toss cooked pasta with sauce and seafood. Garnish with a little chopped fresh parsley, if desired.

Toss together only as much pasta as you will eat immediately. If you plan on having leftovers, keep leftover pasta, sauce and seafood separate for reheating.
Reheating Leftovers:
This is essentially an Alfredo sauce with some pesto mixed in. To reheat the sauce the next day, gently heat it over medium-low, stirring frequently until sauce is mostly liquefied again.

The sauce will be slightly grainy and some of the butter will likely have separated. Add a small amount (a tablespoon or two) of fresh cream and whisk vigorously until sauce is creamy again. If sauce isn't coming together, add a bit more cream.

Gently heat until warm, but only as much as you absolutely need to. Add the sauce and gently reheated seafood to hot pasta and toss to combine.
2023 Adapted Recipe – April Ferre – Adapted from My Baking Addiction
Related Recipes: