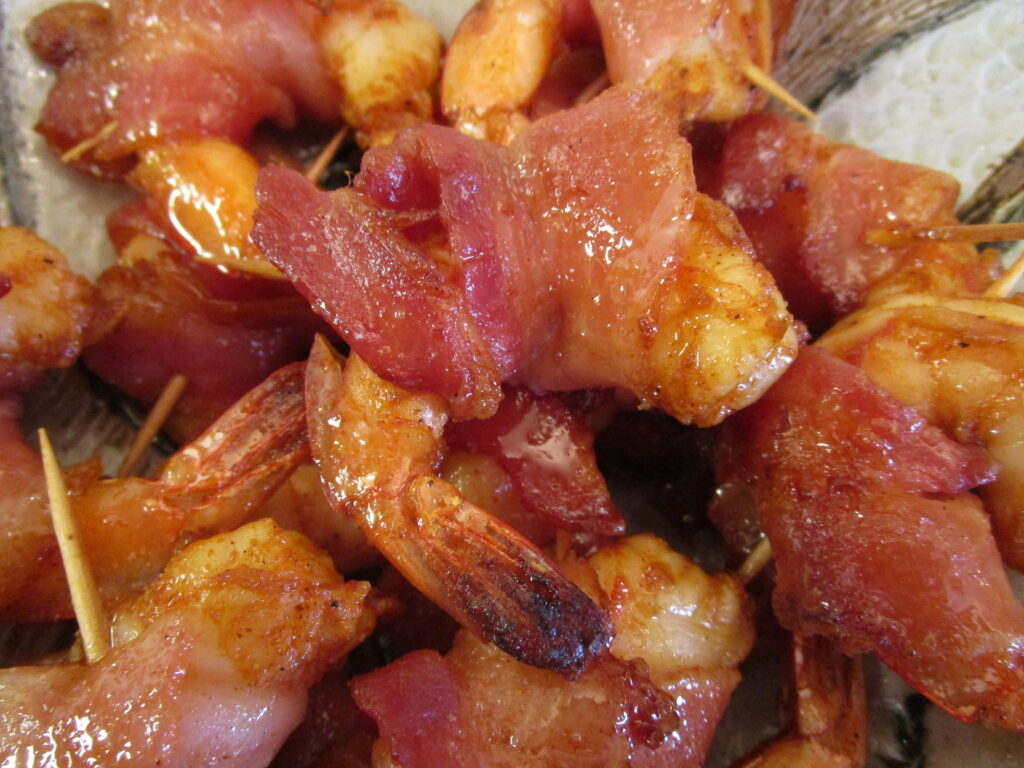 "When I went to make 'Fettuccine in Tomato Cream Sauce' and read my Mom's history for the recipe, she mentioned that the restaurant they had it at served it topped with Bacon Wrapped Shrimp. So I decided to do so as well. The flavors were likely a bit different, but you won't be sorry with this recipe. The spices and the maple syrup pair nicely with the salty bacon." – April Ferre
Bacon Wrapped Shrimp
Ingredients
1/4

Cup

Olive Oil

2

Tablespoons

Lemon Juice

1

Teaspoon

Salt

1

Teaspoon

Smoked Paprika

1/2

Teaspoon

Garlic Powder

1/2

Teaspoon

Chili Powder

1/4

Teaspoon

Pepper

20

Large Shrimp

Peeled, Deveined & Tail On (See Note)

10

Slices

Bacon

1/4

Cup

Pure Maple Syrup
Instructions
Preheat oven to 400 degrees.

Whisk olive oil, lemon juice and spices in a medium bowl. Add shrimp and stir to combine. Marinate at least 15 minutes.

Cut bacon strips in half. Place on a wire rack over a foil line baking sheet. Roast until bacon shrinks and begins to turn slightly red in color, about 8 minutes. Bacon should still be flexible and not crispy. Allow bacon to cool until easy to handle.

Wrap each shrimp with a slice of bacon and secure with a toothpick. Place shrimp on wire rack and roast for 5 minutes. Turn shrimp over and brush with maple syrup. Note on maple syrup: if syrup is thin consider reducing over low heat. Roast 5 more minutes. Set oven to broil. Brush shrimp with more maple syrup and broil 3 to 5 more minutes.

Transfer shrimp to a serving plate and garnish with parsley if desired.
Notes
Note on shrimp size: The original recipe called for 16 to 20 per pound; however, where this is not feasible, 21 to 25 per pound also works well.
2020 Adapted Recipe – April Ferre – from www.jessicagavin.com