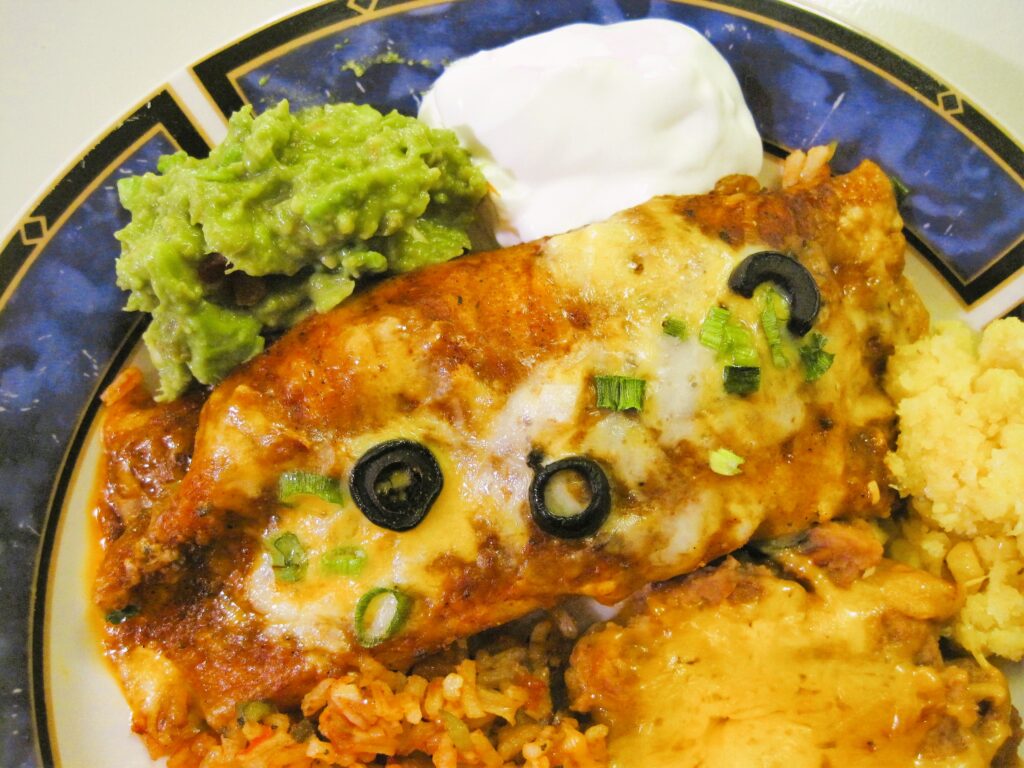 "In college, my best friend, Alvin, was the cultural programmer in one of the dorms. He asked me to help out with a cooking class by making a variety of dishes from different countries. I made these, Kathy's Jumbo Stuffed Shells, and some other things that I can't remember now." – April Ferre
April's Chicken Enchiladas
Ingredients
1

Recipe Enchilada Sauce

2

Boneless, Skinless Chicken Breasts

Cooked & Shredded

1

15-Ounce

Can Black Beans

1/2

Onion

Chopped

Grated Cheddar Cheese

12

Taco Size Corn Tortillas

Oil for Frying Tortillas

1

8-Ounce

Can Sliced Olives

3

Green Onions

Chopped
Instructions
Prepare Enchilada Sauce.

Heat oil in fry pan. Fry corn tortillas for a few seconds on one side. Remove to cutting board. In center, place come chicken, black beans, onion, and cheese. Roll up enchilada and place in 9×13-inch baking dish. Be sure to do these steps quickly after tortilla is removed from fry pan or you will be unable to roll up the enchilada. Repeat for remaining enchiladas.

Pour over enchilada sauce and top with remaining cheese, olives and green onion. Bake in a 350 degree oven for 25 minutes.
2002 Original Recipe (Updated 2012) – April Ferre
Related Recipes: