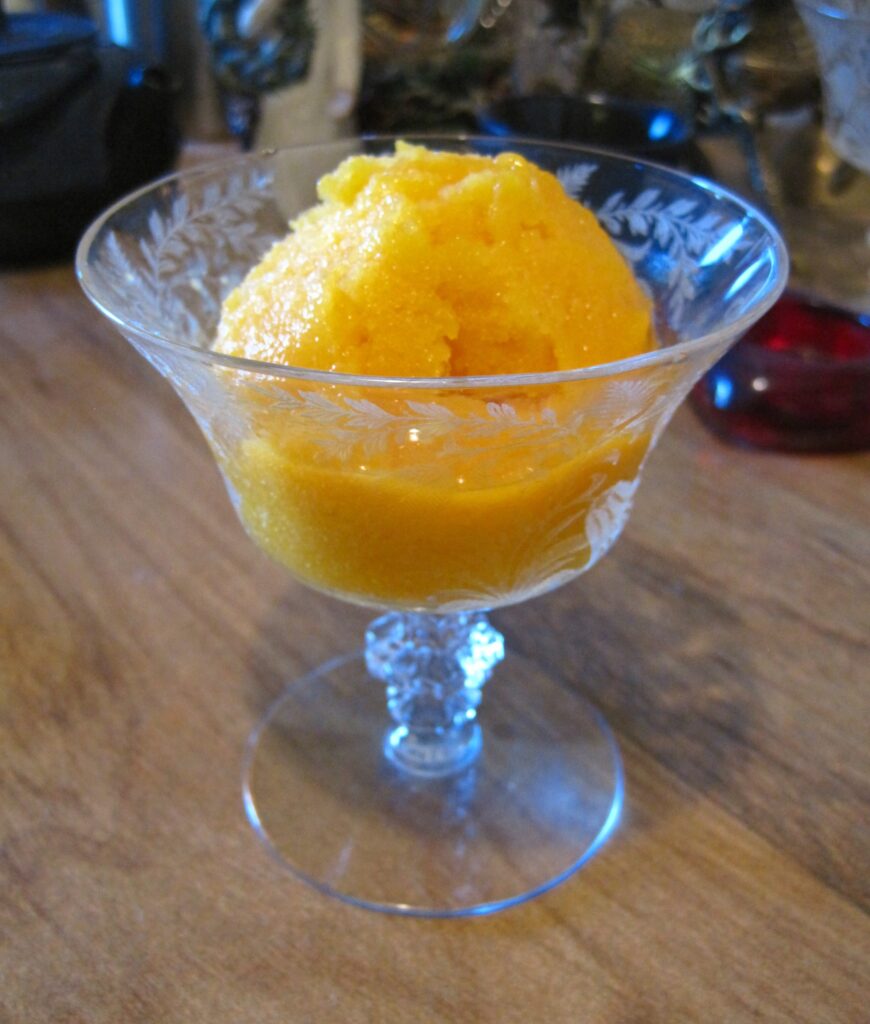 "Here is another instance where I was trying to find a different way to utilize some of the odds and ends in my freezer. I had a ton of apricot puree from when I did a massive apricot canning project: apricot halves, syrup, and jam. I had made my Chicken with Apricot Sauce several times, and still had tons of apricot preserves. So what else do you do with apricot puree? Well, I found a drink in a 'Juices and Smoothies' cookbook. It tasted great, but was too thick to really drink. If I would have had a blender I could have added ice to make a smoothie, but instead I decided to turn this into a sorbet, and it was perfect. Only use fresh squeezed orange juice, do not use concentrate." – April Ferre
Apricot Citrus Sorbet
Ingredients
1

Cup

Apricot Puree

Approximately 5 Apricots

3

Oranges

Juiced

3

to 4 Tablespoons Lime Juice

To Taste
Instructions
Combine all ingredients in blender and process for 1 minute or until well blended. Pour into an 8×8-inch metal pan and place in the freezer.

When sides of the sorbet are firm, but the middle is still slushy, remove to a stand mixer with the whisk attachment in place. Beat on high speed until smooth. Return to 8×8-inch pan, and repeat the freezing process. Pour into plastic freezing container and freeze overnight.

Remove from freezer about 20 minutes before serving. When sorbet starts to soften, put back into stand mixer and beat until smooth. Serve in chilled sherbet dishes.
2012 Modified Recipe – April Ferre – From Juices & Smoothies by Suzannah Olivier and Joanna Farrow, 2003