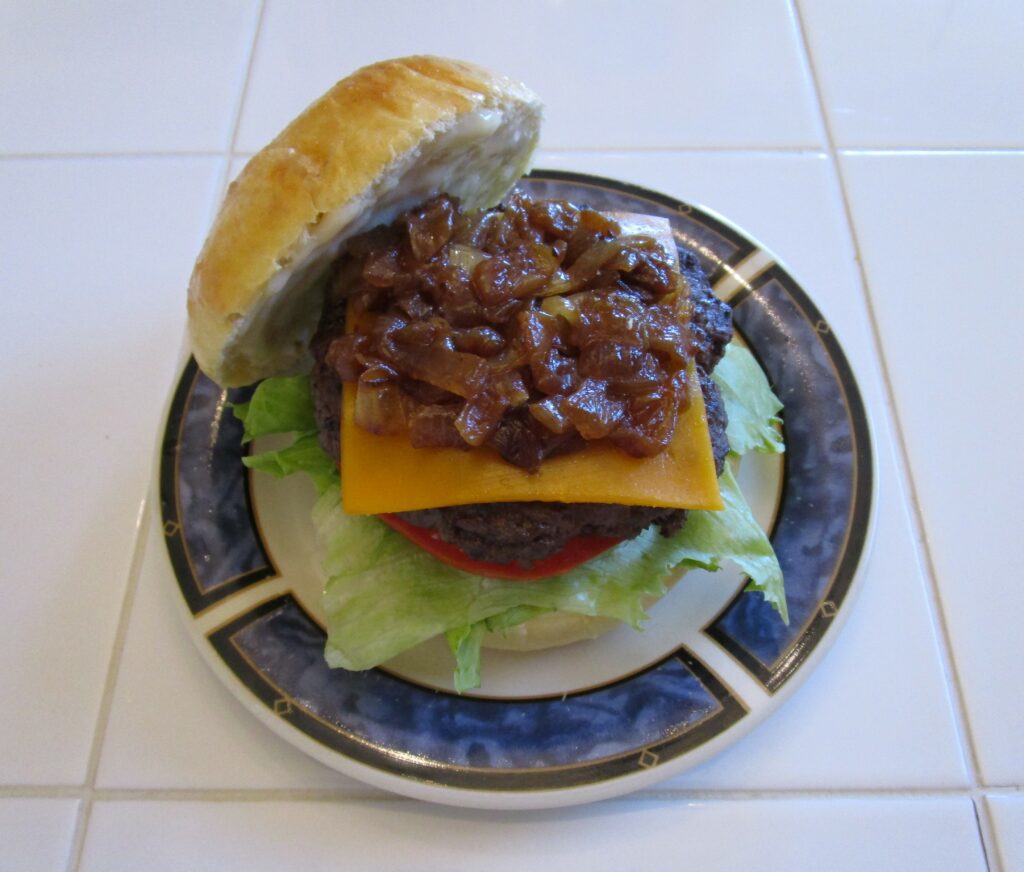 "As with most things, the quality of your ingredients is key. The authors of "Wicked Good Burgers" suggest, for best results, to grind your own meat, for example. Though few of us will want to go so far. Likewise, homemade mayonnaise can be a huge boost to a burger. I recommend at minimum to get yourself a good quality bun from a bakery." – April Ferre
5th Dimension Burger
Ingredients
3/4

Pound

Chuck Roast

1/2

Pound

Short Rib Meat

1/4

Pound

Beef Bone Marrow

Optional (See Note)

1 1/2

Tablespoon

5th Dimension Powder

Salt & Pepper

To Taste

4

Slices

Cheese

4

Hamburger Buns

Best Ever Mayo

Or Mayonnaise of Your Choice

Lettuce

Tomato

Caramelized Onions
Instructions
The night before, place meat grinder in the freezer. It is important when grinding your own meat that everything be kept as cold as possible so that the fat in the meat doesn't melt. If the fat melts, the meat and fat won't emulsify and you will end up with dry, crumbly burgers.

Dice chuck roast and short rib meat into 1-inch cubes. Combine with bone marrow in a shallow tray and freeze until frozen, but not stiff; about 1 hour. Remove from freeze and season with 5th dimension powder. Grind the meats using the coarse grinding plate. Refrigerate meat again before shaping.

Alternatively, if you don't want to grind our own meat, buy pre-ground chuck and thoroughly combine with 5th dimension powder.

Form into four 6-ounce patties, 1/2 inch thick and season with salt and pepper. Grill until of desired doneness. If grilling over charcoal, set up a two-zone fire, with coals on one side of the grill. These burgers are very juicy and will cause significant flare ups if grilled directly over coals. Alternatively, use an indoor grill set to medium-high heat, about 375 degrees.

Remove to plate and top each patty with a slice of cheese. Tent the plate with foil and allow burgers to rest 3 to 5 minutes.

Lightly toast hamburger buns and spread with Best Ever Mayo. Top bottom bun with lettuce, then tomato, burger patty and finish with caramelized onions. Makes 4 burgers.
Notes
If you omit the bone marrow, increase the chuck roast to 1 pound.
2019 Adapted Recipe – April Ferre – adapted from Wicked Good Burgers by Andy Husbands, Chris Hart & Andrea Pyenson, 2013
Related Recipes: