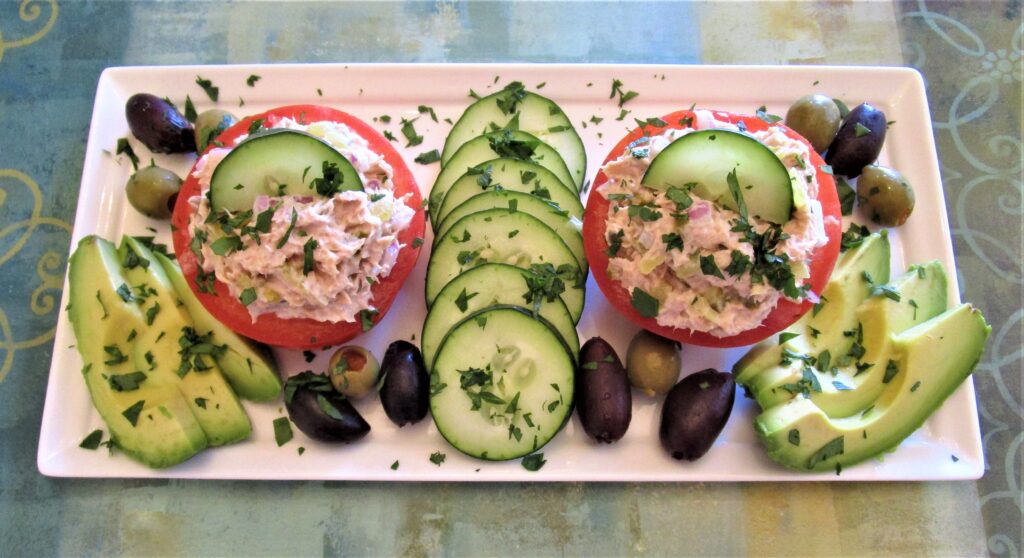 "Tuna salad has a reputation for being uninteresting. It makes for a fine sandwich when you need something quick, but it is not all together very exciting. One day when I was looking for something light at Scrubs cafe, I saw some tuna salad served in a tomato cup on top of a lettuce leaf and it made for a really nice light lunch. This recipe is a play off of that and an attempt to make tuna salad into something more interesting. Lettuce, olives and parsley are all optional, but you can use them to great effect for a beautiful and tasty presentation." – April Ferre
Tomato & Tuna Salad
Ingredients
1 7-

Ounce

Can Chunk Light Tuna in Water

Well Drained

3

Tablespoons

Mayonnaise

1 1/2 to 2

Tablespoons

Onion

Chopped

2

Tablespoons

Bread & Butter Pickles

Chopped

– Or Sweet Pickle Relish

2

Medium Tomatoes on the Vine

– or 3 Roma Tomatoes

Diced

1

Avocado

Sliced or Diced

1/2

Cucumber

Sliced or Diced

Crisp Leaf Lettuce

For Serving, Optional

Assorted Olives

Optional

Chopped Parsley

For Garnish, Optional
Instructions
Tuna Salad:
Combine tuna, mayonnaise, onion, and pickles or pickle relish in a bowl and stir well to combine.

Choose from one of these preparation styles:
Fancy Tomato Cups:
Using tomatoes on the vine, slice tomatoes in half and hollow out, removing seeds to form cups. Fill each tomato cup with 1/4 of the tuna salad mixture.

Place two tomato halves on a plate with sliced avocado and cucumber.

If desired, serve on top of leaf lettuce with assorted olives and garnished with chopped parsley.
Diced Salad:
Place tuna salad and diced Roma tomato, diced cucumber and diced avocado together in a bowl. You can either mix the vegetables all together and top with the tuna salad or place each individual component is separate quadrants.

If desired, garnish with olives and chopped parsley. Make it really fancy by serving in a lettuce bowl.

Serves two as a light lunch or four as a side salad.
Notes
A note on tuna can sizes: 7-ounce cans can be found at Costco, but the standard size can found in most grocery stores is 5-ounces, so you may need to adjust these proportions accordingly.
2022 Original Recipe – April Ferre